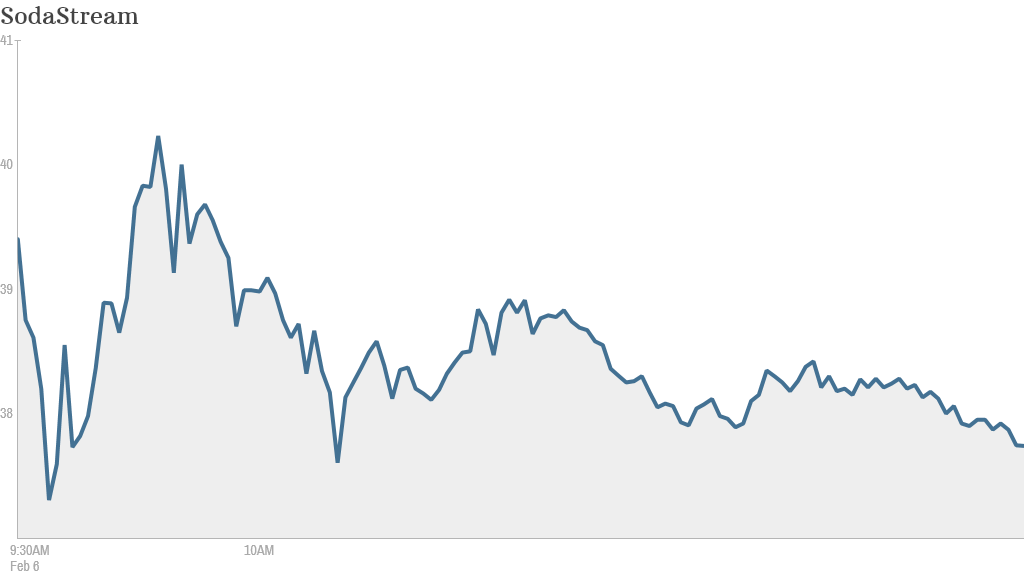 SodaStream shares jumped Thursday on speculation the maker of household soda machines might join forces with Pepsi as Big Soda moves into the at-home beverage market.
SodaStream (SODA) shares were up 6% to about $38 midday Thursday, after soaring above $40 in early trading.
The stock plunged in extended trading Wednesday after Coca-Cola (CCE) disclosed a 10% stake in Green Mountain Coffee Roasters (GMCR), which plans to launch a cold beverage system later this year or early next year.
Investors initially viewed the partnership as a threat to SodaStream, which has posted strong growth in recent years. But shares bounced back Thursday morning after analysts suggested that Pepsi (PEP) could respond by investing in SodaStream.
Coke and Pepsi are fiercely competitive and have a long history of following each other's lead, according to Citron Research, which publishes reports on heavily shorted stocks. SodaStream has been a favorite target of investors who bet that the stock price will go down.
In addition to soda, Coke and Pepsi go head to head in orange juice, sports drinks, bottled water and smoothies, for example.
Related: Why Coca-Cola invested in Keurig
"Now Coke has made their move into the at-home beverage market. What are the chances Pepsi won't respond?" Citron states in its report. "Unless they believe that Coke is DEAD WRONG -- they have no choice. Hello SodaStream!"
For now, SodaStream is being circumspect about any potential partnerships. The Israel-based company said in a statement that Coke's move into the $260 billion "custom carbonation" industry is a sign of "the enormity of the global opportunity that lies ahead for us."
A representative for Pepsi declined to comment.
There had already been talk about a deal between SodaStream and Pepsi back in June. But shares of SodaStream were trading above $75 at that time. At the current stock price, a partnership may look more attractive for Pepsi.
Related: SodaStream ad keeps ScarJo, drops Coke and Pepsi
Coke spent $1.25 billion on its stake in Green Mountain. For that amount, Pepsi could buy all of SodaStream's outstanding stock for $60 a share, according to Citron.
There are other reasons why a deal might make sense. SodaStream is "the only player in this space of any consequence," the report states. It has an established brand and global distribution network that make it an obvious choice for Pepsi.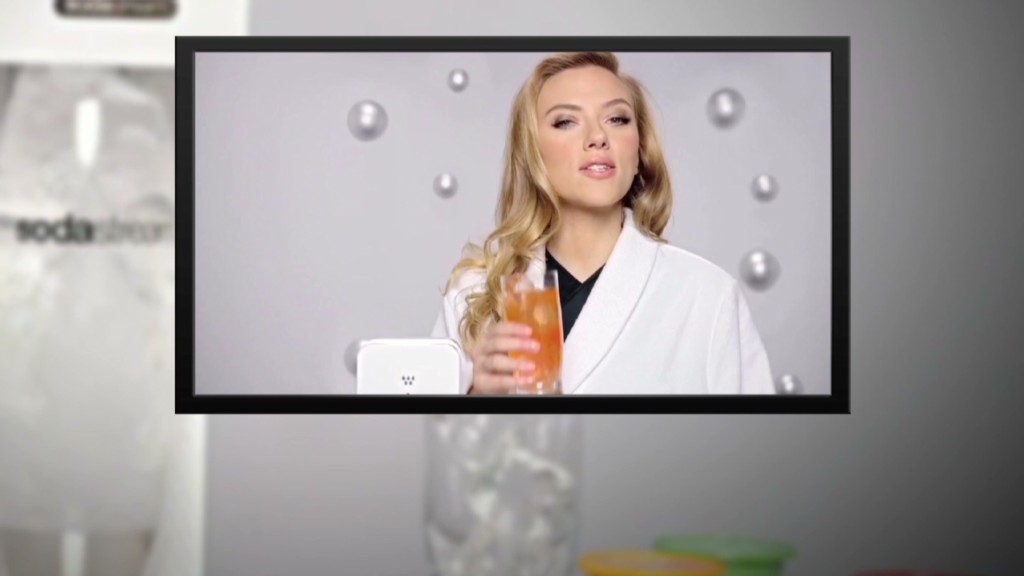 By contrast, Green Mountain's Keurig Cold system does not exist yet.
While they do not expect Pepsi to spend $1.25 billion on SodaStream, Citron does believe there's more upside for the stock. Based on Green Mountain's current market value, the report estimates that SodaStream shares could be worth between $131 and $262.
Still, SodaStream has made a name for itself by taking shots at Coke and Pepsi. The company was asked by Fox (FOXA) to get rid of a line directly attacking Coke and Pepsi in its recent Super Bowl ad with actress Scarlett Johansson. CBS (CBS) did the same thing when SodaStream aired an ad during the Super Bowl in 2013.