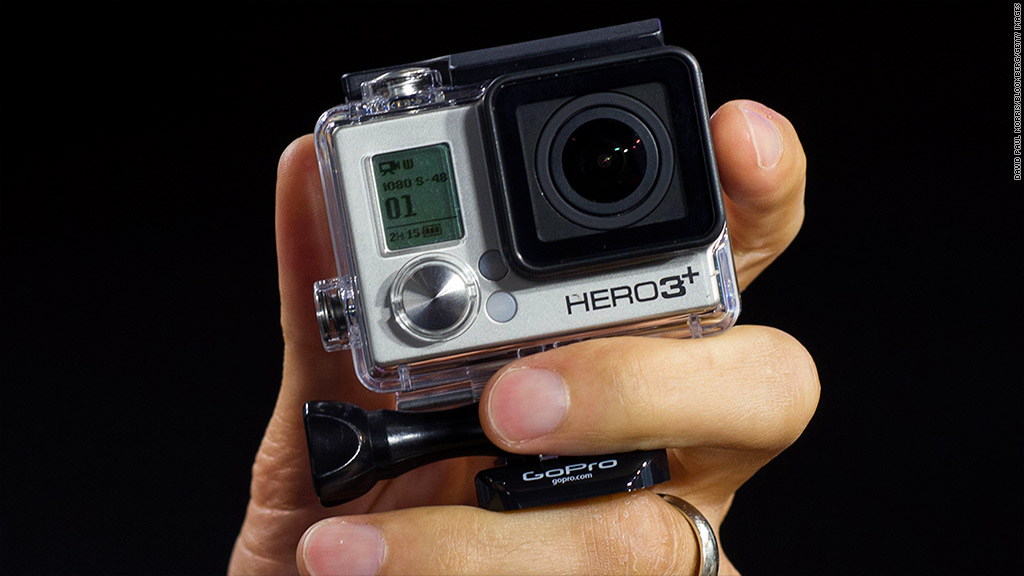 Video camera maker GoPro has announced plans for an initial public offering of stock.
The company filed its IPO confidentially, so GoPro won't reveal its financials until a later date. Twitter (TWTR) filed a similar confidential IPO in September 2013.
GoPro was widely expected to be filing for an IPO around this time. To help prepare for the IPO, GoPro appointed Jack Lazar as chief financial officer on Tuesday. Lazar has previous experience taking a company public, serving as CFO of Atheros during its 2004 IPO. Lazar served various roles at Atheros until last year, including helping to oversee the company's sale to Qualcomm (QCOM) in 2011.
GoPro rose to fame with its action cams - small, weatherproof, mountable video cameras that offer excellent video quality and battery life, considering their size. Thrill seeker Felix Baumgartner famously used a GoPro camera to record his free fall from space in 2012.
The cameras were initially sought by action and extreme sports enthusiasts, but other hobbyists have been quick to find new uses for the compact video cams. Drone enthusiasts, for example, have found the GoPro ideal for mounting to their flying vehicles, capturing footage from the skies.
But GoPro is also facing increased competition from some unlikely places. As companies like Google (GOOG) and Samsung push wearable technologies like Glass and the Galaxy Gear watch, more people will be wearing dedicated video-capturing cameras -- a market GoPro has largely cornered thus far.
In late 2012, Foxconn invested $200 million in the company, giving the electronics manufacturer a 9% stake in the company. Foxconn is a Chinese electronics maker most famously known for manufacturing Apple (AAPL) iPhones and iPads. At the time, the investment valued GoPro at about $2.25 billion.