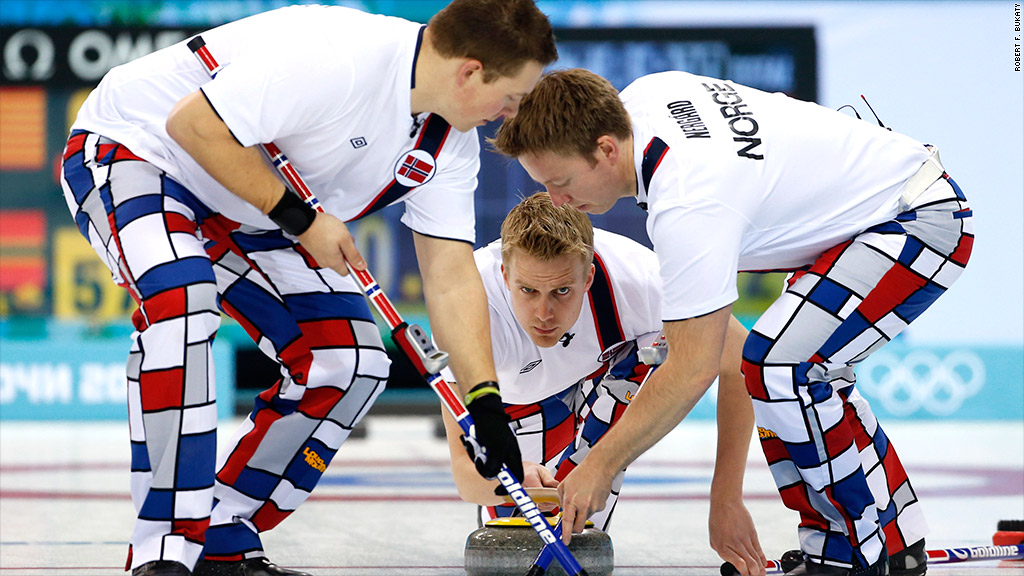 The sport of curling and a California business called Loudmouth Golf are getting lots of attention thanks to the Norwegian Olympic curling team's penchant for extreme pants.
Not only did the Norwegian men's team defeat the U.S. by 7-4 in Sochi, Russia on Monday. They did it wearing abstractly checkered pants in the red, white and blue colors of their country's flag.
The pants also have a little splash of yellow, which is the logo of Loudmouth, a small business with eight stores in California and Nevada that sells intensely colorful clothing. Representatives for Loudmouth couldn't be reached for comment, but its logo is clearly visible on the pants in photos and on TV.
Olympic rules forbid competitors from identifying or discussing where they get their clothes, according to the Norway curling team's spokesman Lars Otto Bjørnland. But he did say that the curlers picked out the pants themselves, and that the eye-catching design did have to be approved by the Olympic committee.
"The team enjoys it, having these colorful pants," said Bjørnland, speaking by phone from Sochi. "People find it very exciting to see the team in these trousers."
Related: Costas' eye costs him anchor seat at Olympics
The team will wear a variety of colorful pants for different curling competitions throughout the Olympics.
The bold fashion experiment actually started shortly before the 2010 Winter Olympics in Vancouver, when one of the Norwegian curlers was dismayed by the team's black pants, which is the color traditionally worn during the ancient game of sliding polished stones down an icy court.
"One of the players said, 'Ach, this is boring black pants,'" said Bjørnland. "The player looked up the more colorful pants on Internet. He bought the pants with his own money for the whole team."
Related video: Is curling easy? No, it's not
His teammates liked the pants very much and reimbursed him for the fashion statement.
"Young people want to be a little bit different," said Bjørnland.
The 2010 Norweigan curlers went on to win a silver medal, and the 2014 Norwegian team is also doing well, having bested both the U.S. and Russia so far.
Do the pants make them better players?
"Impossible to say," said Bjørnland.