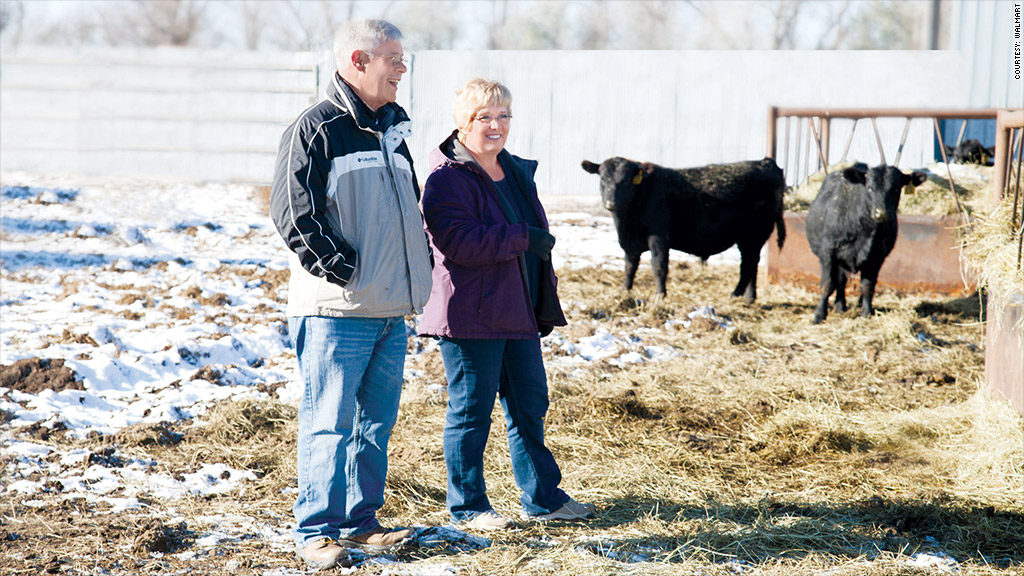 It took 50 years for five brothers and sisters who were separately adopted at birth to find each other.
But when they did, two of the siblings realized they'd seen each other for years at their local Wal-Mart (WMT).
Buddine Bullinger has worked at a Wal-Mart in Dickinson, N.D. for 25 years. Bullinger knew her biological mother's name, but never tried contacting her. Last March, a close friend and coworker said her birth mother's obituary had appeared in a local newspaper.
The coworker said the obituary mentioned another daughter, who Bullinger didn't know existed.
It took Bullinger some time to reach out to her sister, Deidre Handtmann, but the funeral home eventually put them in touch.
Related: Wal-Mart: Where we met and got married
"From the moment I called her, it was wonderful. But we were six years apart, and we wondered if there were other siblings between us," said Bullinger, who is 56 years old.
So they contacted the adoption agency, and found out that they had three other siblings -- a brother in California, a sister in Tennessee and another brother nearby.
Handtmann met her brother John Maixner, who also lives in North Dakota, in June, and showed him a photo of Bullinger.
He said his mouth dropped to the floor when he saw her.
"I couldn't believe it," he said. "All I could say was, 'I know this lady. I've seen her for years at the Wal-Mart.'"
Bullinger had been greeting her brother when he came into the store not knowing that they were related.
"He looked familiar to me, because he was there quite often," she said. "But I didn't know it was him. None of us were looking for anybody."
Related: More people look for love at Wal-Mart
All five siblings had a reunion in Bismarck last October, and now speak on the phone every week. Maixner, who has lost both of his adoptive parents, spent Christmas with Bullinger's parents and children.
They meet a few times a month at Wal-Mart to have lunch at the Subway restaurant there.
"It's a pretty special deal for me," Maixner said. "I had always wondered if my mother had thought about me, and it turns out there were four other people thinking the same thing."
Bullinger, who has three children and seven grandchildren of her own, said she is thrilled to have an even bigger family.
"This was just meant to happen," she said.
Wal-Mart said it's exciting that the siblings made their connection at the store.
"We are happy to play a part in bringing customers and associates together," said Kayla Whaling, a Wal-Mart spokeswoman.