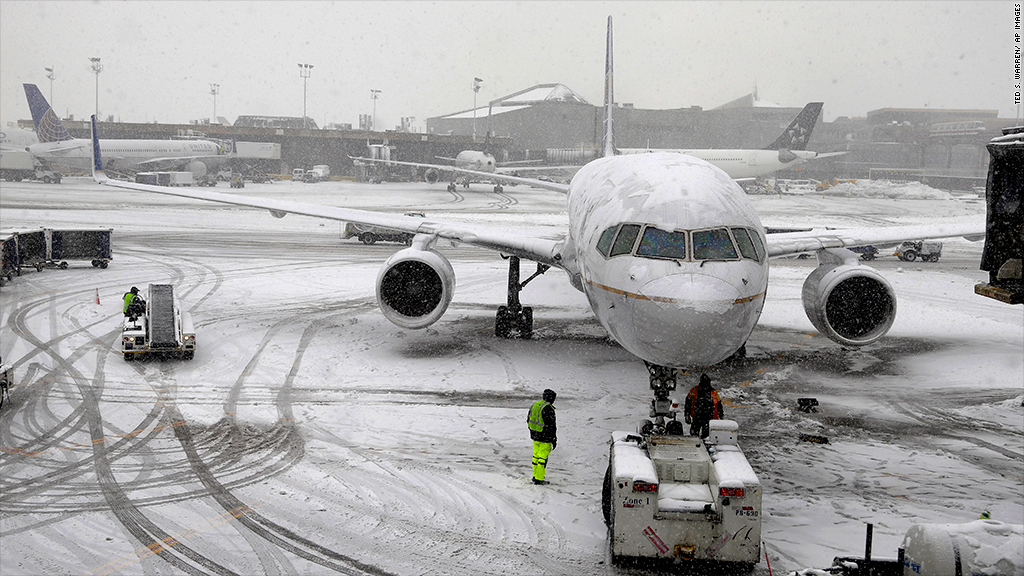 Thursday is shaping up to be the worst day of a very bad winter for U.S. airlines and their passengers.
More than 7,100 flights were canceled on Thursday alone, as a storm battered the East Coast.
There have been 75,000 U.S. flights canceled so far in 2014 due to a series of winter storms, according to flight tracking service masFlight.
Airline experts say that this year's rash of flight cancellations is the worst to hit the industry since the entire U.S. airspace was completely shut down for four days following the Sept. 11 terrorist attacks.
About 5.6 million passengers have been affected by the canceled flights so far this year, and another 42.8 million have been hit by flight delays, masFlight says.
Related: Pilot safety rules could cut flights
The cost to consumers for all these flight delays and cancellations has topped $3 billion so far, according to masFlight CEO Josh Marks. That total includes out-of-pocket expenses for hotels and meals, as well as lost productivity associated with the delays.
The airlines themselves have lost more than $200 million in revenue this year due to passengers who had their flights canceled and failed to rebook, said Cowen & Co. airline analyst Helane Becker.
"The first quarter is never a good for the airlines anyway, and this will be particularly tough," she added.
Related: 5 airline fees we hate the most
The costs that airlines incur as a result of dealing with the storms are partly offset by the money they save on fuel and labor for grounded flights, according to Becker. But the lost revenue will be significant. She said it's too soon to say if any carrier will post a loss for the quarter due to the snow.
Related: Low-wage Delta workers in NYC set for raise
The Hartsfield-Jackson Atlanta International Airport has experienced the most flight cancellations, with more than 570 flights grounded. American Airlines (AAL) is the carrier that's been hit the hardest, with over 2,000 flights canceled according to masFlight.
JetBlue Airways (JBLU) has also been heavily affected by this week's storm, since the bulk of its flights go through New York and Boston. About 36% of its scheduled flights were canceled, according to flight-tracking service FlightStats.
JetBlue warned at the end of January that weather problems in the first month of the year alone would cut $45 million from its first quarter revenue, and $30 million off of its profits.