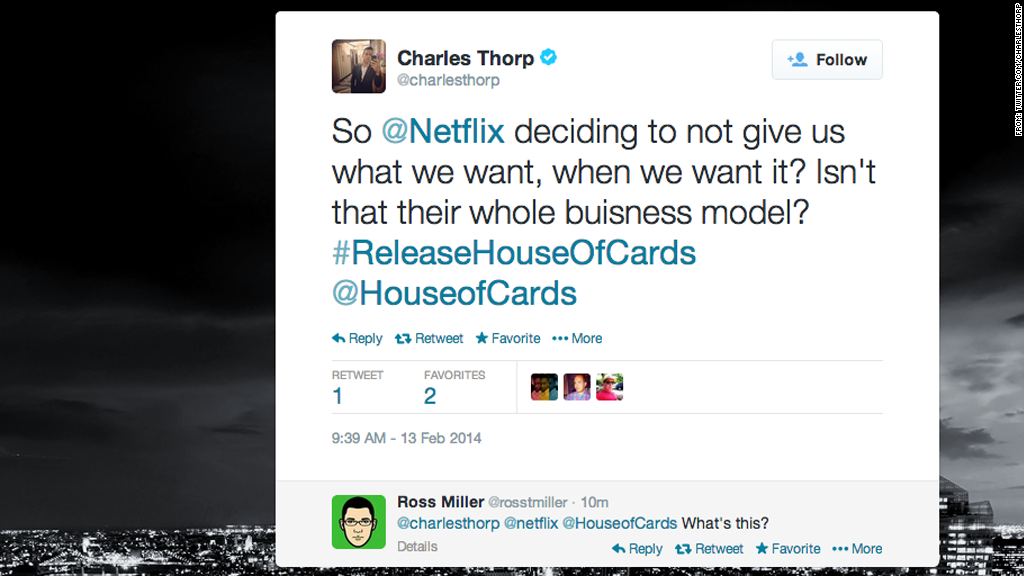 The calls started coming on Tuesday, when snow was in the forecast for the nation's capital.
"If/when DC shuts down for blizzard Thursday, Netflix would be smart to make new 'House of Cards' available one day early," tweeted Alex Conant, the press secretary for Florida Sen. Marco Rubio.
Hundreds of people agreed, and said so online. Fox News anchor Greta van Susteren replied to Conant: "You are right...one day early would be appreciated." Someone even set up a petition on Change.org.
I chimed in too.
Like a lot of fans of the first season of "House of Cards," a Washington thriller starring Kevin Spacey and Robin Wright, I'd been planning on starting my binge-view of season two this Friday, the long-awaited release day. But with so many people snowed in along the East Coast, from Georgia to Maine, wouldn't Thursday make more sense?
Alas, Netflix (NFLX) apparently doesn't think so. (Or maybe there are technical reasons why they can't push up the release date?) A company spokesman reaffirmed early Thursday that the episodes will still premiere Friday at midnight Pacific time, 3 a.m. ET.
"Hunker down and re-watch season one so you are good and ready," the spokesman cheekily suggested.
Related: Netflix in 2014: Sinking ship or high flier?
Conant was disappointed: he called Netflix's decision "dumb" when I shared it on Twitter.
Film reporter Charles Thorp saw some irony in Netflix's decision: "So Netflix deciding to not give us what we want, when we want it? Isn't that their whole business model?" he tweeted.
Related: Netflix grabs a slice of Star Wars
During a CNN segment about this -- banner headline: "HOUSE OF CARDS FANS BEG FOR EARLY RELEASE" -- entertainment correspondent Nischelle Turner suggested a different sort of D.C. drama for viewers on Thursday: "If you're trapped in the house, if you want to do some binge-watching, watch 'Scandal.' Catch up on 'Scandal!'