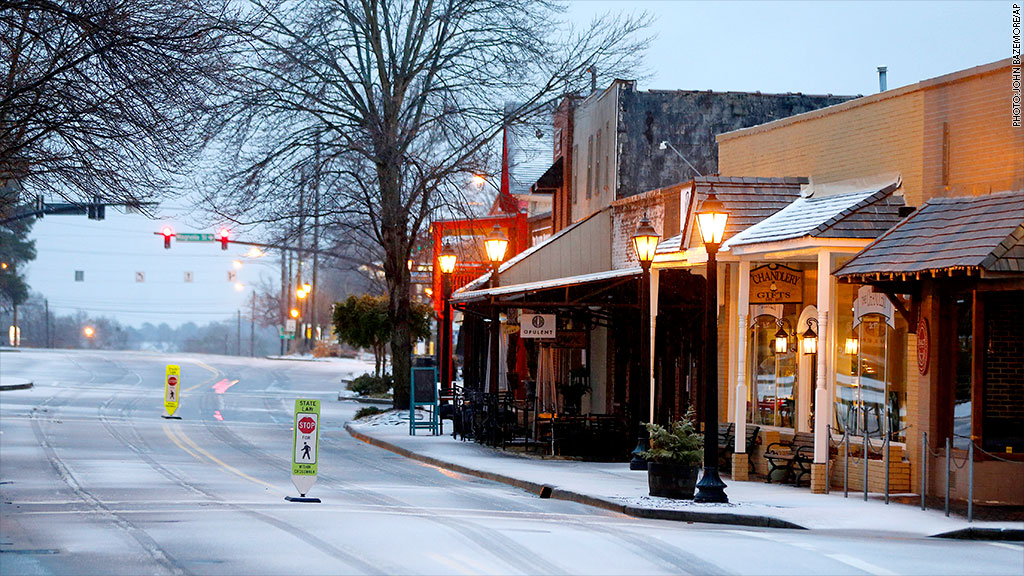 When Cliff Bramble walked into his local Atlanta grocery store late Tuesday night, shelves were empty and a clerk said the impending storm had nearly doubled sales. He had to laugh at the contrast.
The storm closed his three restaurants and wine bar -- and he was about to lose out on at least $75,000 in sales.
It's been a rough winter for Atlanta. A January snowstorm that dropped just a couple inches of snow crippled the unprepared southern city. So this week, with the memory of massive traffic jams fresh in their minds, no one wanted to leave their homes when another storm brought snow and freezing rain.
The storm, which moved in late Tuesday and kept people immobile the next day, could not have come at a worse time for businesses looking for a Valentine's Day boost.
Related: Winter storm slams online sales, too
And it wasn't just Friday that took a hit. Hundreds of reservations for two were made at Rathbun's Restaurant, Kevin Rathbun Steak and KR Steakbar for Tuesday through Saturday nights, said Bramble, a co-owner.
"This week is one the highest weeks of the year for sales," he said.
On Tuesday, Bramble expected one restaurant to serve about 150 people, but it ended up seating fewer than 50 and closed by 8:30 p.m. He decided that night to keep all three restaurants closed on Wednesday after his vendors said they wouldn't be able to make deliveries and patrons canceled reservations.
Related: The snow is great for my business
Atlanta's international airport, the world's busiest, experienced the most flight cancellations in the country on Wednesday, forcing business travelers to miss their restaurant reservations.
All three of the Rathbun restaurants reopened on Thursday, but with significantly fewer reservations and a limited menu. The fish is shipped daily from Boston and definitely didn't make it to dinner on time.
In total, reservations for about 750 people at the three Rathbun restaurants were canceled this week.
On Sunday, Bramble is opening the usually closed steakhouse. More than 100 people who missed out on celebrating Valentine's Day have already reserved tables, but it still won't offset the week's lost revenue -- which Bramble estimates will be between $75,000 and $100,000 -- or the missed tips and wages for his staff.
"Being in an area not used to snow-related storms, they throw a big kink in our business," he said.