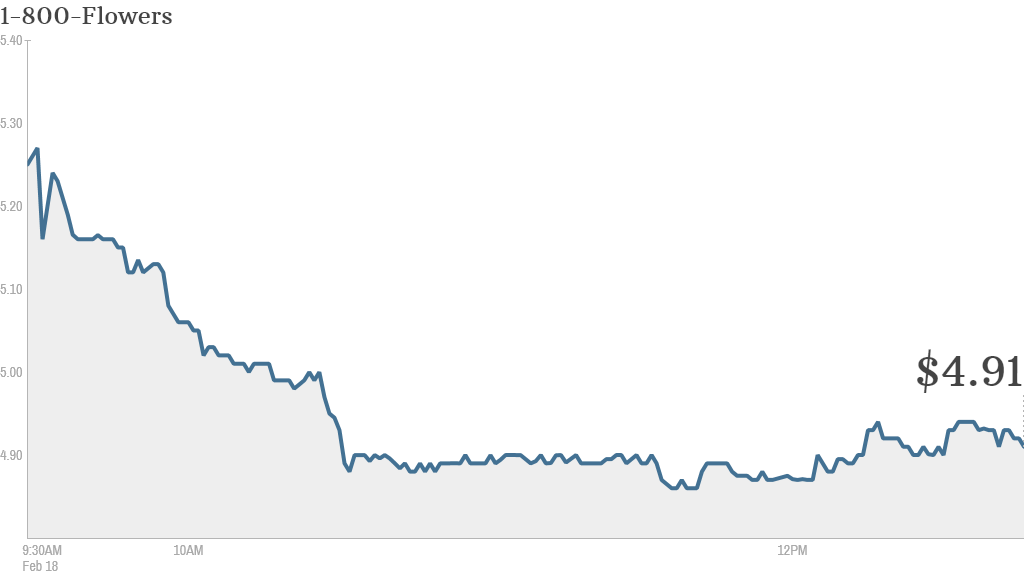 Investors have spoken: when it comes to Valentine's Day, 1-800-Flowers didn't deliver.
The floral chain's stock initially fell nearly 9% and ended down 6% Tuesday, the first trading day after 1-800-Flowers (FLWS) fumbled its role as Cupid amid a major snowstorm along the East coast last Friday. The stock recovered by early afternoon, but shares were still down 6%.
Hundreds of customers contacted the company through social media to complain about their Valentine's Day orders not being delivered. Several who spoke with CNNMoney over the weekend said 1-800-Flowers' phone lines were jammed. And even those who did get through were hit with more bad news: some orders had been canceled and re-delivery wouldn't be available for several days.
Still, those experiences were a small fraction of the hundreds of thousands of Valentine's Day orders 1-800-Flowers processed, according spokeswoman Yanique Woodall.
While the storm also impacted other major flower chains, 1-800-Flowers appeared to be hit by the most customer complaints on social media. Shares of FTD (FTD) nudged higher Tuesday. Rivals ProFlowers and TeleFlora are not publicly traded.
Related: 1-800-Flowers botches Valentine's Day
1-800-Flowers apologized for the issues and offered customers a variety of solutions, including rescheduling, refunding and discounts on future orders.
Valentine's Day is an emotional holiday, which just compounded the issue, said Eric Schiffer, chairman of ReputationManagementConsultants.com.
"They treated it like a traditional problem and this is not a traditional problem," he said. "This is a heightened emotional problem."
The company still has a chance to earn back customers' trust, he said. After all, what says "I'm sorry" better than a free delivery of flowers?