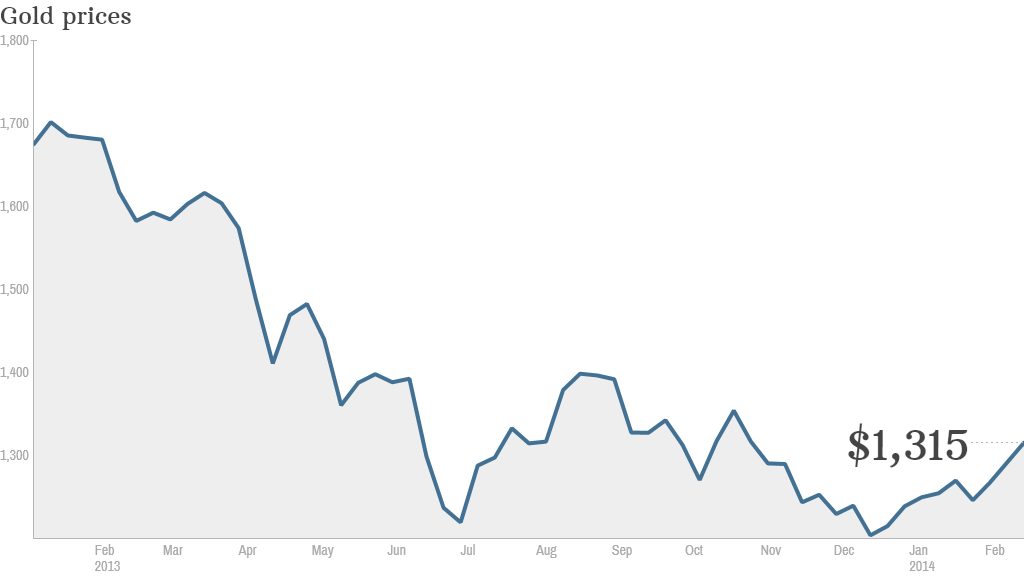 Investment funds dumped nearly $40 billion worth of gold in 2013 as the brighter world economic outlook encouraged a switch into riskier assets.
Outflows of gold from exchange-traded funds hit nearly 881 tonnes, swamping record demand for jewelry, bars and coins, according to the World Gold Council.
Global demand for gold fell 15% to its lowest level since 2009, due to the sell-off by gold-backed ETFs and declining purchases by central banks.
That was reflected in the price of the precious metal -- it slumped by nearly 30% over the course of 2013.
But the rout would have been much worse without soaring demand from bargain-hunting consumers, particularly in China. Last year, China overtook India as the world's biggest market for gold.
"There was a huge movement of gold from West to East," said Marcus Grubb, managing director of investment strategy at the WGC.
Related: China becomes world's top gold buyer
Big investors such as George Soros and Dan Loeb began bailing out of gold early last year as subdued inflation, stronger growth and the prospect of reduced bond purchases by the Federal Reserve made other assets more appealing. But Grubb said that process may be "largely over" now that further actions by the Fed are probably factored into the market.
Soros and Loeb both dumped their holdings in the SPDR Gold Trust ETF (GLD), one of the most popular funds for investors seeking exposure to physical gold.
But the price plunge sparked increased activity by small investors. Demand for small bars and coins jumped 28%, hitting a record high. And global demand for gold jewelry grew 17%, its biggest increase since 1997.
Related: China's anti-corruption drive eats into growth
India's moves to restrict imports and raise duties resulted in higher local prices, and slowing demand later in the year, but demand was still up by 13% for 2013 as a whole.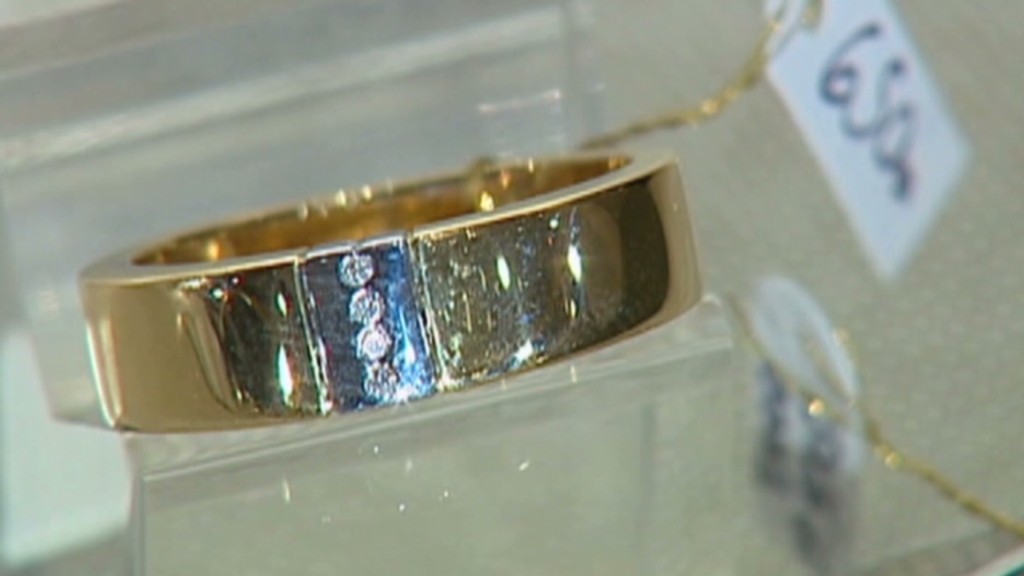 That rate of growth was eclipsed by China, however. And the world's second biggest economy could underpin the market again this year, as rising household wealth drives demand for jewelry.
"We think China will come in at a similar level to last year," Grubb said.
That may already be happening, as gold has enjoyed a bit of a comeback in 2014. The GLD ETF is up nearly 10% so far this year, and the price of the metal is above $1,300 an ounce for the first time since early November.
-- CNN's Nina dos Santos contributed to this article.