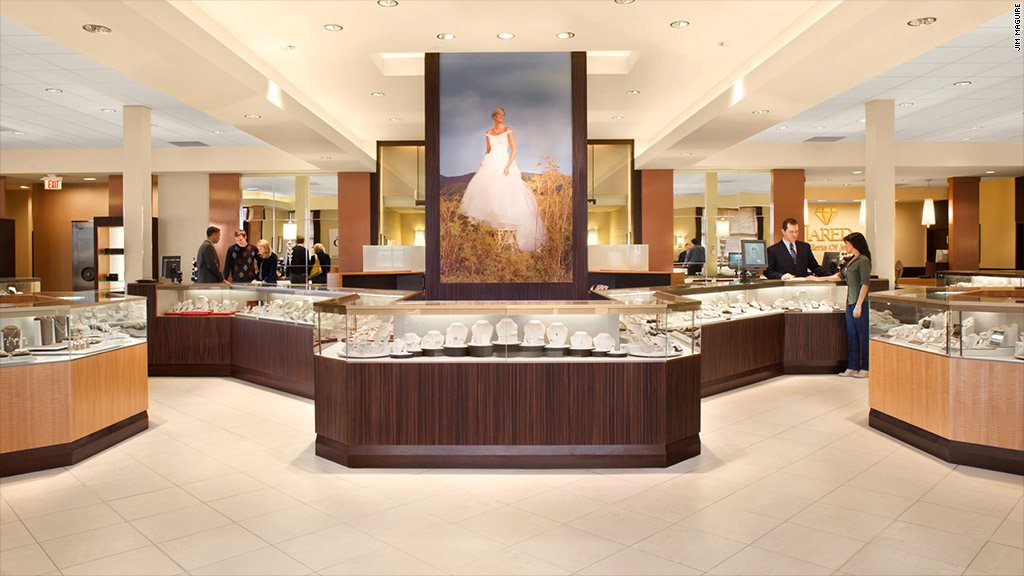 Signet Jewelers has signed a $1.4 billion deal to buy jewelry retailer Zale, the companies said Wednesday.
Shares surged 15% for Signet (SIG)in morning trading, while Zale (ZLC) shares soared 40%.
Signet, which has 1,400 stores in the U.S. and 500 in the U.K., has agreed to buy the Dallas-based Zale, which has 1,680 stores in the U.S., Canada and Puerto Rico, in a cash deal for $21 per share.
Related video: Turning America's gun into jewelry
Signet Chief Executive Officer Mike Barnes said in a press release that the acquisition "further diversifies our businesses and extends our international footprint" and opens the door for greater growth and innovation.
Signet owns discount jewelers Kay and Jared, which are famous (and often mocked) for their somewhat cheesy ads. Zale also runs stores selling jewelry that is more affordable to the masses. So neither company competes that directly with higher-end jewelers such as Tiffany (TIF) or Harry Winston.
But Signet and Zale do face some challenges from online jeweler Blue Nile (NILE). Shares of Blue Nile were up slightly in premarket trading.