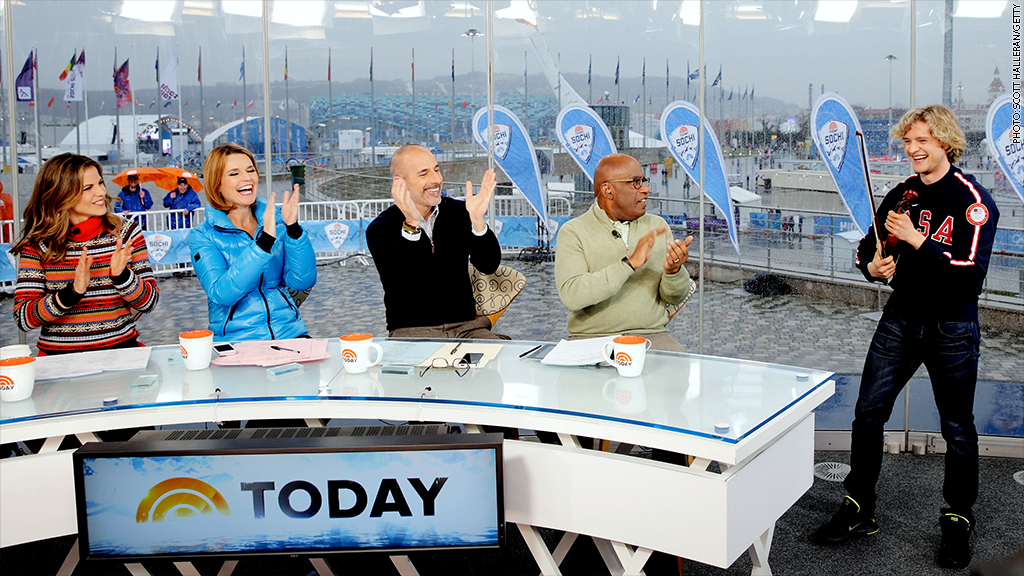 Last week NBC's "Today" show out-rated ABC's "Good Morning America" for the first time in a year and a half -- but NBC probably shouldn't be celebrating.
"Today" notched the weekly win thanks to NBC's coverage of the Winter Olympics in Sochi, Russia. But the show surpassed "G.M.A." by only 210,000 viewers -- a small fraction of the advantage that it had over "G.M.A." during previous Olympics.
The results demonstrate just how wounded "Today" remains after falling from first place to second in the closely-watched network morning show race.
Executives at ABC, meanwhile, have been overjoyed by how well "G.M.A." has held up, though they declined to comment on the record about the ratings results.
On one day last week -- Tuesday the 11th -- "G.M.A." actually won outright: TVNewser said it represented "the first time since the beginning of electronic records that a network morning show that didn't carry the Olympics won a morning."
"Today" was expected to easily re-take first place last week because the Olympics have always been a guaranteed ratings booster. The show is famous for sending its whole cast to the host city and covering the games exhaustively.
During the first week of the last Winter Games, in Vancouver in 2010, "Today" bested "G.M.A." by 1.88 million viewers.
Even after "G.M.A." began to grab the ratings gold medal from "Today," assisted by the backlash to Ann Curry's tearful June 2012 departure, "Today" still enjoyed a ratings surge during the Summer Games in London in July-August 2012.
That's why the narrow gap between the two shows now is so noteworthy. Typically "G.M.A." has half a million to one million more viewers than "Today." Last week, "Today" gained enough Olympics viewers to temporary get ahead of "G.M.A.," but "G.M.A." retained basically all of its audience from the week before. That means the ratings race is likely to revert to normal after the closing ceremonies in Sochi.
"G.M.A." is most likely benefiting from a busy news cycle, including a spate of winter storms, and its decision to cover the Olympics aggressively instead of ceding that ground to "Today." (ABC stationed Amy Robach, a "G.M.A." regular, in Sochi, and dressed up the show's regular set in New York City with a "GMA AT THE OLYMPICS" logo.)
Most of all, it's benefiting from a loyal audience.
It probably also helps G.M.A. that these Olympics haven't been exceptionally newsworthy for U.S. viewers. If current ratings trends hold, Sochi will be the lowest-rated Olympic games in modern times among the 18- to 49-year-olds that NBC covets.