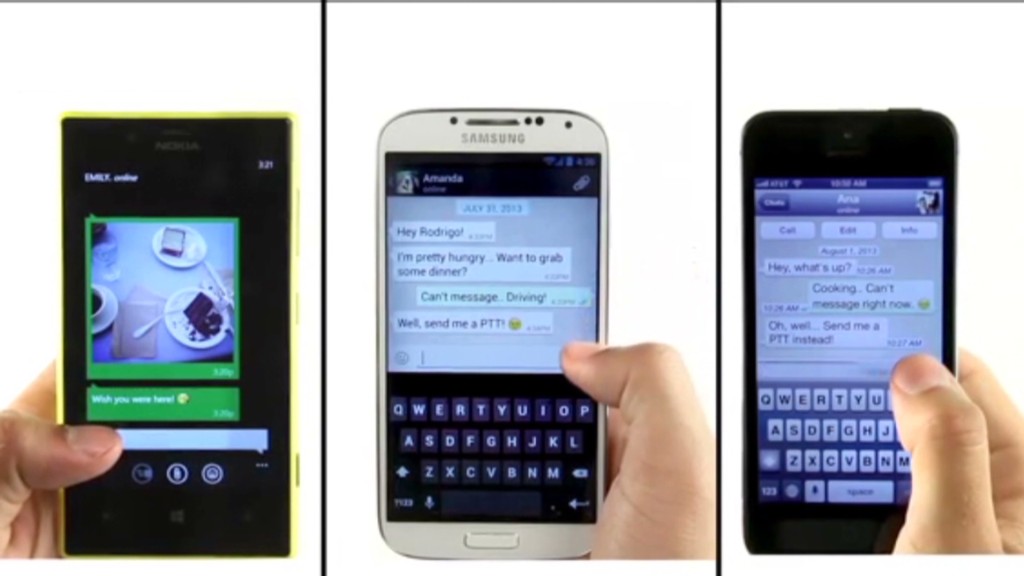 WhatsApp's jaw-dropping $19 billion price tag took the world by surprise. But Facebook might have actually gotten WhatsApp for cheap.
We're serious. Hear us out.
What is WhatsApp? WhatsApp is a mobile messaging service that functions as a kind of a social network. WhatsApp users can send messages to one or many recipients at the same time, and they can even share their locations.
In many ways, WhatsApp's users are just the kind of customers Facebook is looking for. They are extremely active, sending more than 600 million photos a day -- more photos than Facebook (FB) users upload. A whopping 70% of WhatsApp users are active every day. By way of comparison, 62% of Facebook users are active daily.
People around the world send 19 billion WhatsApp messages per day, including 200 million voice messages and 100 million videos.
Related: Facebook buys WhatsApp for $19 billion
Crucially, WhatsApp has a strong presence internationally, particularly in Europe, India and Latin America. Those are regions where Facebook is trying to grow its base of users. WhatsApp and other mobile messaging services also are widely used by teens and tweens, a group that has notoriously been ditching Facebook for rival services, including text message services and Snapchat.
"Facebook users were complaining dearly about the lack of one-on-one personalized socializing and sharing, which WhatsApp clearly has been successful with," said Vidya Nath, research director at Frost & Sullivan.
How WhatsApp makes money: WhatsApp is also growing at a blinding speed, adding 1 million new users per day. At that rate, WhatsApp should hit 1 billion users sometime next year. With its $1 annual subscription fee, 1 billion users would translate into significant revenue for Facebook.
"Large scale networks like WhatsApp are rare and provide significant monetization opportunity, justifying their valuation over time," said Robert Peck, analyst at SunTrust Robinson Humphrey.
The messaging service, founded in 2009, has been so successful because it understood from the start the importance of embracing mobile technology. That's something Facebook struggled with, notably going public without any revenue from mobile devices. Facebook now gets more than half of its revenue from advertising on smartphones and tablets, but it still is looking to expand its mobile reach.
"WhatsApp took chatting to another level, and it further strengthened the phone as a central point of a consumer's universe," Nath noted.
As a result WhatsApp managed to attract far more users in its first four years than its competition was able to over the same time period.
Growing faster than other social networks: Four years in, Facebook had just 145 million users. Google's (GOOG) Gmail had 123 million. Twitter (TWTR) had 54 million. And Skype -- now owned by Microsoft (MSFT) -- had 52 million users, according to Heather Bellini, software analyst at Goldman Sachs.
Although WhatsApp is more limited in its scope and capabilities to Facebook and Twitter, mobile messaging services are becoming competitors to traditional social networks.
In many ways, Facebook's purchase of WhatsApp mirrors its 2012 Instagram acquisition.
The $1 billion valuation scared some investors at the time, but as young social network users gravitated towards photo-sharing services, Facebook wanted to scoop up what could have eventually become a big rival.
WhatsApp may be "cheaper" than most rivals: Facebook paid just $30 per Instagram user at the time (the service had 33 million users when Facebook bought it, compared to 150 million today). Facebook is spending $42 per WhatsApp user.
But given WhatsApp's enormous user base, its purchase price might be a bargain compared some of its competitors. LinkedIn's (LNKD) share price values that professional social network at $153 per user. Twitter trades at $140 per user, and Facebook is at $123. Even at its latest $2 billion valuation, Snapchat trades at $50 per user. (And Snapchat reportedly turned down a $3 billion offer from Facebook last year.)
"We don't think the company overpaid for WhatsApp," said Peck. "We think WhatsApp and Facebook were likely to more closely resemble each other over time, potentially creating noteworthy competition, which can now be avoided."