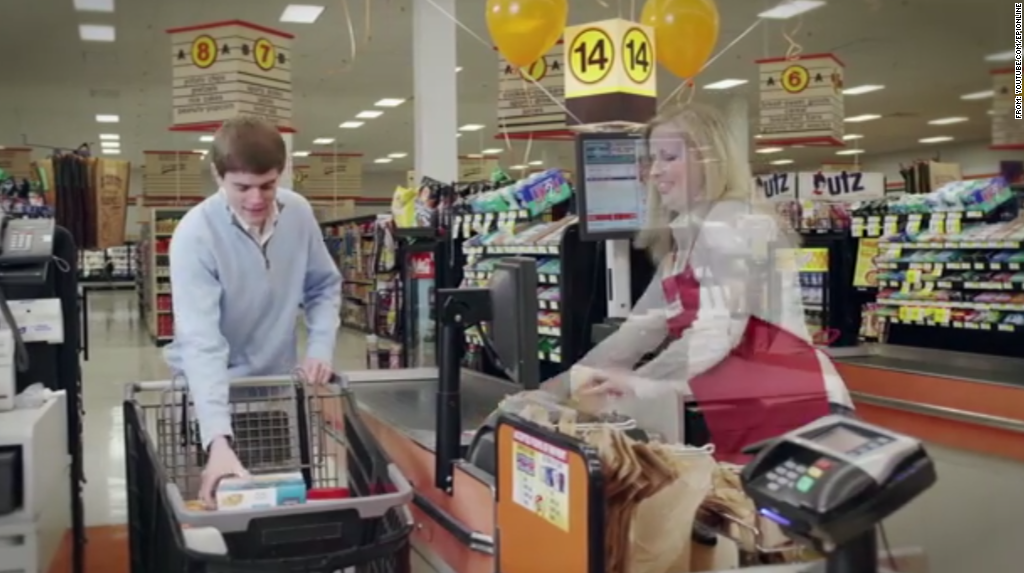 Big business is striking back hard against President Obama's efforts to raise the minimum wage, using a government report released just Tuesday that said the effort would both lift people out of poverty and spur job losses.
The commercial opposing President Obama's effort to hike the minimum wage touts the report by the Congressional Budget Office released Tuesday, saying "up to one million jobs will disappear" if the minimum wage increases.
The report said that gradually raising the federal minimum wage to $10.10 from $7.25 would boost the incomes of most low-wage workers and lift 900,000 out of poverty while resulting in job losses of around 500,000.
The commercial is sponsored by the Employment Policies Institute, a group backed by the restaurant industry and business groups. The ads will run nationally on Fox, as well on cable systems in the Washington, D.C., area, where they'll appear on stations including CNN, a representative confirmed Friday. It will start airing on national television during the Sunday morning talk shows.
"This is intended to provide a clearer representation of how, when the minimum wage goes up, what some of the consequences are," said group's research director Michael Saltsman.
Related: Jack Lew on minimum wage
The group plans to spend between $500,000 and $1 million on an "educational campaign" on the minimum wage.
Who's behind the ads is a bit of a mystery. But the group's research director, Michael Saltsman, said the institute has ties to the restaurant industry and other business groups.
Last year, a group run from the same office as the Employment Policies Institute -- called the Enterprise Freedom Action Committee -- campaigned against a New Jersey effort to hike the minimum wage, according to New Jersey Election Law Enforcement Commission records. They spent nearly $1 million opposing the ballot measure -- which voters ultimately approved -- to raise the minimum wage a dollar to $8.25.
The Enterprise Freedom Action Committee doesn't have to disclose donors to anyone but the IRS, said New Jersey Election Law Enforcement Commission Deputy Director Joseph Donohue.
Related: Gap raising its minimum pay to $10/hour
The Employment Policies Institute was organized by Richard Berman, who has an advertising firm and has run other groups that advocate for "consumer freedom" on issues such as banning smoking in restaurants and taxing soda, as well as lowering the threshold for arresting drunk drivers. He also runs the Center for Union Facts, which criticizes unions.
Several big restaurant companies -- including YUM! Brands, (YUM) which owns Taco Bell, KFC, Pizza Hut; Darden Restaurants (DRI), which owns Olive Garden and Red Lobster; and Cracker Barrel Old Country Store (CBRL) -- directly lobbied against a bill to raise the minimum wage last year, according to Senate lobbying reports.
Those companies did not return requests for comment.
Both Darden Restaurants and YUM! Brands have warned investors that an increased minimum wage would adversely affect profit margins, according to SEC filings.
Last week, in an effort to encourage lawmakers to raise the federal minimum, President Obama signed an executive order requiring businesses that get new or renewed federal contracts to pay their minimum wage workers $10.10 an hour starting in 2015. The order is expected to raise wages for a few hundred thousand people.
This week, Gap Inc. (GPS) announced it would raise the minimum pay for 65,000 U.S. employees in its stores to $9 an hour in June, and $10 an hour in June 2015.
Wal-Mart, (WMT) was another large company that lobbied on the federal minimum wage last year, but says that it isn't taking a position on Obama's latest effort to hike the minimum wage.
"We haven't taken a position either way," said Wal-Mart spokesman Kory Lundberg. "We think that's not the only issue here. . . it's more to do with whether (workers) have enough opportunity to grow and have opportunity to earn more."