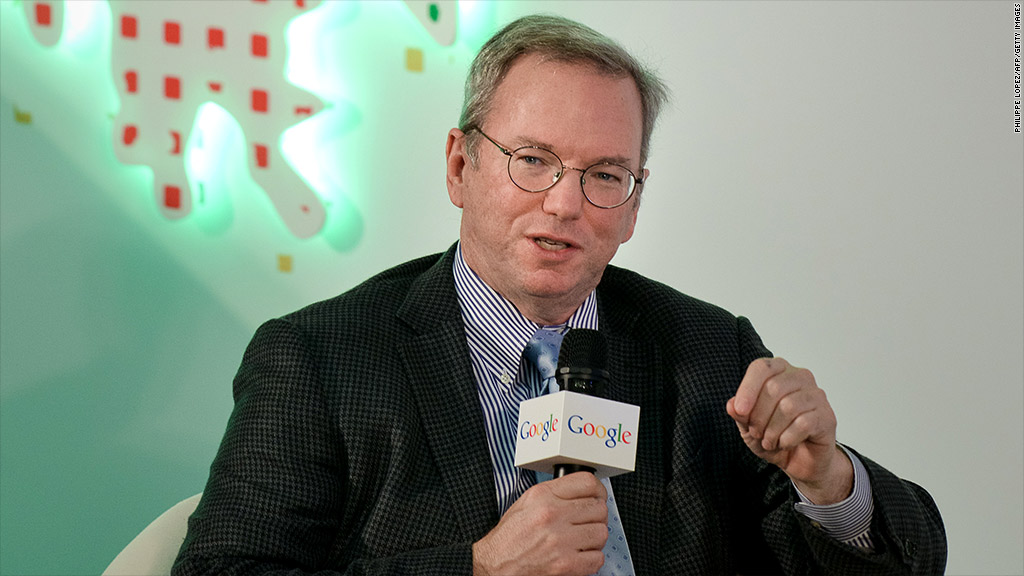 Google executive chairman Eric Schmidt plans to dole out $1 million to companies around the world to help them upgrade their communication technology.
That's worth about 833 shares of Google (GOOG), which is currently trading at about $1,200 per share.
"I think I should put my money where my mouth is," said Schmidt in a Monday interview with CBS (CBS). "Google's mission is to connect the world. We want a free, open Internet for everyone in the world."
Schmidt, former Chief Executive Officer of the world's most dominant Internet search browser, did not identify the companies that would receive the cash.
Related: Apple issues fix for security risk
He was accompanied by Google director of ideas Jared Cohen in the interview, which made numerous references to the book they co-authored, "The New Digital Age," which is being released in paperback next week.
This comes just days after Google said that it's going to install Google Fiber, the company's super-fast Internet network, in nine major U.S. cities.
Schmidt and Cohen declined to confirm or deny reports that Google offered $10 billion to buy WhatsApp, which Facebook (FB) agreed to purchase last week for $19 billion.