Tesla is on a hot streak again.
Shares of the electric car maker continued to march deeper into record territory Wednesday, building on the previous day's rally, when shares surged 14%.
The stock has gained more than 30% since Tesla (TSLA) reported much stronger-than-expected profit and raised its sales targets last week.
The fourth-quarter results reignited Tesla's momentum in the stock market, which faded a bit late last year. After falling below $130 last October, Tesla shares blasted through $200 last week and rose to a high above $250 on Tuesday. Tesla debuted on the stock market in 2010 at less than $20 a share.
Investors are betting that Tesla will transform the global auto industry as it grows from a niche player to a full-scale automaker to rival Ford (F), Toyota (TM) and General Motors (GM).
One important key to Tesla's success could be disclosed this week.
Tesla is expected to officially announce plans to open a massive new lithium battery factory, dubbed the "Gigafactory," which CEO Elon Musk says will have capacity equal to all factories making such batteries around the globe.
The factory is crucial to Tesla's plan to make an "affordable" electric car in large enough numbers to compete on the global market. Tesla has said it would be selling even more cars if it wasn't constrained by the limited supply of batteries.
Related: Tesla's future rides on a massive battery plant
Analysts at Morgan Stanley upgraded Tesla shares Tuesday based on the factory's potential to drive sales by lowering the cost of lithium batteries. The factory could help Tesla double its share of the global car market to just under 1% over the next 14 years, the analysts wrote in a report.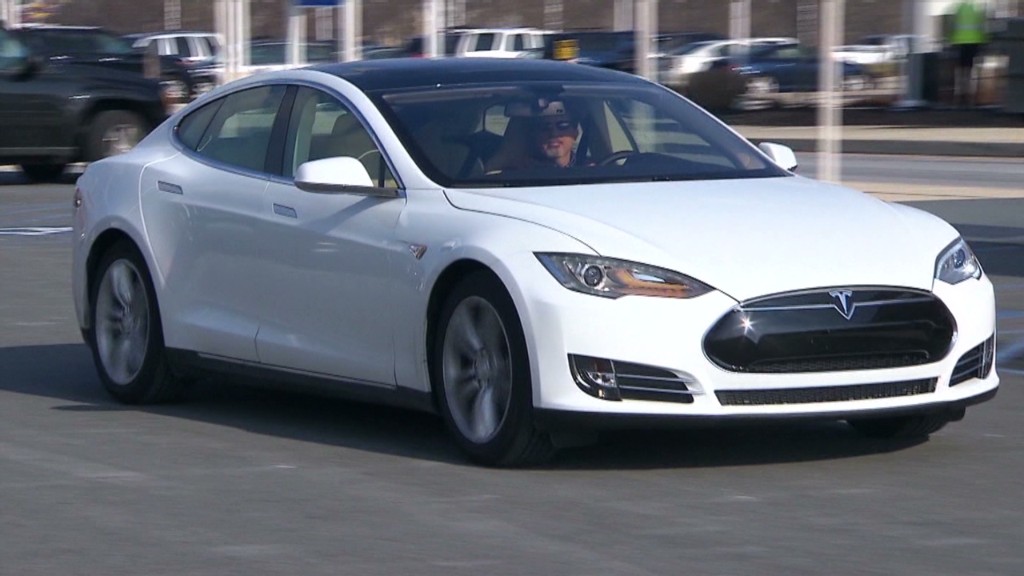 "If it can be a leader in commercializing battery packs, investors may never look at Tesla the same way again," the report states.
In addition to making batteries for cars, the report says the factory could enable Tesla to service the electric power and distribution market. Tesla is also well positioned to be a leader in "autonomous cars," or self-driving vehicles, according to the report.
With all this in mind, Morgan Stanley raised its price target for Tesla shares to $320, more than 25% higher than current prices.
Analysts say the factory could cost anywhere between $2 billion and $10 billion to build. The company has given no clues about the cost of the plant, though Musk has suggested the company may issue more shares to raise some of the cash it needs to build it.
Related: Will Tesla's China bet pay off?
Tesla has already seen strong demand for its Model S, the only car it currently sells.
The company said last week that it expects global sales to reach 35,000 vehicles for the full year, up 55% from last year. Sales are expected to grow this year as Tesla expands its customer base to Europe and China, where Musk has said the company is struggling to keep up with demand.
Investors clearly have high hopes for Tesla, but critics say the market might be getting carried away. Even Musk has warned that Tesla's market valuation is "more than we have any right to deserve."
Tesla is currently trading at more than 115 next year's expected earnings growth. That makes it one of the most expensive stocks in the market. The S&P 500 has a price-to-earnings ratio of just over 18.