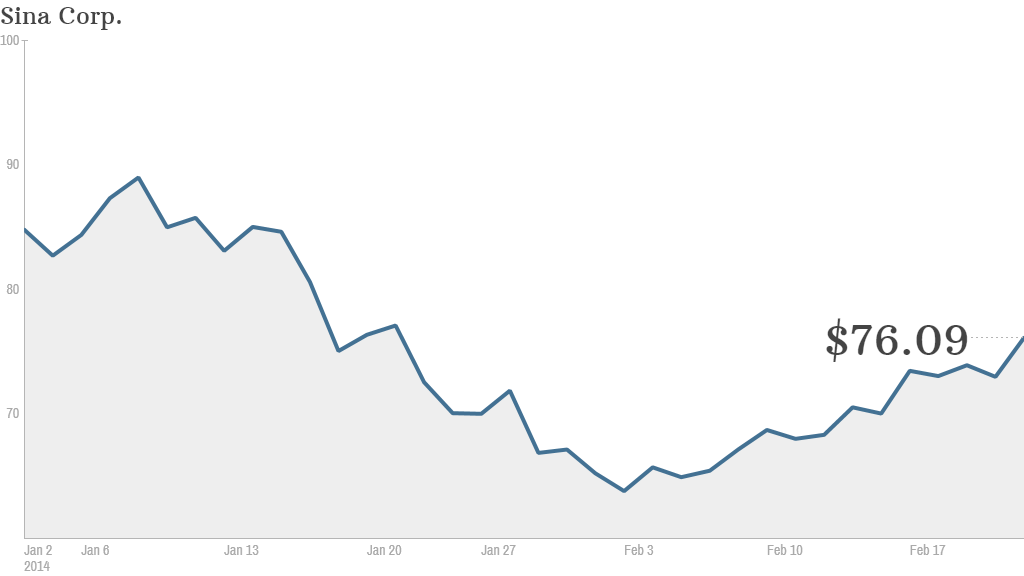 Sina Corp. executives ignored the elephant in the room during an hour-long investors' call Tuesday -- keeping mum about a potential spinoff for Weibo, its popular microblogging site.
Neither CEO Charles Chao nor CFO Herman Yu addressed recent reports that New York-listed Sina (SINA) is targeting an IPO with an $8 billion valuation for Weibo. And to be fair, none of the analysts on the call asked.
If Sina does pull the trigger, the transaction would be the latest in a series of tech industry shake-ups, highlighted by Facebook's recent acquisition of WhatsApp for $19 billion. The flurry of activity is concentrated in the mobile space, increasingly seen as a sector of vital importance for the tech industry.
An $8 billion target would value Weibo at a whopping 60% premium compared to Sina's current $5 billion market cap.
On Tuesday, Sina executives were eager to highlight the fact that Weibo was profitable for the first time, pulling in $3 million in operating profit in the last quarter of 2013. The results were boosted by a 163% surge in ad revenues to $56 million.
Related story: Twitter needs an Asian strategy
The number of users also rose -- albeit at a slower pace than Sina is accustomed. Active daily users numbered 61.4 million by the end of December, up from 58.9 million in September.
Chao said that the service would have to find a way to attract more new users, and that Weibo's continued success "is largely dependent on our ability to continue to grow our user base."
The Beijing-based company announced quarterly net income of $44.5 million, a significant increase from $2.4 million a year prior. Total ad revenue grew 45% to $160 million.
Related story: Tencent: China's hottest tech company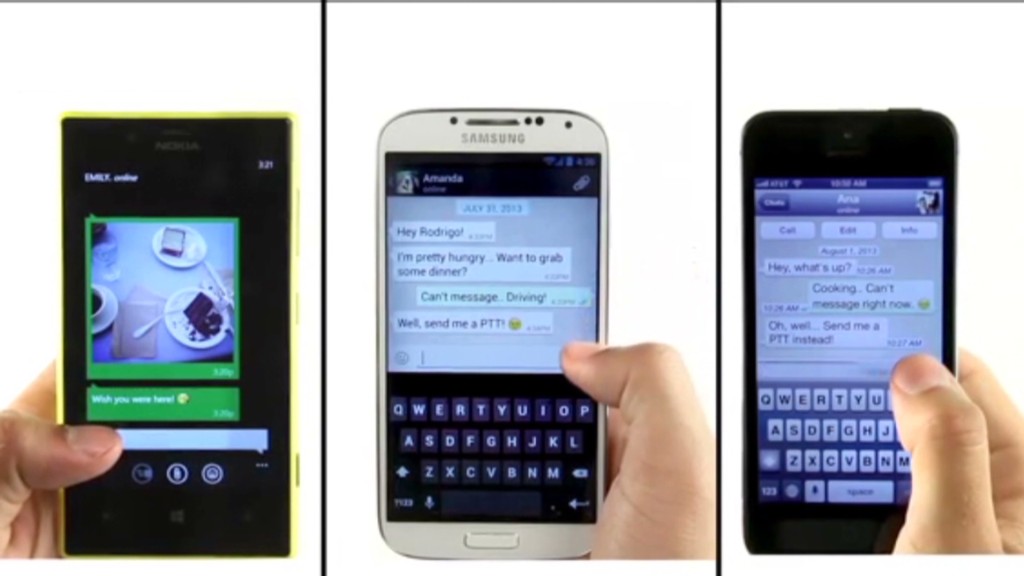 Even with solid results, shares of Sina dropped as much as 8% in after-hours New York trading on Monday after earnings posted. So far this year, the stock has plunged 9.7% amid concerns over future Weibo user engagement and revenue growth. Aside from the microblogging service, Sina operates a number of online information portals, similar to Yahoo (YHOO).
A public listing in the near term could shine a spotlight on Weibo at a critical juncture. The site is up against stiff competition from other Chinese tech companies, such as Tencent, a company that Barclays analysts said is better positioned to capitalize on mobile Internet growth.
Yet Weibo also faces increased attention from government censors following a crackdown on dissent in China that ensnared some of the service's more vocal users.
Related story: Imagine the Fed tweeting the taper
Despite all that, celebrities and even government agencies -- including China's central bank -- remain active on Weibo, posting major news and policy decisions on the site.
Chinese e-commerce giant Alibaba last year paid $586 million for an 18% stake in Weibo, and subsequently made it easier for Weibo users to shop in its digital marketplace. In the event of a spinoff, Alibaba could look for a way to raise its stake in Weibo.
Regardless of Sina's plan for Weibo, it's clear the company continues to seek ways to capitalize on the site's success.
"Weibo is an important source for data going forward for internet and user behavior, and the content itself can be very valuable," Chao said.