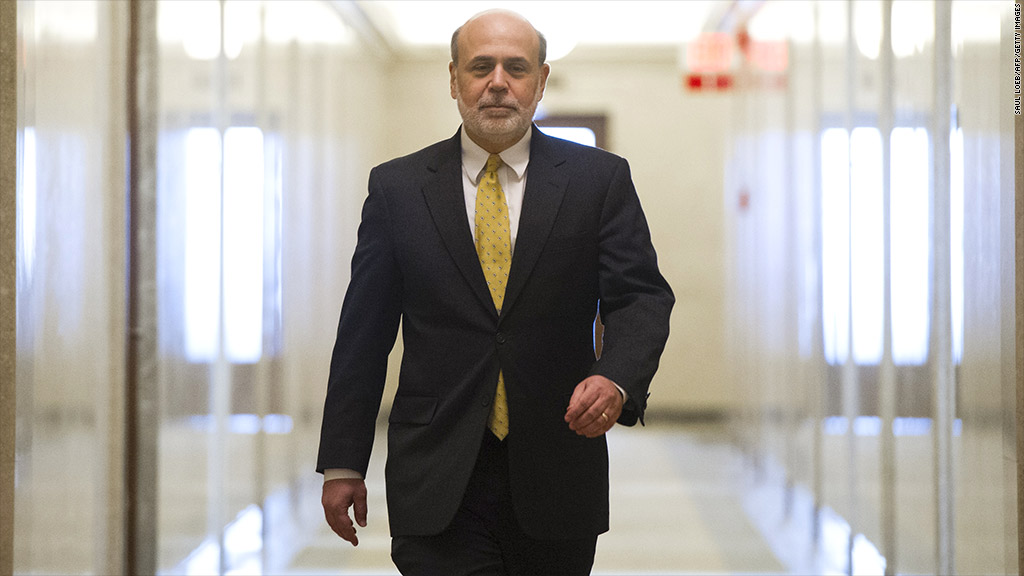 Former Fed chairman Ben Bernanke was grilled on Thursday about some of his toughest days in the job.
Bernanke gave a deposition in a case brought by Starr International, the firm controlled by former AIG chairman Hank Greenberg that's now represented by attorney David Boies. Starr and the ex-chairman are challenging the 2008 bailout of AIG by the Federal Reserve, arguing that the terms of the bailout were unfair to existing shareholders
The bailout saved AIG from filing for bankruptcy. The federal government took 92% of AIG's shares in return for $152 billion that the Fed and Treasury eventually pumped into the insurer. But when the government took that stake, it greatly diminished the AIG (AIG) stake held by Starr, Greenberg and other shareholders. Starr and Greenberg sued the government in late 2011.
Taxpayers eventually made a profit of $22.7 billion on the AIG bailout.
Related: Transcripts show Fed underestimated the crisis
Greenberg sought to get AIG to join the lawsuit early last year. But after hearing a presentation from Boies the AIG board declined to participate.
Greenberg has been fighting to force Bernanke to testify about AIG's bailout and the terms of the federal rescue. But the federal court of appeals ruled he would not have to testify while he was serving as chairman of the central bank late last year. His term ended at the end of last month.
Related: Mortgage bailout now profitable for taxpayers
Bernanke is now serving as a distinguished fellow at the Brookings Institution, a Washington think tank.
A spokeswoman for Boies' office said she did not believe Greenberg was present at Bernanke's deposition.