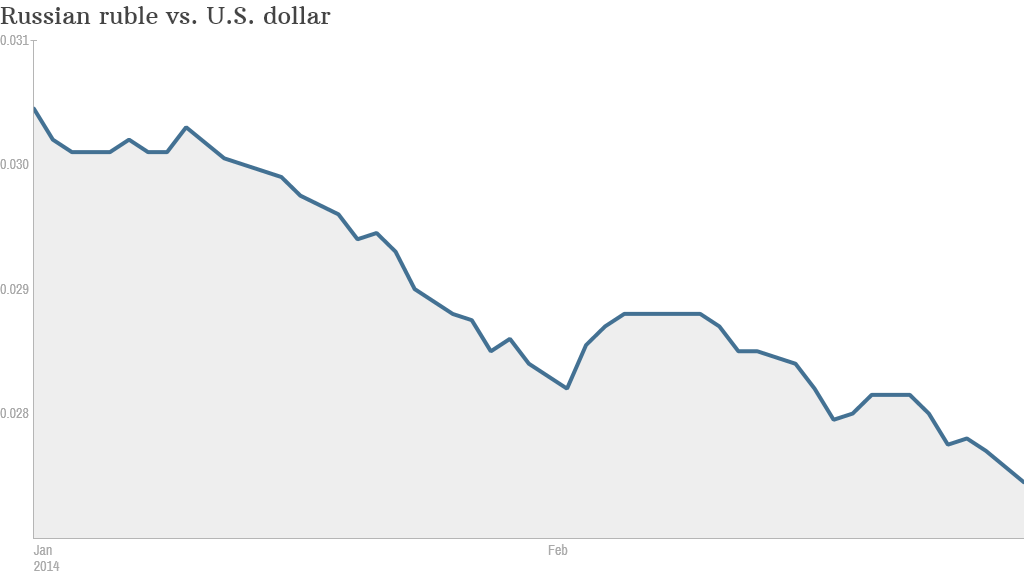 Rising tension over Ukraine slammed Russian financial markets Monday, prompting the central bank to hike interest rates as the ruble plunged.
The ruble, already one of the weakest currencies so far this year, fell as much as 3% versus the U.S. dollar before posting a small recovery.
Russia's main stock market index fell nearly 13% as the country's G8 partners condemned its military buildup in Crimea, demanding that it withdraw.
The ruble has declined by more than 10% this year as the Russian economy experiences a significant slowdown and weak future growth prospects.
Russia's central bank reacted to the volatility by hiking interest rates to 7% from 5.5%, saying it aimed to maintain financial stability and inflation levels.
"Open military action against Ukraine would have major political and economic costs for Russia itself," noted analysts at Bank of America Merrill Lynch. "Direct costs of war to Russia could reach at least 3% of GDP."
Related: 5 reasons Ukraine matters to the world economy
Moscow says it is working to secure Russian interests in the eastern Crimean region, a Ukrainian territory where many ethnic Russians live.
The military escalation follows the ouster of the pro-Russian president Viktor Yanukovych and the installation of a new interim government.
Investors were looking to get out of Russia as they expect the military action to hurt Russia's global trade prospects, though many analysts doubt a full blown war is around the corner.
Russia's economy is heavily dependent on oil and natural gas. The latest World Bank figures show the energy sector accounts for roughly 70% of Russia's exports.
"Europe and Turkey will likely strengthen their efforts to become less dependent on Russian energy," noted Berenberg's chief economist Holger Schmieding. "Limited targeted Western sanctions, or a mere reluctance to deal with Russia, can further hurt Russia's business interests."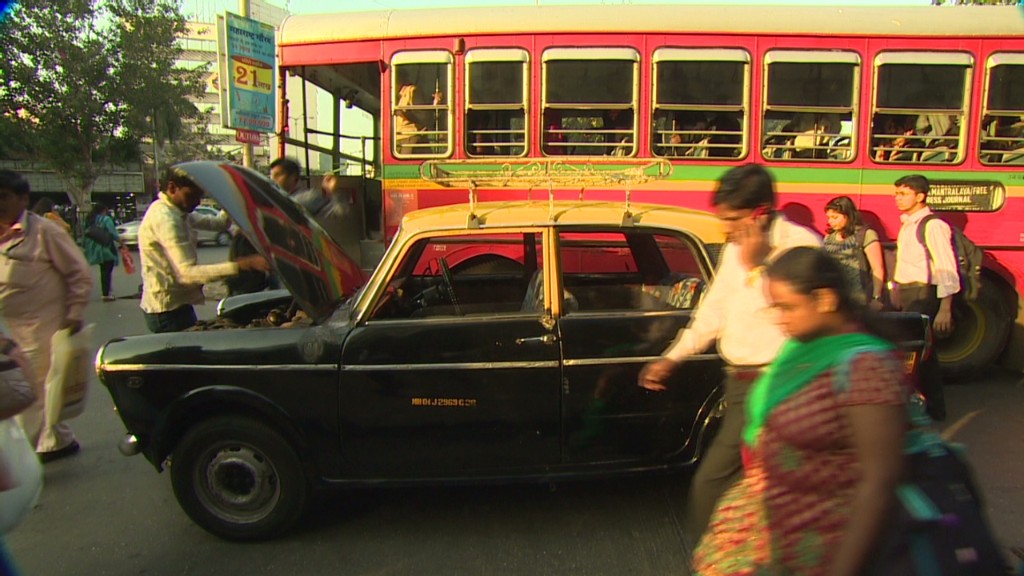 According to the International Monetary Fund, Russian gross domestic product grew by just 1.5% last year compared to 3.4% in 2012 -- one of the sharpest slowdowns in emerging markets.
The IMF expects a slight improvement this year, but growth will still lag its historical trend.