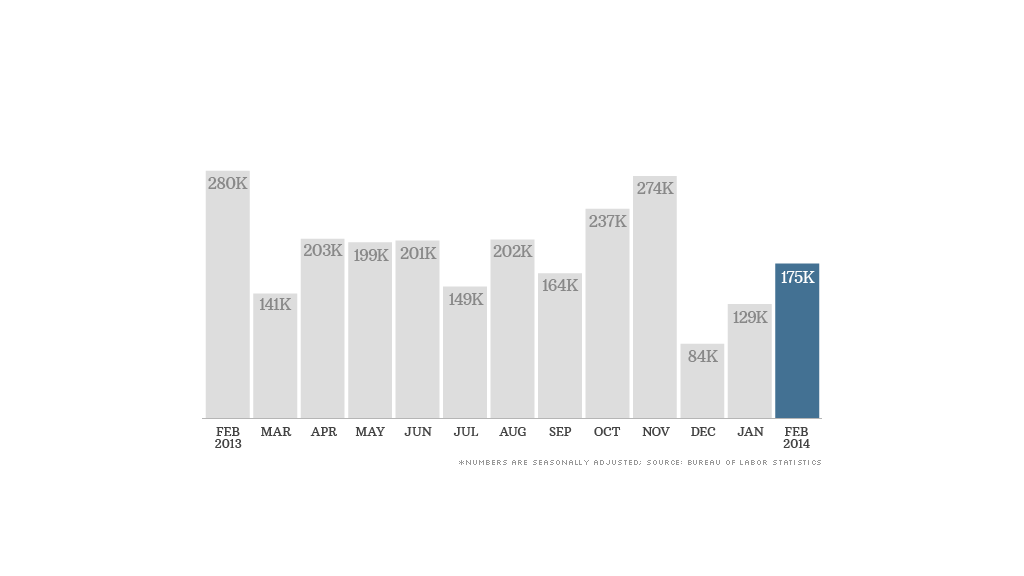 The job market picked up more than expected in February, led by strong hiring in professional and business services.
The U.S. economy added 175,000 jobs last month, marking an improvement from January and topping economists' expectations. Meanwhile, the unemployment rate ticked up to 6.7%, from 6.6% the prior month as more Americans joined the labor force. Both numbers were reported by the Department of Labor on Friday morning.
"It's just a steady-as-she-goes recovery. Not fast enough, but not easy to derail," said Justin Wolfers, senior fellow at the Brookings Institution on Twitter.
Economists had been expecting a weaker jobs number due to colder than usual weather throughout much of the country in February. Ice and snow can postpone hiring if businesses close, or even cause a decline in outdoor jobs, like construction.
That didn't happen though. Instead, hiring picked up across many sectors. Construction added 15,000 jobs, restaurants and bars added 20,100 jobs and education and health services added 33,000 jobs.
Related: New businesses aren't adding enough jobs
Offices are hiring: By far, the strongest hiring came from professional and business services industries, which include accountants, architects and technology workers. This sector alone added 79,000 jobs last month.
Secretary of Labor Tom Perez called hiring in this sector "easily the strongest aspect of the jobs report."
"These are well-paying jobs," he said. "It's a bellwether of the bullishness of business to expand."
Deloitte CFO Frank Friedman said his company is planning to hire around 19,000 workers this fiscal year, ranging from "a campus kid coming off an undergraduate degree, to a very experienced person that comes in as a partner."
"We are going to continue to hire," he said. "Our business continues to be good and we're optimistic."
Wages are up: Average earnings ticked up 9 cents, to $24.31 an hour in February. It may not sound like much, but it was the largest monthly wage gain in more than two years.
"Rather than gains in equities providing impetus for the wealthy to spend, stronger wage growth will help boost spending across all income groups," said Ellen Zentner, senior U.S. economist for Morgan Stanley. "This will be a key underpinning for consumer spending and economic growth this year."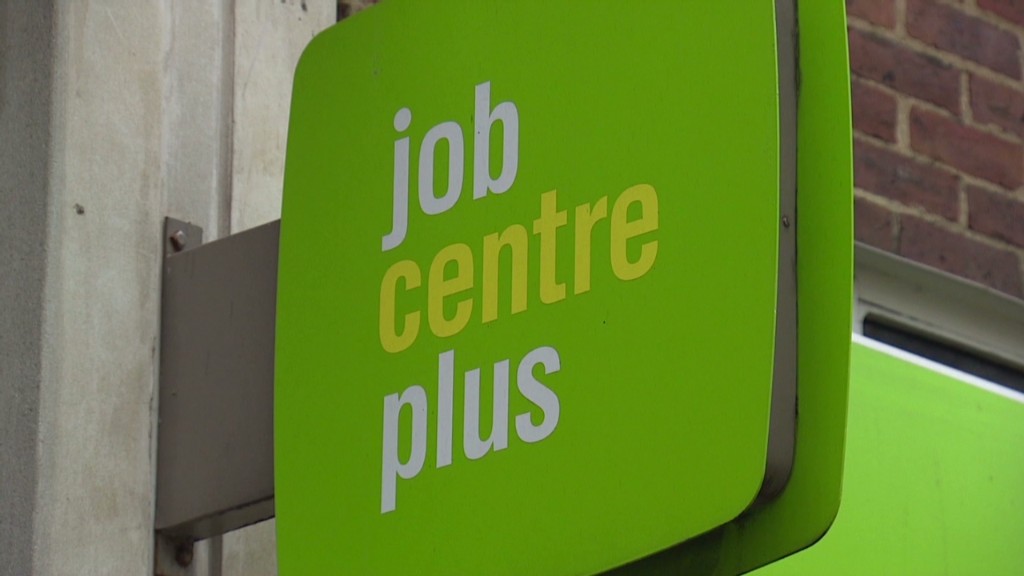 Weather still holding back hiring: But weather still had some impact on the job market in February. About 6.9 million full-time workers said their hours were temporarily reduced due to "bad weather" -- the highest level in any February on record since the government started tracking the data in 1977.
Plus, economists surveyed by CNNMoney before the report indicated that 193,000 jobs could have been added last month if it weren't for the bad weather.
Prior to December, the economy had been adding an average of 205,000 jobs each month. Economists are hoping job growth will return to that level soon.
"Weather clearly played a negative role in these numbers, and the fact that we printed 175,000 jobs in spite of that suggests we will be seeing stronger numbers as we head into the spring," said Dean Maki, chief U.S. economist for Barclays.
Still not recovered: The U.S. economy lost 8.7 million jobs amid the financial crisis, and as of February, only 8 million jobs had been recovered.
Once factoring in population growth, economists still estimate it will take years to get back to pre-recession health in the job market, when the unemployment rate was between 4% and 5%.
Meanwhile, long-term unemployment remains high. As of February, 3.8 million Americans were unemployed for six months or more.
"The economy has a long way to go, and too many people continue to struggle to get back on their feet," Perez said. "The challenges confronting the long-term unemployed remain one of the most significant enduring legacies of the Great Recession."
The so-called underemployment rate -- technically known as the U-6 -- was 12.6%. That includes the unemployed, plus part-time workers who want to work full time, and people who want a job but haven't searched for one in the last four weeks.
Did you get a new job in February? Tweet @CNNMoney with the hashtag #Igotajob.