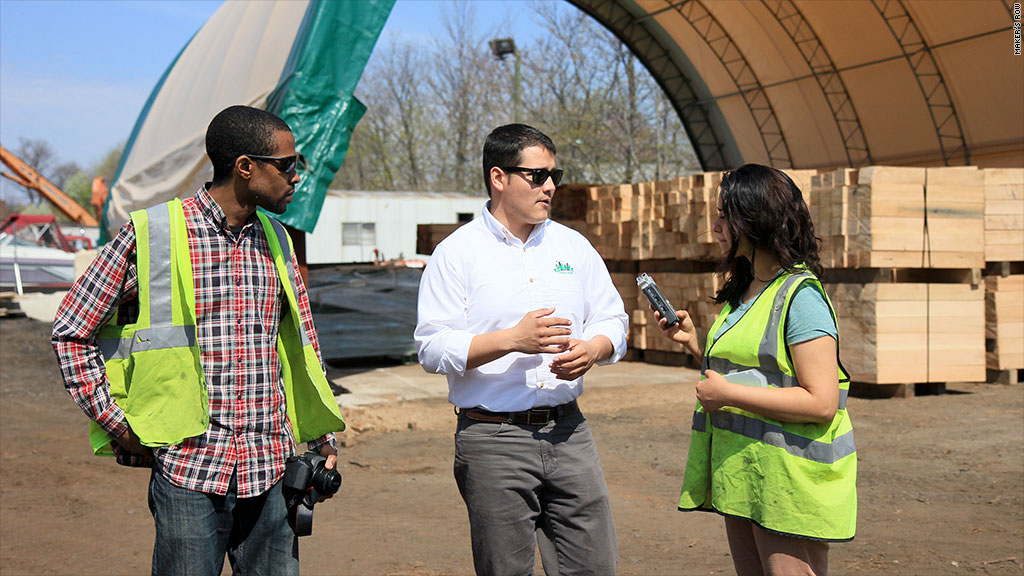 Matthew Burnett is no stranger to American-made products. He learned the craft of watchmaking from his grandfather, who was a worker on Ford's Detroit assembly line for $5 a day.
Eventually, the younger Burnett, now 28, moved to New York to study industrial design. He designed watches for Marc Jacobs and DKNY before launching his Brooklyn-based business Steelcake.
Just one problem: Like many U.S. companies -- which have shipped more than three million manufacturing jobs overseas since 2000 -- Burnett contracted with foreign companies to make his watches.
It didn't go well. Import taxes and shipping costs were expensive, and the time difference meant calls with overseas suppliers at 2 or 3 a.m. Manufacturers could also be sloppy with labeling, which added weeks onto shipping times.
The last straw came in 2011, when 3,000 watchbands arrived with a defect that made them pop apart. Sending them back wasn't an option, but he couldn't sell them either.
"Small companies seldom have the leverage to negotiate decent return policies with foreign companies," Burnett said. "So it was thousands of dollars out the window. It made me think there had to be a better way."
Related: Furniture making comes back to the South
So Burnett shut down Steelcake and launched a new venture that made leather goods, partly because he knew companies in Manhattan could design and produce the parts he needed. Even so, finding the right manufacturer took two months, which seemed far too long.
That gave Burnett the idea for Maker's Row, which he started in late 2012 with Tanya Menendez, a friend who is now chief operating officer. Based in Brooklyn, Maker's Row has eight employees who match U.S. manufacturers with American companies that want their products made here.
So far, Maker's Row operates in the apparel industry only, with plans to expand into furniture over the next few months. Even so, the site has already signed up over 3,000 manufacturers and about 31,000 companies that need things produced. The firms, Burnett said, range "from college students just launching their first businesses to big-name brands."
Manufacturers register on Maker's Row's site for free. Then, apparel companies pay a $10 fee to post specifications and drawings of product they want to sell. Maker's Row helps the designer find an appropriate manufacturing firm in its database.
Related: Why Obama is pushing high-tech manufacturing
Startups' eagerness to find domestic suppliers has arisen from many of the same headaches that Burnett experienced at Steelcake, but he and Menendez were surprised by how many large companies were just as quick to sign on.
"We thought huge brands would already have those domestic manufacturing connections, but no," he said. "They were getting samples and prototypes from [New York City's] Garment District and then having the actual products made overseas."
Maker's Row is slowly changing that. Although the company has yet to make a profit, Burnett says one of the first factories to sign up on the site, located in New York City, now gets more than 20% of its sales through Maker's Row. Another manufacturer in Florida, has had to hire extra workers to keep up with new orders from the site.
"[Some manufacturers] have told us they're starting to keep more jobs in factories here, rather than sending work overseas, because of the uptick in demand for that 'Made in U.S.A.' label," Burnett said.
A few of those are startups, like a new hat factory in Brooklyn, but many have been in the manufacturing business for generations.
Maker's Row received $1 million in seed capital from outside investors in July. The company plans to partner with cities to make local businesses aware of suppliers in their backyards and funnel more work to local manufacturers, as it did in Newark, N.J., under former mayor Cory Booker. Now, Burnett is talking with officials elsewhere who are "concerned with bringing back more manufacturing jobs" -- including his hometown Detroit.