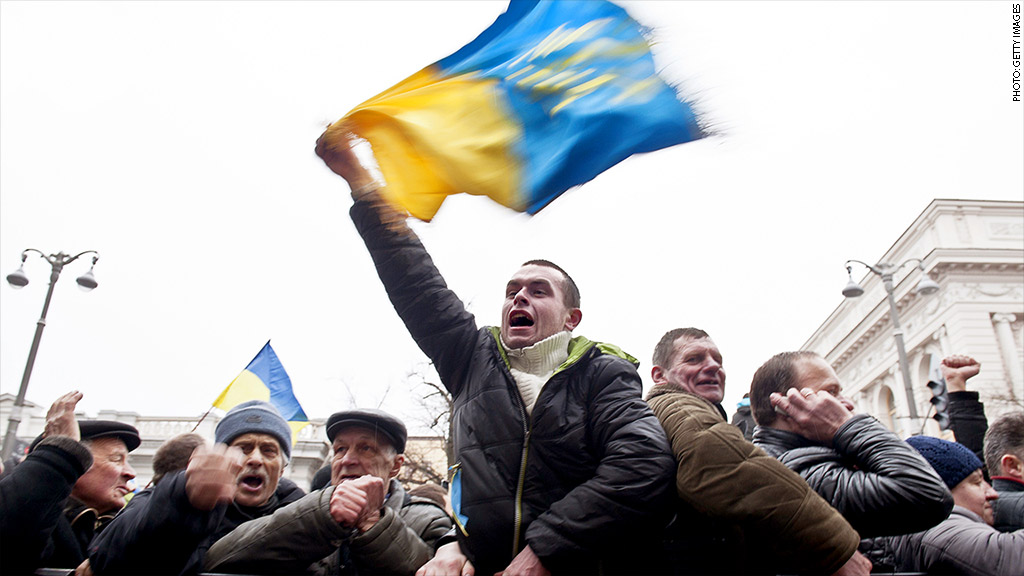 As the uneasy standoff over Ukraine continues into another week, risks linger that a worsening conflict could damage the European economy.
Russia remains intent on annexing Crimea, a part of Ukraine that is home to many Russian speakers and a key military base.
Western diplomats are racing to contain the geopolitical fallout, threatening sanctions on Moscow and gathering funds needed to shore up Ukraine's finances. Yet close trade and investment ties between Russia and Europe are complicating the situation.
Here is where things stand on Ukraine's financial crisis, sanctions, and what's at stake for the economy.
Ukraine still needs that bailout: The European Union says it will offer Ukraine at least $15 billion (€11 billion) in aid. The U.S. government has also stepped in to help, offering $1 billion in loan guarantees.
The money can't come soon enough. Ukrainian leaders said last month the country needs $35 billion in aid, funds that will go to pay creditors like Gazprom, the Russian energy firm that is owed more than $2 billion.
IMF officials are currently in Ukraine on a fact-finding mission, which they said Friday is "progressing well."
More sanctions are threatened: The U.S. introduced a visa ban last week for Russians and Ukrainians who played a role in threatening Ukraine's sovereignty. But no individuals were named.
President Obama also signed an executive order laying the groundwork for further sanctions against people and entities responsible for the crisis.
However, European leaders have been more circumspect because of the deep economic and trade ties with Russia. EU members of the G8 have decided to suspend preparations for June's summit in Sochi, host of the 2014 Winter Olympics.
Should the situation in Ukraine deteriorate, the EU might be forced to consider additional actions. But with the eurozone still emerging from its own crisis, European leaders will think long and hard about any measures that might put that recovery at risk.
Related: Russia's laughable economic threats
The risk of economic fallout lingers: Europe would stand to suffer most should biting sanctions be issued. Russia is the EU's third biggest trading partner after the U.S. and China, with goods and services worth more than $500 billion exchanged in 2012.
And about 75% of all foreign direct investment in the former Communist country originates in EU member states. Russia is also the single biggest supplier of energy to the EU.
Related: Why Europe will balk at Russian sanctions
Western firms could find their operations in peril. British energy firm BP, the second-largest shareholder in Russia's leading oil producer Rosneft, would be particularly vulnerable to any move by Moscow to seize Western assets.
-- Mark Thompson contributed reporting.