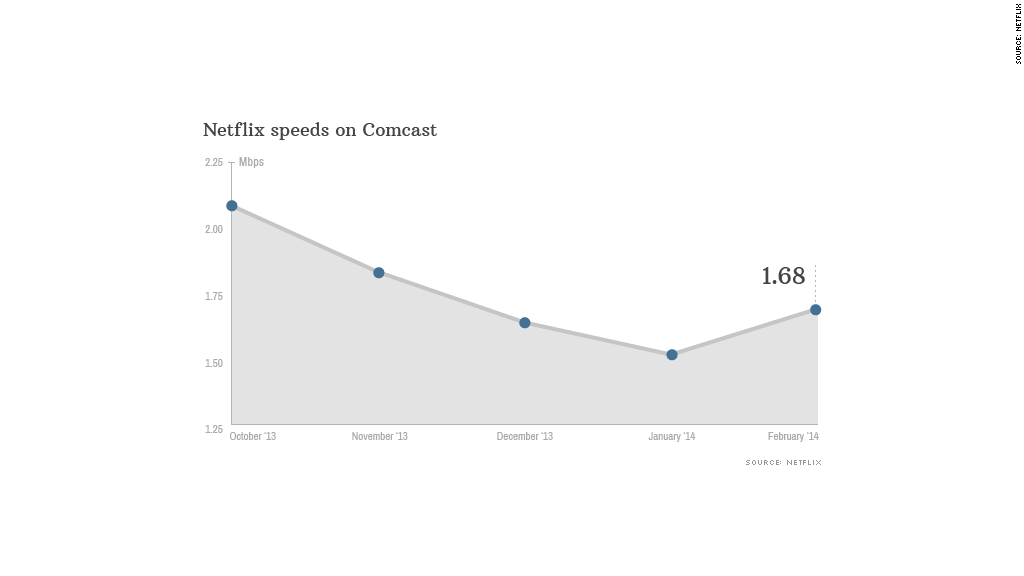 Netflix streamed faster for Comcast customers in February, after the online video company began paying for direct access to Comcast's network late last month.
Netflix (NFLX) said Comcast (CMCSA) speeds were up 11% from January, following four straight months of declines.
Instead of delivering its traffic through third parties, such as Cogent Communications (CCOI), as Netflix has done previously, Netflix now pays Comcast to feed its videos directly.
Comcast and other Internet service providers had been claiming that Netflix was unfairly eating up its bandwidth, particularly during peak TV viewing hours. During prime time, Netflix can account for as much as a third of Internet traffic.
Comcast is by far the nation's largest Internet service provider, with roughly 23 million subscribers. Netflix was having particular speed struggles without direct access to such a large network -- in January, Comcast's Netflix speeds ranked 13th on the list of major broadband providers.
Related: Comcast deal won't lead to Netflix price hike
Even with February's uptick, Netflix speeds still have a long way to recover on Comcast's network -- they were still 20% below their September peak and ranked 11th in speed among competitors.
Netflix streams fastest to those broadband providers that have signed up for its Open Connect service, which gives customers direct access to Netflix's online videos. Cablevision (CVC) and Cox, two Open Connect partners, lead all major Internet service providers in Netflix speeds.
But Netflix doesn't pay for those Open Connect arrangements. Comcast was unwilling to allow Netflix direct access without a financial incentive.
Verizon (VZ) and AT&T (T) recently said they are working on similar pay-for-access agreements with Netflix. Verizon FiOS ranks 7th and AT&T U-Verse ranks 12th in broadband speeds among major competitors.