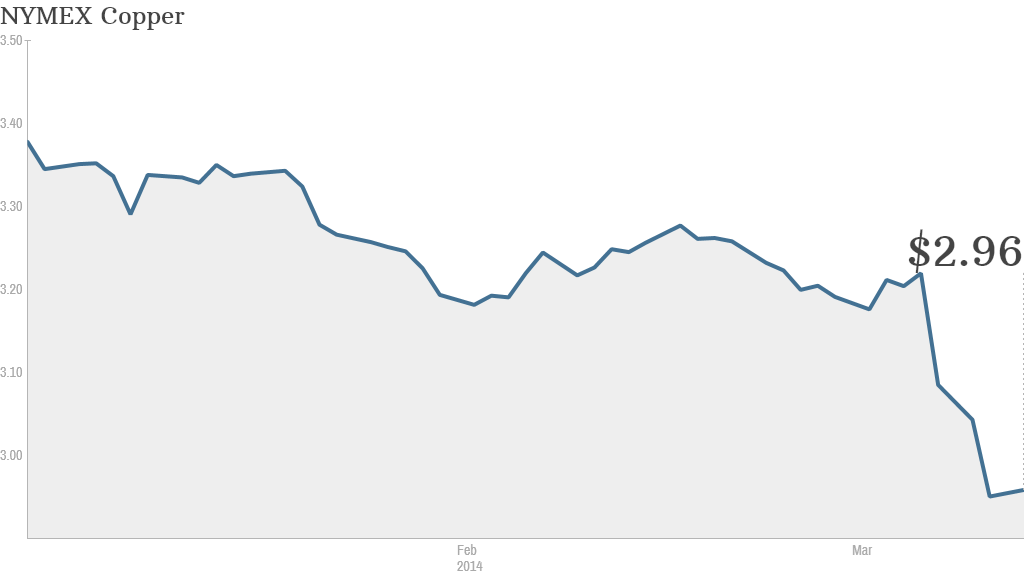 Copper prices are tumbling on fears China's slowing economy could push more companies into default and flood markets with metal used to finance their debt.
A small solar firm last week missed an interest payment to investors -- the first default of its kind for China -- signaling a new willingness by Beijing to allow companies to fail as it works to reform the world's second biggest economy.
More defaults are expected to follow, and while experts say this will ultimately be healthy for China, it's causing some market turmoil in the short term.
Copper has dropped 4.3% since Monday in New York -- hitting its lowest level since July 2010 -- with falls also seen on markets in London and Shanghai.
Related: China has first corporate default
Investors worry that a series of corporate failures could spark a collapse in a popular method of financing linked to copper.
Here's how it works: Chinese companies import copper to secure loans at low interest rates by using the metal as collateral. The borrowed money can then be used to fund business operations or even invest in higher yielding assets.
This method has been popular with companies unable to secure traditional bank loans. As much as 80% of China's incoming copper stocks over the last few years have been used to secure financing, according to Daily FX.
"As Chinese companies using copper as collateral default on their obligations, they're forced to liquidate their assets," said Daily FX analyst Christopher Vecchio.
That would mean large stockpiles of copper would be sold into a market that is already feeling the pinch from a slowdown in China's huge manufacturing sector.
Related: China's big tech moves onto banks' turf
Copper, along with iron ore, have been further hurt by China's weak industrial activity, according to Capital Economics. A monthly measure of China's factory activity has continued to drop in recent months.
There's no telling how much further global copper prices have to fall.
But there are signs that companies are making less use of copper as a financial tool. Imports of the metal slowed last month and most major port inventories have hit maximum storage capacity, which could mean this type of financing is starting to taper, wrote UBS China economist Wang Tao in a research note.
China accounts for 44% of global copper demand, according to Fei Wu, an energy analyst with China's Bank of Communications.