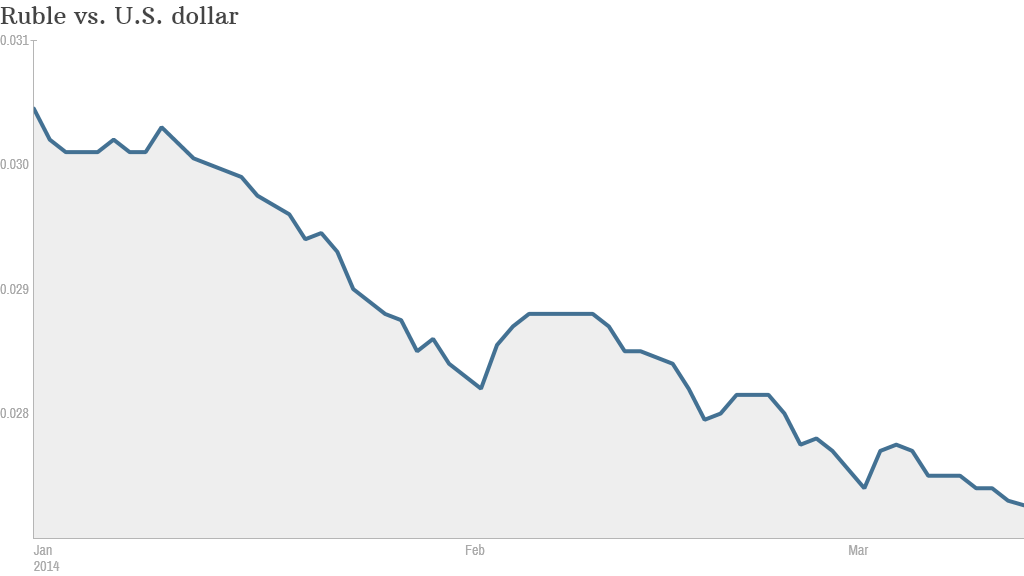 Russian markets tumbled Friday on fears that a weekend referendum in the Ukrainian region of Crimea will trigger Western sanctions against Moscow.
Stocks fell by 2% and the ruble was trading at a record low of about 36.7 to the dollar.
The vote on whether Crimea should break away from Ukraine and join Russia has been rejected as illegal by the U.S. and Europe. They have threatened to impose travel bans and asset freezes on Russians as early as Monday if the referendum goes ahead.
Related: Who would suffer if Russia retaliates
The Russian economy was already slowing before the crisis in Ukraine, and a chill in relations with the West will hurt investment and trade.
Former Finance Minister Alexei Kudrin, a member of Putin's economic council, said that Western banks are already shutting off credit lines for Russian companies. Growth would fall sharply from last year, when the economy grew by 1.3%, already way down on 2012's figure of 3.4%.
"I believe that under the circumstances, [growth] will be less than 1% this year. It might even be zero growth this year," Kudrin said, according to Russian media.
Related: 4 reasons Russia will keep gas flowing
The Russian central bank said Friday it would keep rates at 7% for the coming months. It jacked them up earlier this month from 5.5% to stem the flight of capital and keep inflation under control. It has also spent billions trying to prop up the ruble.
Analysts at Russian investment bank Renaissance Capital estimate that investors yanked $33 billion out of the country in the first two months of the year. And that number could reach $55 billion by the end of March if Crimea votes in favor of joining Russia.
"We believe this might lead to a limited ratcheting up of sanctions on Russia, but with little direct economic impact," the bank said. "However, plenty of negative headlines and second round effects are likely to emerge."
By comparison, Russia suffered $63 billion in capital outflows in the whole of 2013.