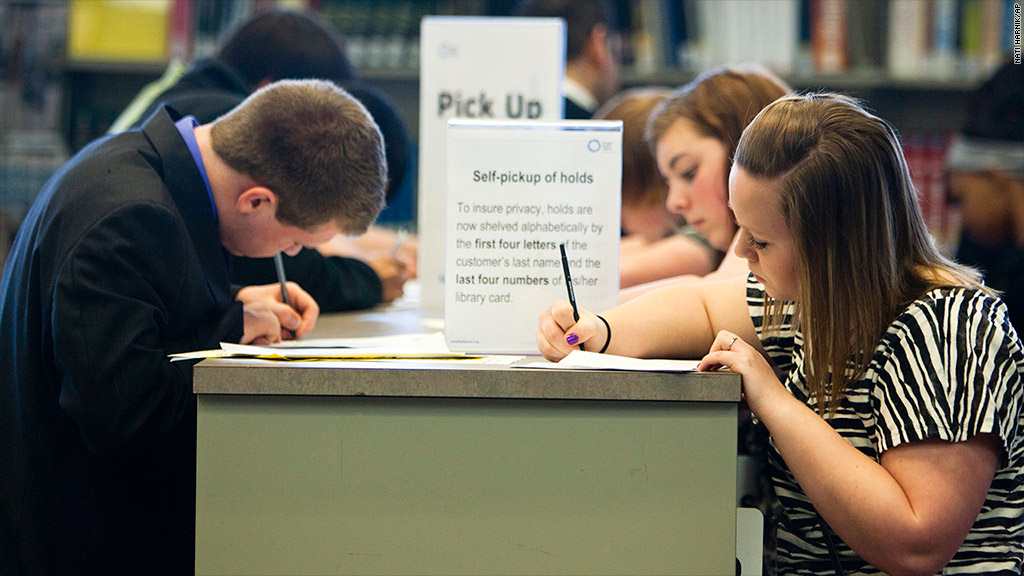 Employment opportunities for teens and early 20-somethings have plummeted in recent years, according to a new study by the Brookings Institution.
Just 26% of teens ages 16 to 19 had a job in 2011, down from 45% in 2000. That's the lowest rate on record in the post-World War II era.
The Brookings study tracked youth employment among the 100 largest metro areas using Department of Labor and Census data. The teen job market is most dire in places like Riverside, Calif., McAllen, Texas, and Los Angeles, where fewer than 1 in 6 teens are employed.
Meanwhile, Provo, Utah, boasts the highest teen employment rate in the country. About 49% of teens there are working, at least part time.
While many of these students are simultaneously enrolled in either high school or college, even modest rises in enrollment rates were not enough to explain why so few young people have jobs, said Martha Ross, fellow with the Brookings Metropolitan Policy Program and co-author of the report.
A broad measure of the labor market shows 1.8 million teens in the top 100 metro areas are "underutilized," meaning they're either looking for a job, would like to work but aren't looking, or they have a part-time job but would prefer to work full time.
"Underutilization spiked, and that wouldn't happen if people were happily in school and not wanting to work," Ross said.
Related: Why young people are saying 'no' to the workforce
College-aged adults also experienced a decline in job opportunities. Back in 2000, 72% of 20- to 24-year-olds were employed, but that rate declined to 61% in 2011.
The report shows non-hispanic whites, and young people who come from higher-income families are most likely to find jobs. Also, young women were slightly more likely to be employed than young men. Meanwhile, problems were most pronounced among blacks, students from lower-income families and high school dropouts.
As for education, high school truly is the new middle school: a key step in one's schooling, but not nearly enough to prepare students for a job.
Employment opportunities for recent high school grads are at historic lows. Of the students who completed high school in 2012 but didn't immediately go on to college, 70% tried to get a job but less than half (46%) succeeded in finding one.
That's the lowest number on record, since the Department of Labor started tracking that data in 1959.
The previous generation had more opportunities, even without pursuing a college degree. In the class of 1993, 64% of students who didn't immediately enroll in college found jobs within a year or so of receiving their high school diploma.
Related: Europe's lost generation?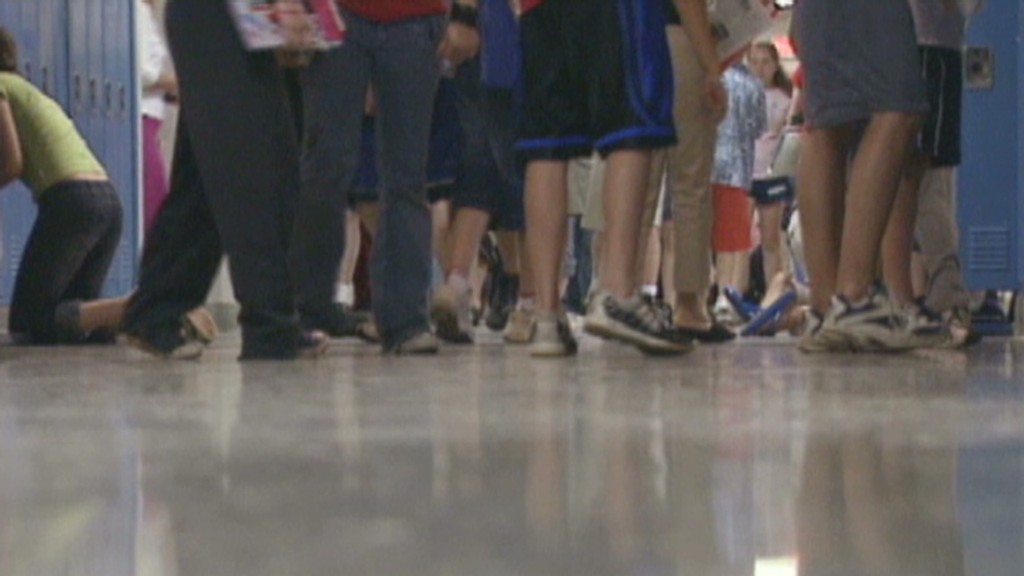 The Brookings report blames these downward trends partly on the education system. High schools should better prepare students for college coursework through dual enrollment and early college programs, Ross said.
Meanwhile, other forms of job training, like apprenticeships and applied two-year degrees, should be made a bigger priority for the large numbers of American youth who still don't make it to college, Ross said, citing figures from another report, "College and Career Ready in the 21st Century."
Of 100 9th graders, about 70 will complete high school. Within that group, about 44 will start college, but 22 will drop out before earning any type of certification. Another 8 will earn either a certificate or associates degree within 6 years, and just 14 of the original 100 students will earn a bachelor's degree.
"It is a grim scenario, but we don't have to accept it," Ross said. "We can create much stronger linkages between school, college and work so young people don't flounder when they leave high school or college."