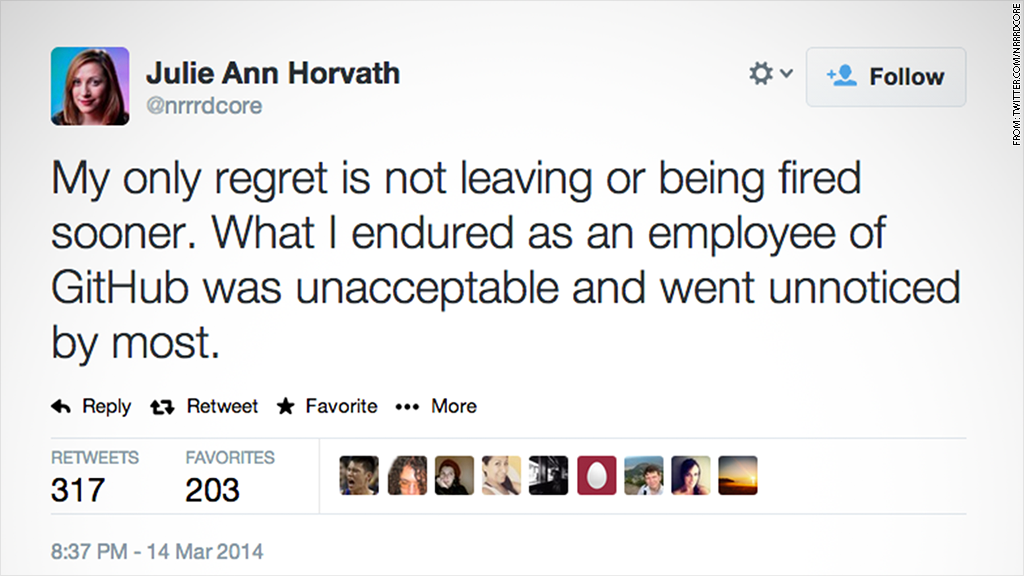 GitHub engineer Julia Ann Horvath has announced she's leaving the company due to gender-based harassment, the latest development in an ongoing sexism problem in the technology industry.
Horvath had worked as a designer at the startup, which hosts open-source software for developers. She posted her decision to leave the company on Twitter on Friday.
"I've been harassed by 'leadership' at GitHub for two years," she wrote. "I'm incredibly happy to moving to join a more healthy work environment, with a team who doesn't tolerate harassment of their peers."
Horvath, who did not respond to CNNMoney's request for comment, told TechCrunch she was treated differently because of her gender. In the interview, Horvath also said she'd been intimidated by the wife of one of GitHub's founders, she was accused of poor judgment for her decision to date a coworker.
Github CEO Chris Wanstrath responded on Sunday, saying he was "deeply saddened" by the developments and planned to address the allegations. Wanstrath said the founder in question had been put on leave, and his wife would no longer be allowed in the office.
"We know we have to take action and have begun a full investigation," he wrote on the company's blog.
Related: IPhone app promotes cleavage staring
Wanstrath cited GitHub's fast growth as a reason for Horvath's treatment. He said the company lacked an experienced human resources leader until January 2014.
"We still have work to do. We know that," Wanstrath wrote. "However, making sure GitHub employees are getting the right feedback and have a safe way to voice their concerns is a primary focus of the company."
It's hardly the first time a female entrepreneur has pointed out sexism in tech. Last year, tech developer Adria Richards posted to Twitter after taking offense to a sexual reference made by male attendees at tech conference PyCon. One of the men who made the reference was fired, and in a bizarre twist, Richards was also fired for "publicly shaming the offenders."
In another incident at annual tech conference TechCrunch Disrupt, entrepreneurs came under fire for pitching controversial apps that promoted masturbation and staring at women's breasts.