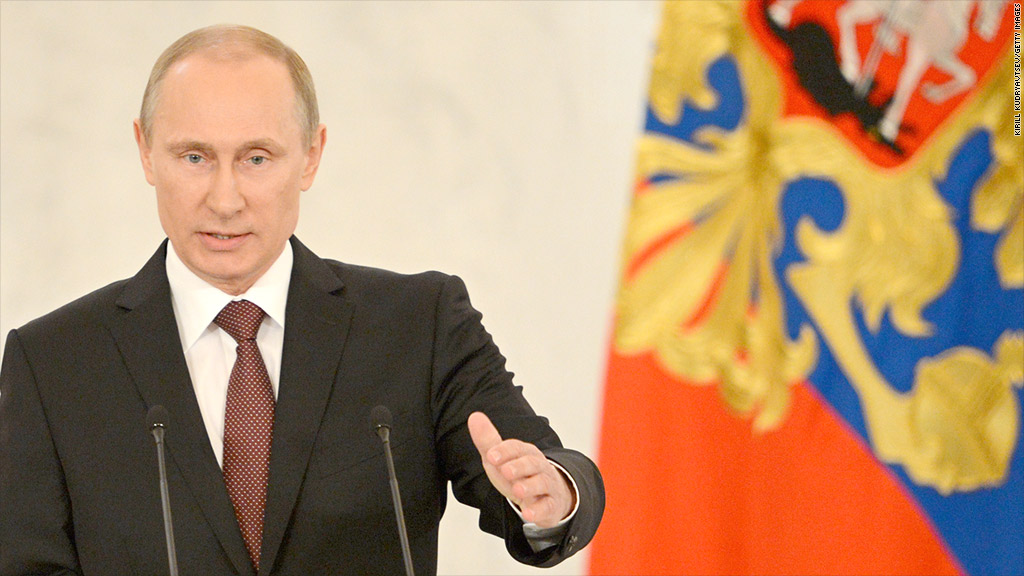 Russia has annexed the Ukrainian region of Crimea in defiance of symbolic Western sanctions, raising the prospect of more punishing measures to come.
President Vladimir Putin signed laws Tuesday paving the way for Crimea to join Russia, just a day after the United States and European Union slapped travel bans and asset freezes on 28 officials accused of violating Ukraine's sovereignty.
The sanctions may inconvenience some senior Russian politicians, but as they stand won't hurt the country's powerful oligarchs, big companies or exports.
U.S. officials said they were ready to ramp up the pressure in response to Putin's moves to incorporate the Black Sea peninsula and its two million people.
President Obama has invited other leaders of the G7 -- from Canada, France, Germany, Italy, Japan and the U.K. -- to discuss the crisis next week while he is in Europe.
And EU leaders will have a chance to consider tougher sanctions when they meet on Thursday.
Related: Russians spend billions on Europe deals
But investors were unruffled by the escalating war of words, perhaps reckoning that 28 EU states will struggle to agree on how to increase the punishment given the pain some would take in return.
European and U.S. stock markets were solidly higher across the board, and Russian markets also gained. Moscow's leading share index has rallied nearly 7% so far this week, having plunged the previous month as billions of dollars of capital fled Russia on escalating tension with the West over Ukraine.
The ruble, which has shed 10% so far this year, was also stable.
Russian politicians laughed off the Western sanctions, and the chief executive of oil and gas giant Rosneft, Igor Sechin, said the country's companies could turn to other markets if necessary.
Sechin also said he would be taking advantage of recent stock market falls to buy shares in Rosneft.
Germany is Russia's biggest trading partner in the EU, and how Chancellor Angela Merkel responds will be key to whether Moscow pays a heavier price for annexing Crimea. Much will also depend on whether Russia has designs on other parts of Ukraine.
"The big question is how tough Merkel is willing to get with Russia on the sanctions front," said Nicholas Spiro, managing director of Spiro Sovereign Strategy.
"While it's clear that this is not just brinkmanship on the part of Germany's chancellor, Merkel is likely to tread carefully, with her decisions heavily influenced by what happens in eastern Ukraine."
Of course, any intervention by Russia in eastern Ukraine, where pro-Moscow protests have been increasing, is likely to unnerve markets again and raise the chances of measures that would hurt trade and investment.
Related: Why Europe will balk at Russian sanctions
A deep freeze between Russia and Europe would damage both sides -- there's nearly $500 billion a year at stake -- but analysts believe Moscow would come off worse.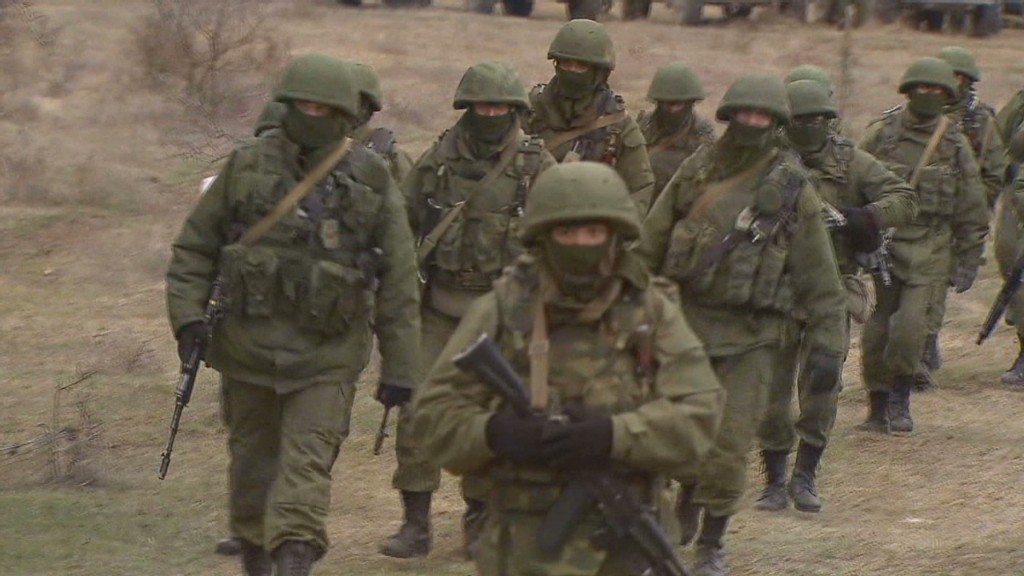 A senior Russian economic official told CNN that capital outflows in the first quarter were much too high and needed to be stabilized. And deputy economy minister Sergei Belyakov was quoted as saying the $2 trillion economy was showing "clear signs" of crisis.
Still, Europe's recovery from its own economic crisis is fragile, and the risks of greater disruption to relations with its powerful eastern neighbor were reflected in a much weaker than expected reading of German analyst and investor sentiment this month.
"The Crimea crisis is weighing on expert's economic expectations for Germany," said Clemens Fuest, president of the Center for European Economic Research. "Nevertheless, the indicator's level suggests that the economic upswing is currently not at risk."
-- CNN's John Defterios contributed to this article.