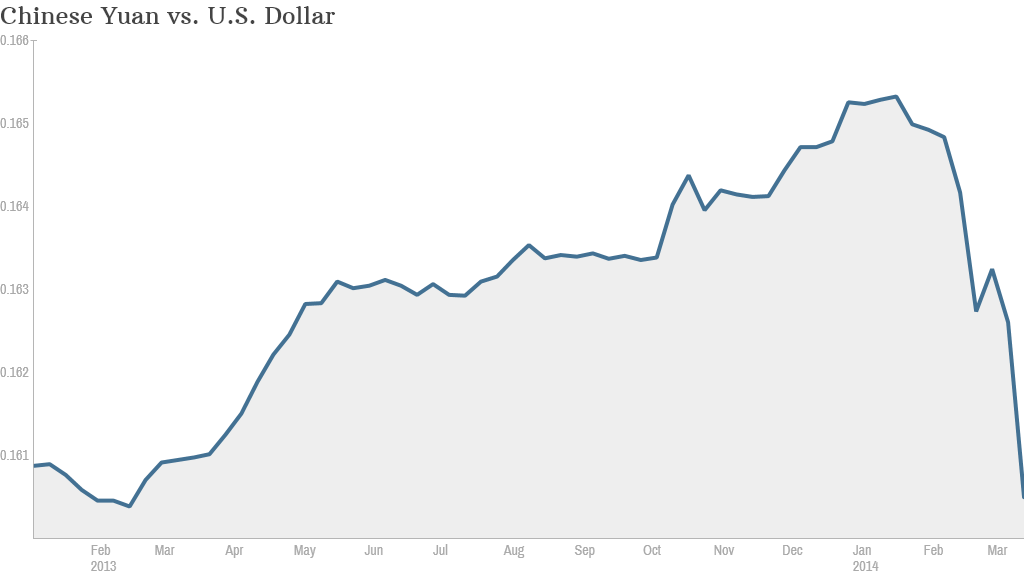 China's yuan has tumbled to its lowest level in a year, just days after the country's central bank doubled its trading range against the dollar.
The Chinese currency weakened 0.5% Thursday to 6.23 yuan per dollar. So far this year, the yuan has fallen 2.9% against the dollar, a trend analysts think could continue for several months.
For years, investors had viewed the continued strengthening of the Chinese currency as a very safe bet. Indeed, it's gained about 9% since the middle of 2010.
But the days of steady, constrained appreciation are now over.
The yuan has been allowed to move within a wider band this week, following a decision by China's central bank to double the trading range for the yuan to 2% in either direction of a rate set daily by the government. The new policy lets the yuan, also called the renminbi, move up and down in value more than it had before.
Experts have applauded the central bank's move as a necessary step for the government to achieve financial reforms.
The Chinese government has historically maintained a tight grip on the yuan. Doing so has allowed Beijing to curb money flows in and out of the country, and favorable exchange rates have helped to boost exports and manufacturing.
Some investors were caught off guard by the bank's decision to introduce depreciation and allow more volatility.
The central bank's strategy was likely designed to put the squeeze on "hot money" -- a term used to describe cash drawn in from foreign markets where interest rates are low, and invested in Chinese assets in the hope of much higher returns.
"Short term, the prospect of a two-way bet on the Chinese yuan discourages hot money flows," said ReOrient economist Steve Wang.
"Rather than consistently guiding the currency up, as the China Foreign Exchange Trade System has done for the past nine years, it can now go down," Wang said.
Related story: China loosens grip on its currency
Thursday's move is particularly notable, as the yuan has broken through the 6.20 yuan per dollar mark. At that point, some investments that bet on a strengthening yuan should start to incur "sizeable losses," according to foreign exchange strategists from Bank of America Merrill Lynch.
Greater volatility in the yuan is also expected to affect the currencies of other countries, including Korea, Taiwan, Singapore and Malaysia, according to Japanese brokerage Nomura.