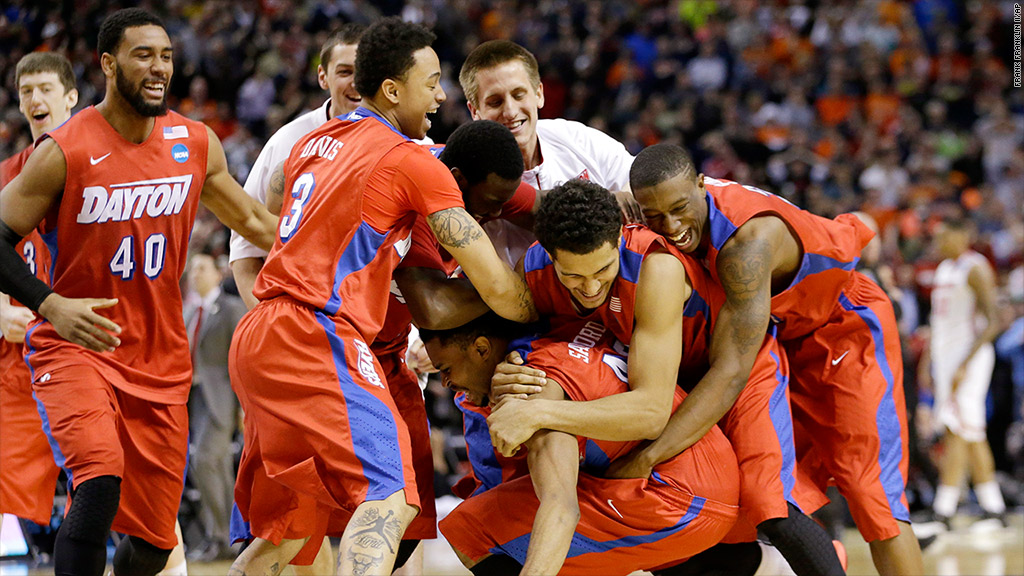 Somewhere there are 16 NCAA basketball fans whose dreams of a $1 billion prize are still alive.
Long-shot wins by Mercer University over perennial powerhouse Duke, University of Dayton over Ohio State, Harvard over Cincinnati and North Dakota State over Oklahoma might have trashed your brackets. But 16 unknown contestants got all four upsets right, along with 16 other games completed through 4:30 p.m. ET Friday.
"We're excited. We want a winner," said John Perich, spokesman for Quicken Loans, one of the sponsors of the contest.
Quicken and co-sponsor Yahoo (YHOO) won't be on the hook for any extra money if someone does win their perfect bracket challenge. That's because they have an insurance policy sold to them by Warren Buffett's Berkshire Hathaway (BRKA), which will cover the cost of any prize money.
The companies are not disclosing how many people entered the challenge.
Going into the tournament, the chance of winning $1 billion in the NCAA brackets was the ultimate long-shot -- 9.2 quintillion to one by some estimates.
The chances of winning dropped to zero after the very first game Thursday for an estimated 84% of the fans who picked Ohio State to beat the University of Dayton.
The slim chance that anyone was going to claim the prize got even slimmer with the first game Friday afternoon, when perennial powerhouse Duke lost to upstart Mercer University. About 98% of fans had picked Duke to win that game.
And despite that, 16 people are still perfect.
Related: College basketball's real billion-dollar winners
The odds of anyone picking a perfect bracket are subject to debate. The 9.2 quintillion estimate assumes each team has a 50% chance of winning every game, which past practice suggest is not the case. Others have put the odds at 7.4 billion to 1, or 42 times worse than your chance of winning the Powerball lottery.
"There is no perfect math...There are no true odds, no one really knows," Buffett told CNN in January when the challenge was announced.
One of the things that makes it so hard to pick a perfect brackets is that every year there are upsets like the Dayton-Ohio State game.
It is still possible that no one will make it out of the first round alive -- CBS Sports, which runs one of the bigger bracket challenges, reports that in the past two years the last remaining perfect brackets were eliminated in the 22nd and 23rd games of the tournament. ESPN reports that of the roughly 30 million entrants it has had over the 13 years, no one has come close to a perfect bracket, and that only one person has had a perfect first round in the last seven years.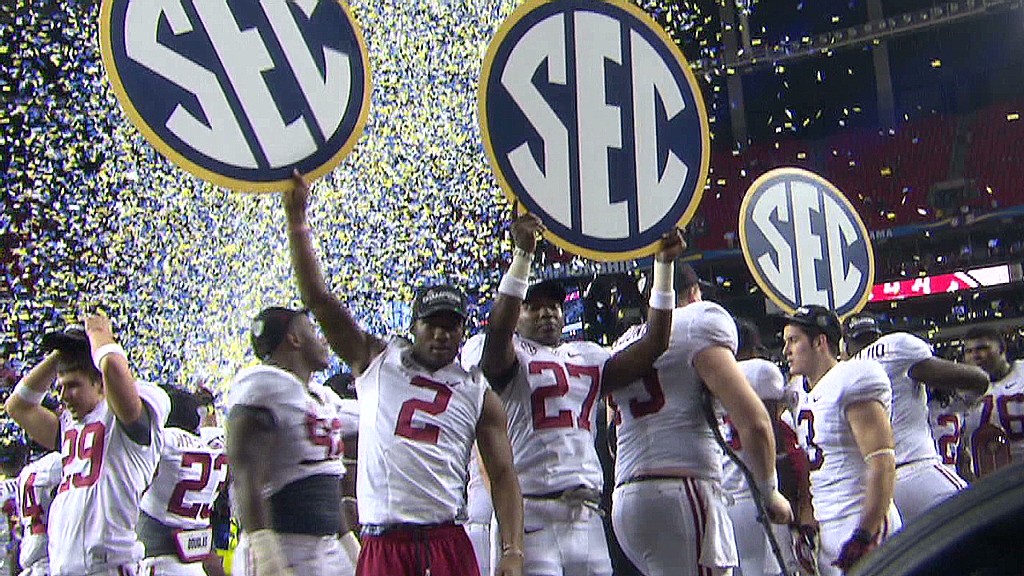 "I don't want to say it's impossible, but it's basically impossible," said John Diver, director of product development for ESPN Fantasy
So Buffett probably didn't have to worry about paying $1 billion heading into the tournament. But with 16 people dodging four big upsets, he might be a bit more nervous than he was Thursday morning.