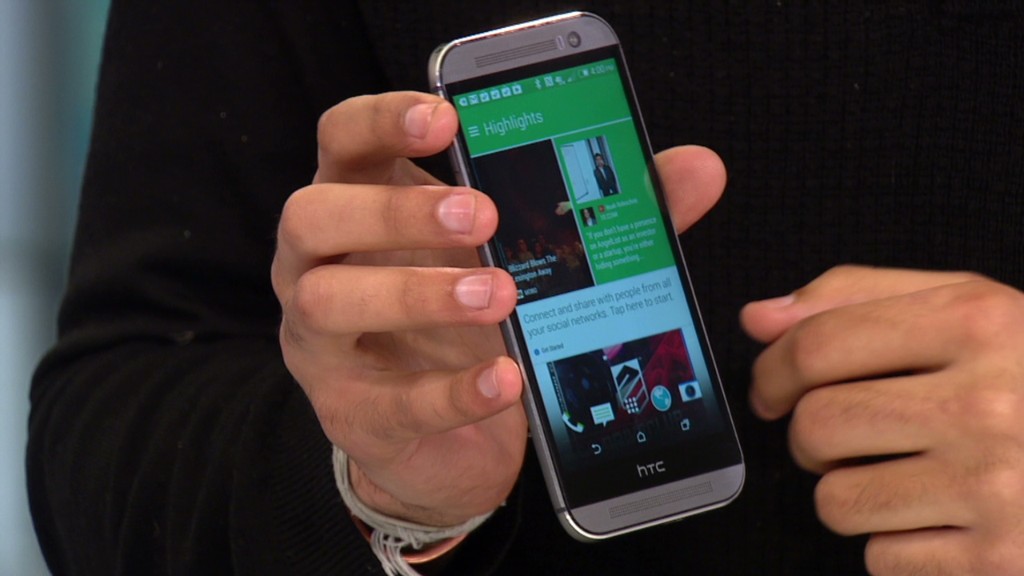 HTC has introduced a successor to last year's beautifully-designed HTC One smartphone, this time with a bigger screen, an improved camera and an even sleeker design.
Dubbed the HTC One M8, the smartphone is slightly wider and heavier than last year's model, but not so much so that it detracts from the experience of using the phone. The HTC One M8 is slightly bigger to accomodate a larger, five-inch screen.
Like Samsung's (SSNLF) Galaxy S5, which was announced in February, the phone has the latest quad-core Snapdragon processor running at 2.3 GHz. It also comes with 2 GB of RAM, ensuring it will remain one of the most powerful Android phones available this year.
Similar to last year's Moto X, the M8 features many low-powered sensors, including an accelerometer, ambient light sensor, and a touch screen sensor. These let you unlock the phone by tapping the screen twice, or letting apps, such as the FitBit app, access that data to determine how active you've been -- all without killing your battery.
As far as the camera goes, the sensor in the M8 makes use of the same 4-megapixel UltraPixel technology that was found in last year's HTC One. But this time around, it comes with a second camera that collects additional depth data on each image.
Related: With Motorola gone, Google can focus on fixing Android
HTC claims that the M8's second camera give users the ability to refocus any photo you take. That's close to the truth but not quite accurate -- in reality, the dual-camera setup lets you add a powerful blur effect, or other special effects, to select parts of the image while leaving the rest untouched.
That feature works best in a shot where everything is in focus and you want to emphasize a particular person or object. But if an object is already blurred in the image (intentionally or not), the M8 camera would not give you the ability to pull it into focus.
A number of tweaks have also been made to HTC's customized Sense UI, which turns Google's (GOOG) Android software into an experience heavily focused on delivering news and social media updates to your home screen. Users how have the ability to set up custom feeds based on search terms. And depending on how many developers support the feature, the new Sense UI will have the ability to integrate notifications from other Android apps into the feed (Foursquare restaurant recommendations are one such example).
But really, the jewel of this year's HTC One M8 seems to be the same thing that made last year's HTC One so good: the design. Last year's phone was beautiful, and this year's matches -- if not improves upon -- the quality of last year's design. It's attractive, solid as a tank, and is more comfortable to hold, thanks to the rounded edges on the back half of the phone. The only downside is that the extra width makes one-handed use a bit more tricky.
The HTC One M8 is available on all four major U.S. carriers starting Tuesday if you order online. It retails for $200 with a new, two-year contract, or $600 off-contract. If you want to pick one up in the store, however, you'll have to wait until April 10.