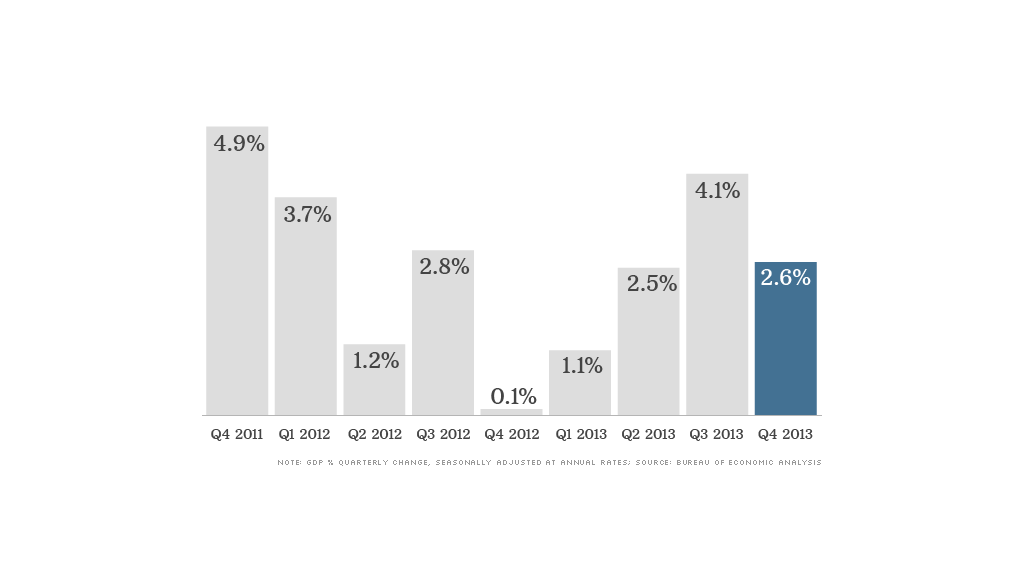 The economic recovery cooled in the final three months of 2013, just as the weather turned nasty. There's concern the chill will carry over into weaker growth in early 2014 as well.
Gross Domestic Product (GDP) -- the broadest measure of economic activity -- grew at a 2.6% annual pace in the fourth quarter, according to revised data released by the Commerce Department on Thursday.
The growth rate is slightly better than the 2.4% estimate published in February, but it was still down from 3.2% originally reported in January. The final revision matched economists' expectations.
The report said consumer spending and exports helped growth in the fourth quarter, but the overall economy was hindered by a big drop in federal and local government spending, as well as declines in private inventory investment.
Related: Yellen blames it on the weather.
The fourth quarter was dominated by federal spending cuts and the government shutdown in October. But the headwind in the first quarter is likely to come from Mother Nature rather than Uncle Sam.
Economists say colder-than-normal weather has put a damper on growth during the winter months. Government data have pointed to weak job growth, as well as declines in retail sales, new home construction and manufacturing.
Still, many experts expect the economy to regain momentum in the spring.
The economy had been picking up steam before uncertainty in Washington put the breaks on growth. In the third quarter, GDP expanded at 4.1%.