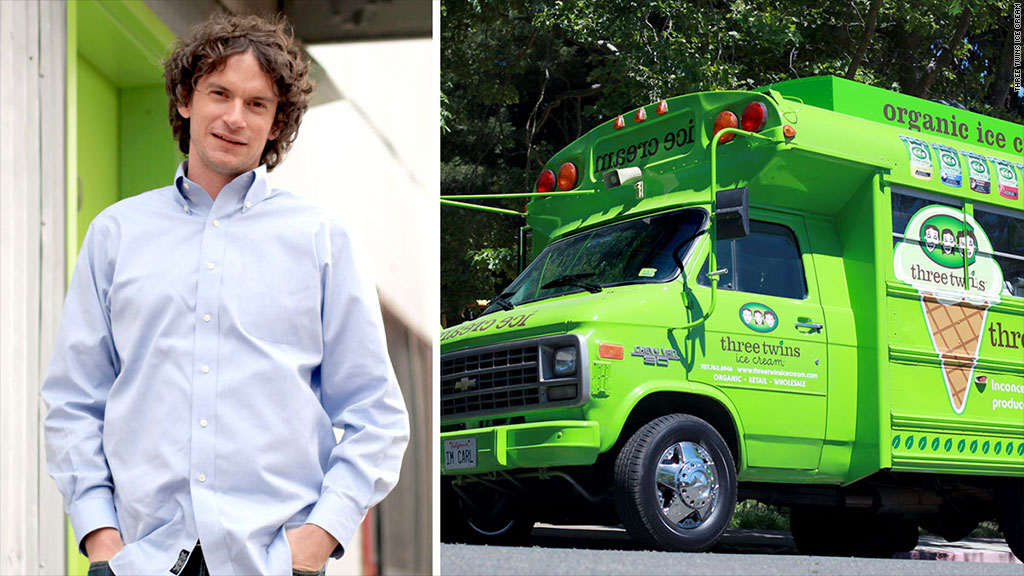 Neal Gottlieb had planned to launch his ice cream business the usual way: By opening a store and selling his frozen treats over the counter. There was one problem: When he launched his first store in 2005, hardly anyone came through the door.
"The location was terrible," said Gottlieb, founder of Petaluma, Calif.-based Three Twins Ice Cream.
He needed to get in front of people. He knew if they could taste his organic ice cream -- made with just milk, eggs, cream and sugar -- they'd be hooked. He decided that the Berkeley Farmers' Market, where hundreds of people bought food every Saturday, would be the best place to set up shop.
Gottlieb filled out an application, provided some details on the product, received a health permit and was accepted within a few weeks.
He was just hoping to make enough money to pay his rent. Little did he know that selling at the market would get him into grocery stores across the country.
Related: Big Gay Ice Cream's business secrets
Most people think of farmers' markets as a place to pick up healthy food from mom-and-pop-operations, but it can also be a breeding ground for entrepreneurship.
In fact, grocery stores often visit them looking for new ideas, said Harv Singh, a "forager" for Whole Foods' Northern California region.
"A farmers' market is like an incubator for food companies," he said.
Jennifer Carlson knew her organic baby food was a hit soon after she started selling it at a local Calgary farmers' market.
In 2008, after two years selling at the market, she was raking in $30,000 a month and eventually had 10 people working for her.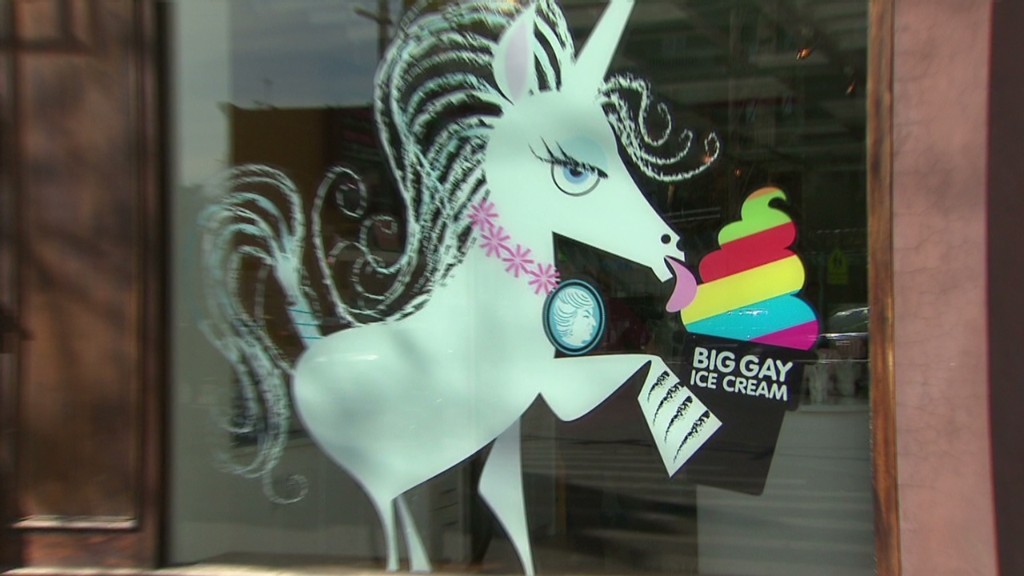 She left the farmers' market in 2008 to work on expanding her company, Baby Gourmet Foods Inc., across Canada, and in 2010 her products hit Wal-Mart (WMT) shelves. Now, her product is in 2,600 U.S. stores, and Baby Gourmet Foods made $13 million in revenue in 2013.
Carlson credits her success to those early days at the market, because it helped her understand what customers wanted. She had no budget for focus groups or marketing, so she relied on face-to-face feedback.
Increased traffic to her booth was also sign that word was spreading.
"It was clear to me from the feedback that I was receiving from moms that they wanted a product like this," she says. "I started to realize that I could do this on a mass level."
Related: Small businesses embrace bitcoin
Companies that start at a farmer's market do have an advantage, said Singh. These operations connect with thousands of customers each week and are able to do research and development through daily interactions at the market. However, moving from the farmers' market to mass market is still a lot of work.
While Singh's first priority is finding food that's different than what's already in their stores, not everyone is ready to take their product national.
"I try and find out what kind of scalability they have," he said. "Are they ready for retail? Most small vendors aren't."
Before Carlson approached Wal-Mart, she had to figure out how to package her food so it wouldn't go bad on the shelves, while not compromising quality.
Gottlieb was making $75,000 a year at the farmers' market when Whole Foods (WFM) "discovered" him. In order to fill shelves across America, he had to build a 4,200-square-foot factory.
If a company can scale up, though, they'll be ahead of the competition, said Singh.
Nearly a decade after Gottlieb's foray into the Berkeley Farmers' Market, Three Twins Ice cream now has four shops in California, products in 3,000 stores, 85 employees and about $7 million in annual revenue.
While he could have stopped selling at the market years ago, he hasn't given up his Saturday spot. His parents run the booth, and it still brings in about $40,000 a year.
He likes having the direct line to his customers.
"At the store, people either buy it or don't," he said. "At the market you can see them put the food in their mouths."