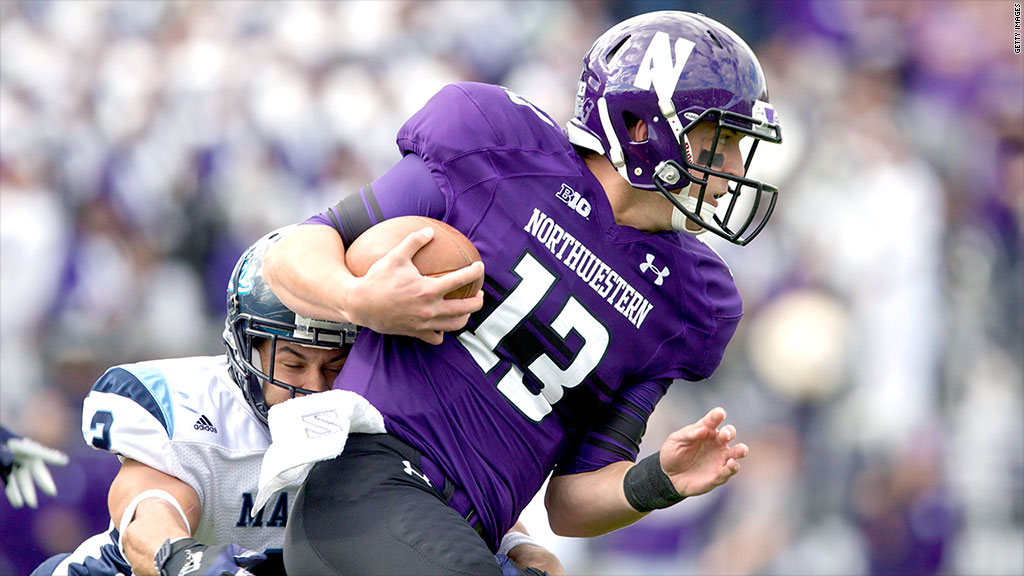 Colleges consider playing a sport an extra-curricular activity.
But as last week's National Labor Relations Board ruling on Northwestern University's football players makes clear, playing a sport isn't like being a member of the stamp club.
The NLRB's Chicago office found that the Northwestern players are, in fact, employees of the university and have the right to be represented by a union. The decision is under appeal and could take years to resolve.
No matter what the outcome, the NLRB decision spells out the shocking demand on the time of players, who put in longer hours than paid workers in most other fields.
Take football players' orientation week. It consists of 14-hour days in early August -- often in blistering heat -- with just about every minute from 8:30 a.m. to 10:30 p.m. devoted to football-related activity.
Related: Is this the end of athletic scholarships
Up until the season starts, the workload trails off to 50 to 60 hours a week. That eases to 40 to 50 hours a week once the season, and classes, begin. Weeks with road games include a 37-hour stretch that includes travel, practice, a 3-to-4-hour game and some time to sleep in a strange hotel.
The season usually runs until late November -- unless the team is successful. Then it has to work through to a bowl game, sometimes played on New Year's Day. There might be a brief break for the holidays, but, as the NLRB found, "While the players are allowed to leave campus for several days before Christmas, they must report back by Christmas morning."
Related: 'Amateurism is a myth' - Athletes file class action against NCAA
After the season ends, things let up -- but players still spend more time on football than most other students spend on a part-time job. There's 12 to 15 hours a week of January weight training, 15 to 20 hours a week preparing for spring football practice, and then 20 to 25 hours a week for spring and summer practice.
Northwestern says academics are student athletes' priority, and its 97% graduation rate is far better than that of many major football programs. But the hours detailed in the NLRB report total 1,750 hours a year -- an average of 36 hours a week for what is considered extra curricular.
Related: College basketball's real billion-dollar winners
The NLRB decision put the value of the Northwestern scholarships at about $61,000, which makes them better compensated than athletes at lower-cost public schools. Most also emerge with a Northwestern degree that can help them in their future careers, which in only rare cases include professional sports.
But that degree might not be as valuable as they had hoped. Quarterback Kain Colter, the leader of the organizing effort, testified that the staff advised him to drop plans to be a pre-med major because the courses he needed were too hard and time consuming to take while playing football.