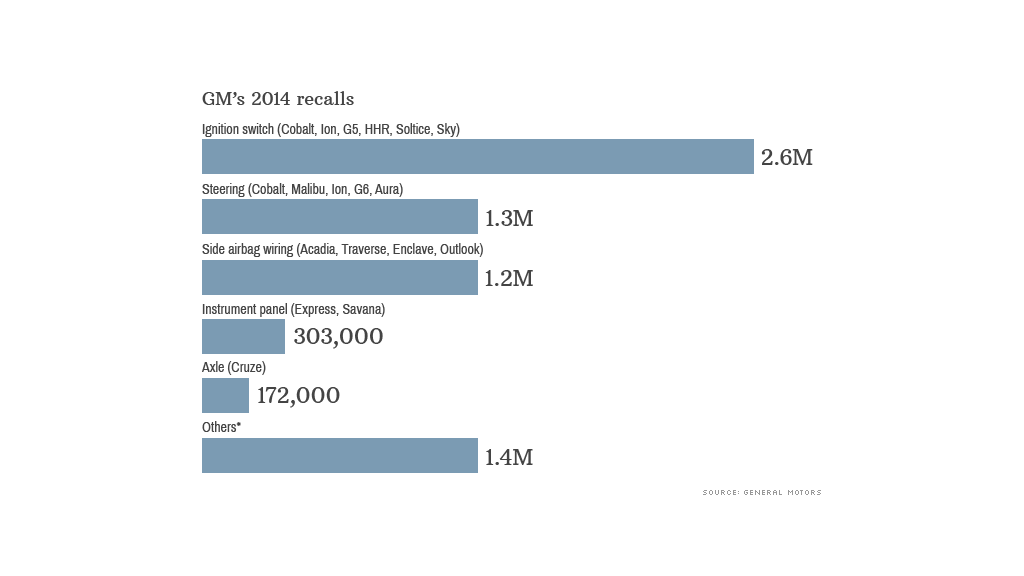 General Motors has recalled nearly 7 million vehicles so far this year, almost as many cars and trucks as it recalled in the United States over the last four years combined.
The 7 million figure includes recalls in Canada and Mexico as well as cars and trucks exported outside of North America that needed to be recalled and fixed.
The latest was on Monday when GM recalled 1.3 million vehicles, mostly in the U.S., to fix a problem in power steering.
The company said Monday it will take a $750 million charge against earnings in the first three months of the year to cover the cost of all the repairs, up from its earlier estimate of $300 million.
GM (GM) shares are off 16% so far this year. That's more than twice the decline in the shares of rival Toyota Motor (TM) and much worse than U.S. rival Ford Motor (F), which has posted a narrow increase in 2014.
This year's batch of recalls is by far the greatest number by GM in a long time. It recalled 4 million vehicles in the United States in all of 2010, which was the highest total in recent years. It recalled only 1.6 million last year.
Related: GM - Steps to a recall nightmare
But the company is now getting grilled because it took 10 years between the time it discovered a problem with an ignition switch and its decision to recall 2.6 million of the small cars earlier this year. That flawed switch, which could shut off the car while driving and disable the airbag, power steering and anti-lock brakes, has been tied to at least 13 deaths.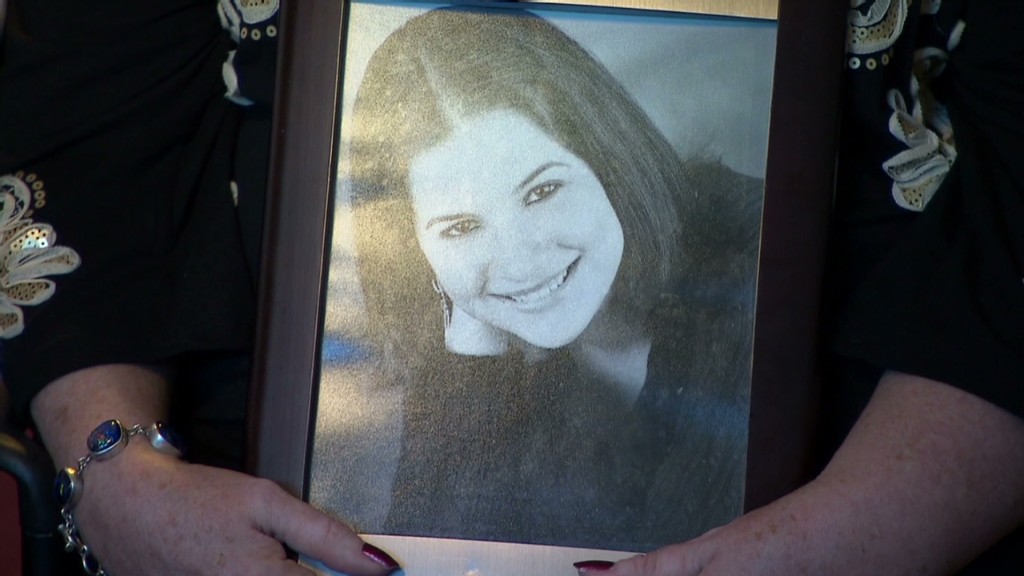 GM CEO Mary Barra met with some of the families of people killed in those cars at the company's Washington, D.C., offices Monday night, the company confirmed.
Barra faces two days of testimony before House and Senate panels Tuesday and Wednesday. In remarks released in advance she apologized again for the problem and the delay in fixing it, and conceded the company still does not know why the recall wasn't made much earlier.
GM also is due to report March U.S. auto sales Tuesday, along with the rest of the industry.
Experts forecast that GM will post a slight increase in sales compared to last year, but not as much of a rise as the industry as a whole.
But in yet another headache for GM, the company announced early Tuesday that its would have to delay the release of its sales report by several hours. The reason: problems with the computer system dealers use to report results.