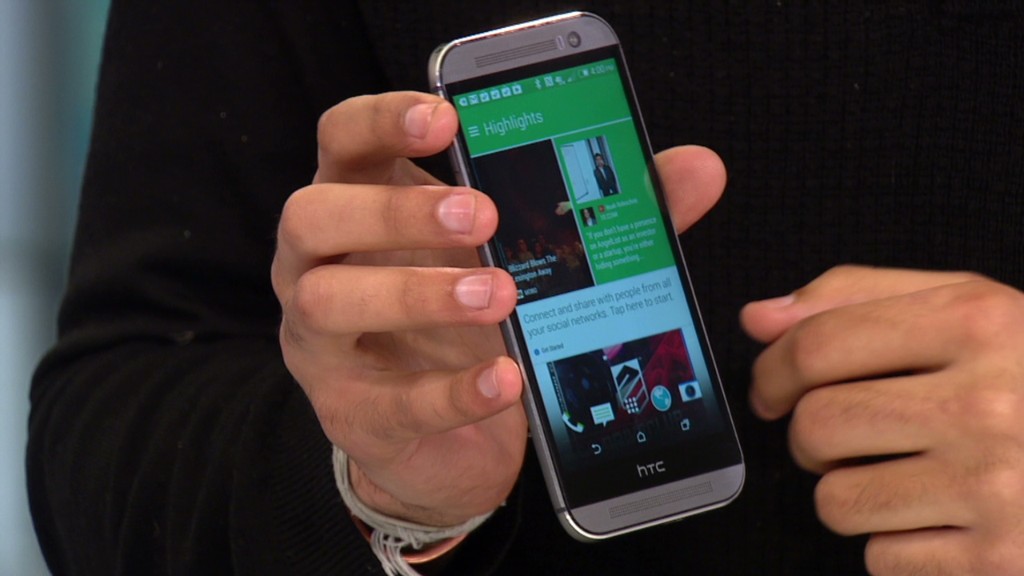 The HTC One M8 is a beautifully designed phone and on par with the best smartphones on the market today.
The HTC (HTCKF) One M8 is bigger and faster than last year's M7 model. The M8 has a larger, five-inch screen, a speedier quad-core Snapdragon processor, and a new rear-camera technology which makes use of two lenses instead of one.
But the design of the HTC One M8 is the main attraction with this phone.
Design: Last year's M7 model was flashier, with stark angles and a silver and white color scheme that really stood out. The M8 is toned down in both regards, utilizing a darker gunmetal gray and black color scheme, rounding out the edges, and moving to a rear shell that's machined from a single piece of aluminum.
It's fundamentally the same design -- which is to say incredibly solid and premium feeling. But the phone is ergonomically more satisfying without the sharp edges of last year's model.
The main problem with the new HTC One is that it's just too big. Last Year's HTC One was already pushing the limits of one-handed comfort with a smaller screen. Even compared to other five-inch phones, the HTC one borders on unwieldy.
Related: HTC One M8 is the most beautiful smartphone
It's big for a reason: the phone has very good quality stereo speakers adorning both sides of the screen. But for me, designing the phone to be as small as the display will allow would make a bigger difference in my day-to-day life than improved sound from the built-in speakers. (Aren't we all using headphones and Bluetooth speakers anyways?)
Camera: It's not as flashy as the phone's casing, but the new camera on the M8 tech is appealing as well. One of the lenses is permanently tasked with gathering depth information from every image captured, which not only makes the M8's auto-focus much, much faster, but it allows for the camera to more deftly apply effects to your photos.
In general, this camera provides no huge leap in image quality -- the sensor is very similar to the one found in the M7. But the M8's camera lets you have more fun with photos. You can more easily and accurately add light 3-D effects, and you can make select parts of an image black and white while keeping the rest in color.
What the camera doesn't do, as HTC would like you to believe, is refocus images. It can take a photo that's 100% in focus and apply a blur effect to specific parts of the image to emphasize someone or something, but it can't refocus a blurry image, or change the perspective of the image if the camera was already able to isolate a single object in focus.
Performance: HTC has this phone running in peak form, with every aspect of the software functioning in a responsive, silky smooth manner. From Web browsing, to gaming, to video playback, the M8 was more than up to the task, even with the HTC Sense user interface running on top of Google's (GOOG) Android mobile operating syste.
But HTC also took time to consider some little details that help make a big difference. Like the Moto X and Apple's (AAPL) iPhone 5S, the M8 has all of it's sensors optimized and running on a dedicated co-processor, which not only saves battery life, but also allows them to always be on and collecting data.
That allows for useful, thoughtful features like being able to double tap the screen to wake the phone up. Or letting apps determine where you are and what you're doing. Or even just letting fitness tracking apps, such as FitBit's use your phone as an activity tracker.
Battery: Speaking of battery life, it's quite good. Most people should find themselves able to get through an entire day with average use. If you're streaming audio and video, or constantly browsing the internet, you'll probably have to recharge more than once a day.
Software: HTC refined and expanded its Sense software to offer more to users. The interface has been slightly scaled back so that the social media and news aggregation "BlinkFeed" feature that was prominent on the M7 isn't quite so central to the main experience of using the M8. And BlinkFeed itself has been fleshed out so that app developers, and not just media outlets, will be able to integrate their app content into the stream.
All things considered, the Sense interface isn't bad. I'd even say its attractive, and I wouldn't mind using this if Google's own design wasn't so good. The one complaint with the custom software is that the keyboard doesn't register taps all that accurately. Luckily, you can go to the Google Play store and just install the default Android keyboard. (Highly recommended!)
Conclusion: If you're OK with carrying a big phone around, the HTC One M8 is about as nice and powerful an Android phone that you'll find right now, and is definitely worth its price tag. It is good enough to go toe-to-toe with the iPhone 5S and Galaxy S5. But if you're already satisfied with your iPhone or Galaxy S, the HTC One wouldn't necessarily give you a compelling reason to switch.