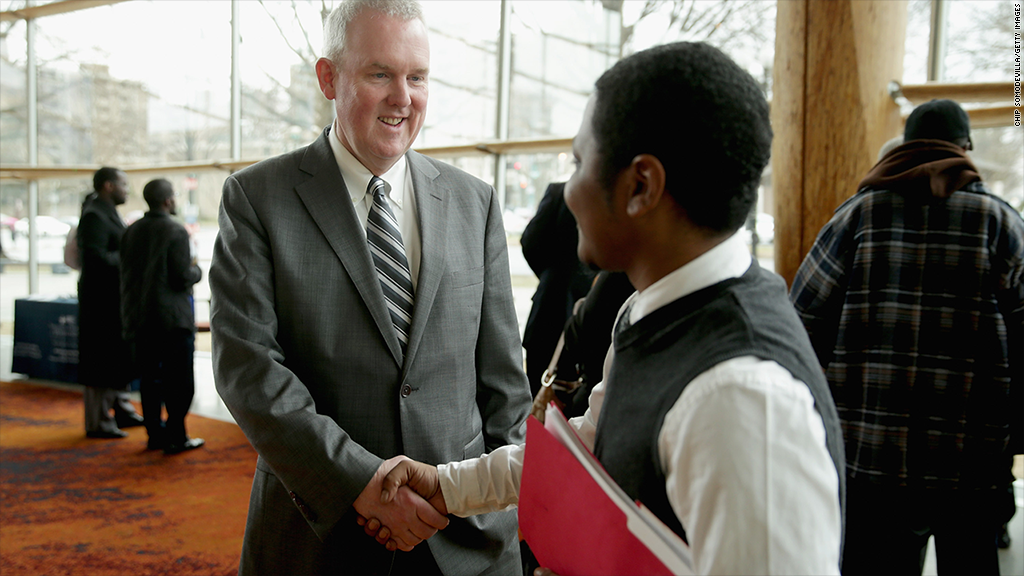 The job market is slowly perking up after a winter lull.
Private sector employers added 191,000 jobs in March, according to payroll processing firm ADP (ADP). While it was the strongest job growth in three months, it's not much to write home about.
After a slowdown in hiring, job growth is merely back to where it was prior to the winter.
"The job market is coming out from its deep winter slumber," said Mark Zandi, chief economist of Moody's Analytics, which helps compile the ADP report. "Even better numbers are likely in coming months as the weather warms."
The report was slightly disappointing to other economists, who had anticipated an even bigger bounce back after the weak winter. Those surveyed by Briefing.com expected the report to show companies added 215,000 jobs in March.
The one positive takeaway from the ADP report is that job growth is taking place in a variety of sectors, everything from construction and manufacturing firms to trade, financial and professional services firms.
The report also showed that hiring took place at businesses of all sizes, from small companies with under 20 employees to mega businesses with over 1,000 people on their payrolls.
"The gains are are quite broad based -- not in one industry, and it's not low paying versus high paying jobs," Zandi said.
But here's the bad news: Even as hiring returns to around 200,000 jobs a month, it will still take years to get back to a healthy job market, like the one before the recession began.
Zandi expects the U.S. economy won't reach "full employment" until late 2016, or even early 2017. By full employment, he means an unemployment rate of 5.5% or lower. The current US unemployment rate is 6.7%.
Related: New businesses aren't creating enough jobs
America's problem remains that new businesses aren't creating jobs like they used to.
Data collected by the Department of Labor shows that in the 1990s, each new company hired between 7 to 8 new workers. Now new firms typically hire only 4 to 5 employees.
"Job creation at new businesses remains very low by historical standards," Zandi said. "Unless that changes, I think that's going to be a problem."
The ADP report comes two days before the government will release official numbers for job growth and unemployment for March.
Unlike the ADP report, which measures just the private sector, the Friday Bureau of Labor Statistics report will also include government jobs.
Economists surveyed by CNNMoney expect that 213,000 jobs were added last month, up from 175,000 jobs added in February.