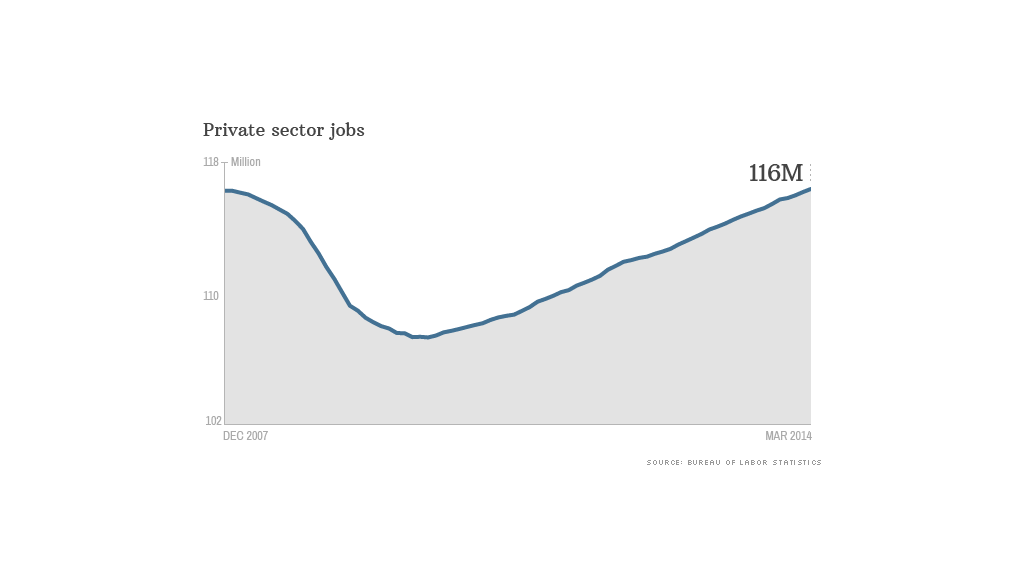 After a winter slowdown, the job market hit a milestone in March as the private sector finally recovered all the jobs lost in the 2008 financial crisis.
The U.S. economy added 192,000 jobs, and the unemployment rate remained at 6.7% in March, the Bureau of Labor Statistics reported Friday.
Those job gains came entirely from the private sector, as government jobs were flat.
Looking strictly at the private sector, that means the labor market is back to its pre-crisis peak.
Could it be a turning point for workers and their wages?
For the last few years, employers have had access to a large pool of potential workers, so there was little incentive to raise wages to retain employees.
Tom Simons, an economist with Jefferies & Co., thinks the job market is nearing a point where that could change. Wages fell by 1 cent in March, but are still up 49 cents from a year ago, according to the BLS.
Related: Most U.S. jobs pay under $20 an hour
"We'll be eclipsing the prior peak [for private sector jobs], and finally entering the expansion part of this recovery," Simons said. "We think this is a very significant milestone."
So why doesn't it feel like a recovery?
Given it took four years to get this point, this jobs recovery has been the slowest on record since the Labor Department started tracking the data in 1939.
The private sector data also misses an important piece of the puzzle: It does not factor in the growing population.
For that reason, Heidi Shierholz, a labor economist with the liberal-leaning Economic Policy Institute, calls the private sector jobs number little more than a "psychological milestone."
"I think it's an economically meaningless benchmark," she said. "We need so many more jobs to have the same job market conditions."
About 10.5 million Americans remain unemployed, and 36% have been without a job for at least six months. Meanwhile, another 7.4 million people are working part-time, even though they would prefer full-time hours.
Federal Reserve Chair Janet Yellen has said both these numbers are far too high and give her reason to believe the central bank should continue stimulating the economy, at least by keeping interest rates low for a "considerable time."
"In some ways, the job market is tougher now than in any recession," Yellen said in a speech Monday.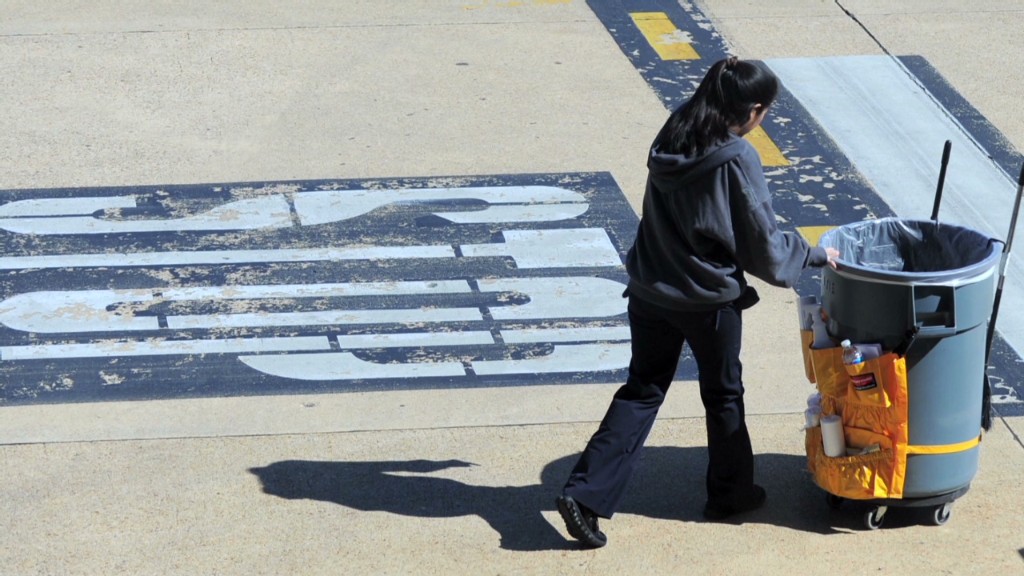 According to Shierholz's calculations, the U.S. economy still needs at least 5 million jobs to get back to a healthy pre-recession labor market, when the unemployment rate was below 5.5%.
At the current rate of job growth, that could still take five years.
Until then, she's not ready to call it a full recovery.