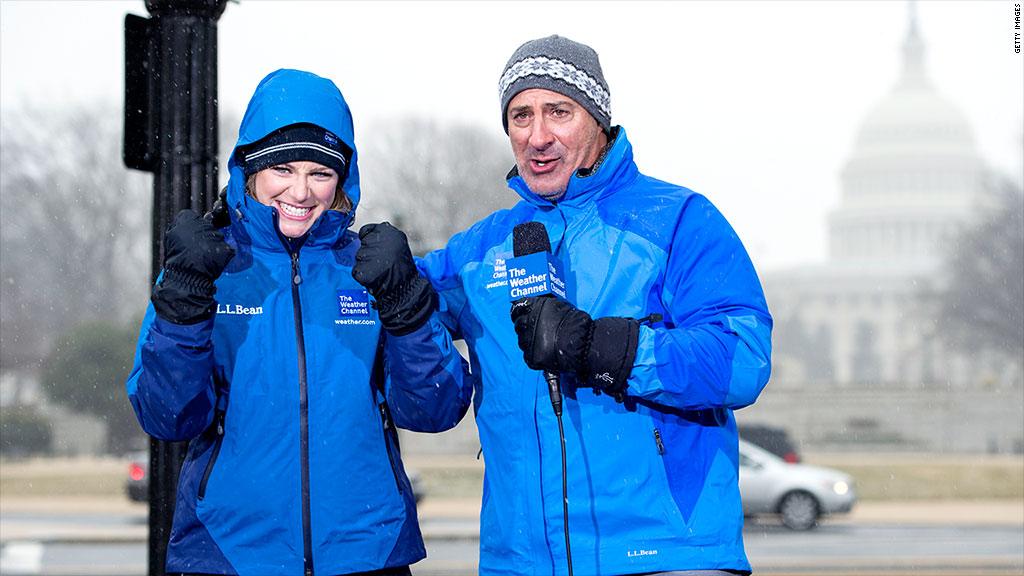 DirecTV's bitter three-month-long dispute with The Weather Channel is over.
The channel will return to DirecTV (DTV) lineups on Wednesday, the two companies said in a news release Tuesday.
Big cable channels are rarely blacked out by distributors, and when they are, the disruptions tend to only last for hours or days. But this one began in mid-January and seemed without end. It affected one in six American households, since DirecTV serves roughly 20 million subscribers.
Related: Weather Channel blackout highlights competition from web
During the dispute, The Weather Channel said DirecTV refused to give it a slight per-subscriber fee increase. DirecTV, citing cost pressures and dissatisfaction with the channel's taped programming, said it wanted the channel to accept a fee decrease, which channel owners rarely do.
The companies declined to say what happened with the fee negotiations. But in the news release, both parties said The Weather Channel had "agreed to reduce reality programming by half on weekdays."
The Weather Channel has already done that, actually. Knowing that DirecTV (and other distributors in the future) would demand more live weather coverage, executives replaced a three-hour afternoon block of taped reality shows with live forecasts.
The channel will continue to feature some reality shows in prime time. Still, the programming shift is a demonstration of the power that distributors can wield when deciding whether to carry a channel.
The Weather Channel has been striving to find the right mix of live weather coverage and reality shows for years. On the one hand, weather information is a commodity, instantly available on the channel's own Web site, Weather.com. But when the weather is big news, like it was this winter with so many major snowstorms, The Weather Channel can stand out among the crowded pack of news networks.
In an unusually frank statement, David Kenny, CEO of the channel's parent, The Weather Company, apologized to both DirecTV and to the satellite provider's customers "for the disruption of our service and for initiating a public campaign."
"Our viewers deserve better than a public dispute and we pledge to reward their loyalty with exceptional programming and more weather focused news," Kenny added.
DirecTV chief content officer Dan York added, "I know this was frustrating for many of our customers, but their patience was ultimately rewarded with a better deal and a better product."
DirecTV will continue to carry WeatherNation, a start-up competitor to The Weather Channel that it promoted as an alternative during the dispute.
Now that the DirecTV dispute is over, fans of The Weather Channel might also be relieved to know that no other blackouts are likely soon. None of the channel's other major distribution deals have looming expiration dates.