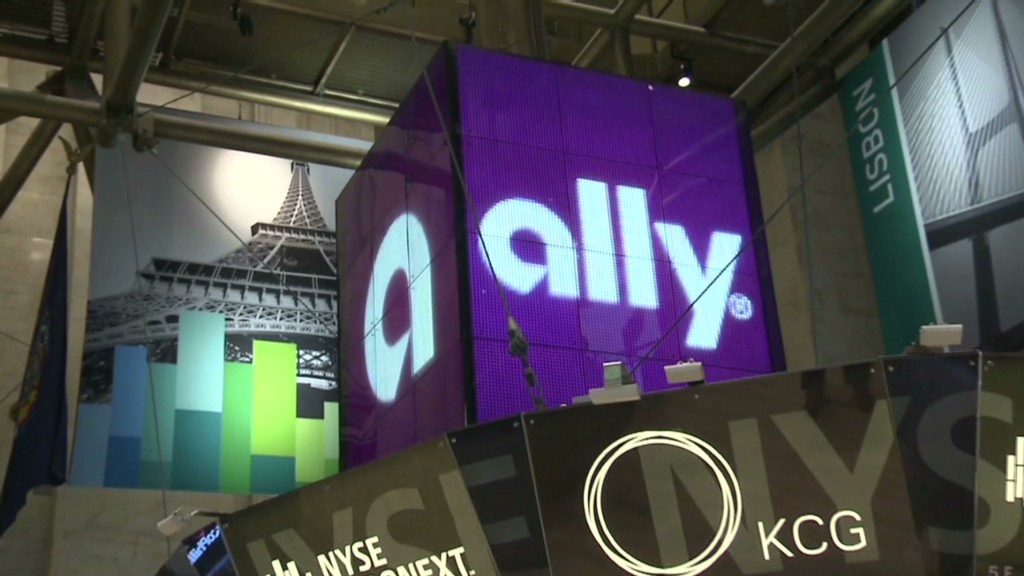 From bailout shame to the IPO game.
Ally Financial (ALLY), the auto loan giant that received taxpayer assistance during the depths of the financial crisis, fell nearly 4% in its public debut Thursday.
At an IPO price of $25 per share, the deal raised $2.4 billion, making it the biggest IPO of the year. All 95 million shares offered in the IPO were sold by the U.S. Treasury. The proceeds from the sale went directly to the government (or, to put it another way, to taxpayers).
Related: It's the biggest week for IPOs in 8 years
The company is trading on the NYSE under the symbol "ALLY." Citigroup and Goldman Sachs were among the lead underwriters of the IPO.
Formerly known as GMAC, Ally was once the financing arm of General Motors (GM). In addition to auto loans, the company had a mortgage arm, which folded under the weight of the financial crisis.
Ally was the recipient of $17.2 billion in bailout funds from the government's controversial Troubled Asset Relief Program (TARP) in 2008. It had already paid the Treasury back $15.3 billion, so with the IPO, the government milked a small profit of its investment.
But the government still owns roughly 17% of Ally, down from 37% before the IPO. That means Uncle Sam -- and taxpayers -- still have a vested interest in the fate of the company going forward.
The IPO priced at the lower end of its $25 - $28 range, suggesting relatively soft demand for the stock, and the fact that shares are now trading around $24.50 isn't a great sign for the government exiting the rest of its stake.
Related: Ally Financial IPO is a taxpayer win, but don't buy the stock
Ally reported a net profit of $361 million in 2013, down sharply from $1.2 billion 2012. Part of that drop was because the company agreed to pay a $98 million fine in December after the Justice Department and Consumer Financial Protection Bureau said it charged minorities higher auto loan interest rates.
-- CNNMoney's Paul La Monica contributed to this story