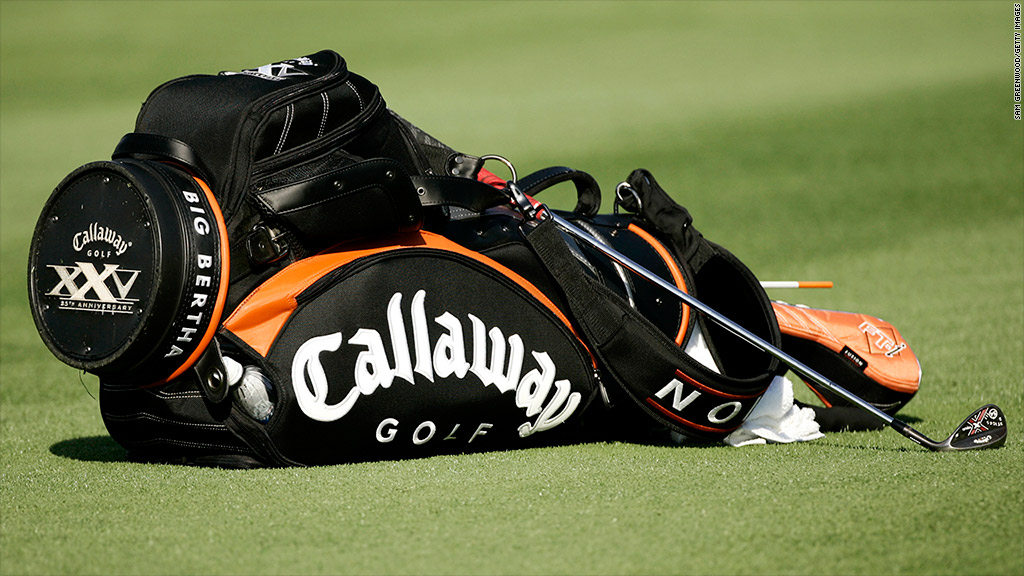 It's day one of the 2014 Masters Tournament, but one of golf's biggest stars isn't teeing up for this round.
Tiger Woods, the No. 1-ranked player in the world, will miss golf's version of the Super Bowl for the first time in 20 years because of back surgery.
The absence of golf's best-known personality could be a major blow for Nike (NKE), which is Woods' corporate sponsor, but it might turn out to be very good news for Callaway Golf (ELY), which sponsors rival Phil Mickelson and several younger players.
Woods is typically the most covered player at the Augusta, Ga., tournament. And he was Nike's top "player brand platform" at last year's Masters, according to sports marketing research firm Repucom.
Nike generated more than $3.8 million in "media value" from Woods' nearly 50 minutes of air time during the 2013 Masters, says Repucom. Without Woods, the group estimates that Nike will receive just over $700,000 worth of exposure this year.
While Nike clearly has the most to lose, it's not the only company that could be hurt by the lack of star power at this year's Masters.
"Tiger is still the lightening rod that determines how many people watch the tournament," said Casey Alexander, an analyst at Gilford Securities who covers the golf equipment industry. "Tiger not being in the Masters is not good for anyone."
Related: Major money: golf's biggest winners
IBM (IBM) and AT&T (T) are the largest corporate sponsors of the Masters, but Callaway has perhaps the most at stake.
Callaway has been struggling to turn itself around following several years of losses and declining market share. But it expects to return to profitability this year as CEO Chip Brewer refocuses on Callaway's core businesses of making golf clubs and balls.
The company's stock price has also bounced back, rising from a low of about $5 a share in 2011 to a high above $10 earlier this year. Callaway shares, which tumbled along with the broader market this week, were down again Thursday to about $9.50.
While the company has done a good job executing its turnaround plan, Callaway is facing two major headwinds that it has little power to control, said Alexander.
For one, the weather has not been ideal for golfing this year. Secondly, Callaway has been hurt by unfavorable foreign exchange rates, particularly in Europe and Japan. The California-based company generates about half of its sales outside of the United States.
So, how important is the Masters?
Callaway's top player is Mickelson, who is one of just nine players to have 40 or more PGA Tour wins. But the company also sponsors several younger players, including Patrick Reed, "who is considered to be a real threat on the tour," said Alexander.
Related: The 10 highest earning U.S. athletes
"People always pay attention to who wins the Majors," he added. "And it always helps when one of your guys wins."
While Callaway hopes for the best for its players, its bigger focus is showing how the company has had an even better comeback than Tiger Woods in recent years.