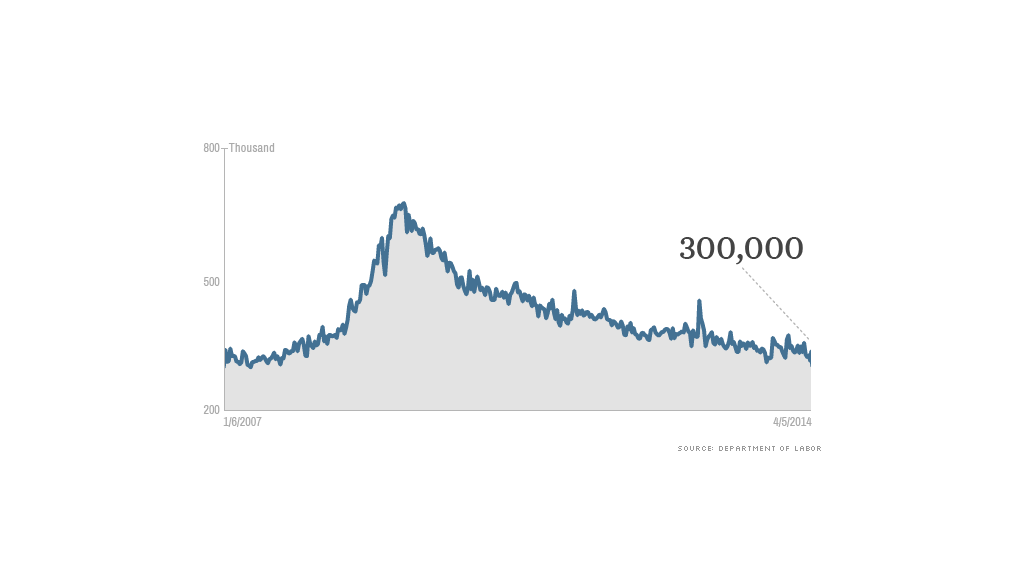 Americans are desperate for good news about jobs. Some thought they found it this morning when data came out showing that new claims for unemployment benefits suddenly plummeted last week to the lowest level since May 2007.
But the drop in jobless claims may be more the result of statistical quirkiness than a dramatic improvement in the job market.
Roughly 300,000 people filed for their first week of unemployment benefits last week, the Department of Labor reported Thursday morning. That was a 32,000 decline from the prior week.
The problem is the numbers are notoriously volatile around March and April.
Last year, for example, initial claims spiked during this same week as schools in many states observed spring break around Passover and Easter. In some states like New York, contract employees like cafeteria workers and school bus drivers are allowed to file for unemployment benefits whenever school is not in session.
This year, Passover and Easter are falling later in the year than usual. The Department of Labor adjusts the numbers for seasonal trends but it often can't fully account for holidays that move around the calendar from year to year.
"Easter floats to new weeks, and the start of the quarter make this a challenging time to adjust the seasonal data," a Department of Labor analyst said.
In all likelihood, claims will spike in the coming weeks when schools are off for spring break this year.
"The dip to 300,000 looks very nice. However we should expect volatility to continue in the next few weeks," said Tom Simons, money market economist with Jefferies, in a note to clients.
Related: New businesses aren't creating enough jobs
Initial claims are seen as a good gauge of layoffs in the job market, and recently, they've been hovering around pre-recession lows.
The four-week moving average, which smooths out some of the volatility, was 316,250 last week -- a level consistent with the number of weekly claims filed back in 2007, before the recession began.
In short, firms are laying off far fewer workers than they were during the depths of the recession, which is good.
But the real news Americans want is job creation. There are still plenty of people looking for work.
The next step in the jobs recovery needs to come from firms stepping up their new hiring -- a trend Federal Reserve Chair Janet Yellen has said she will be watching closely, as the Fed evaluates how to aid the recovery.