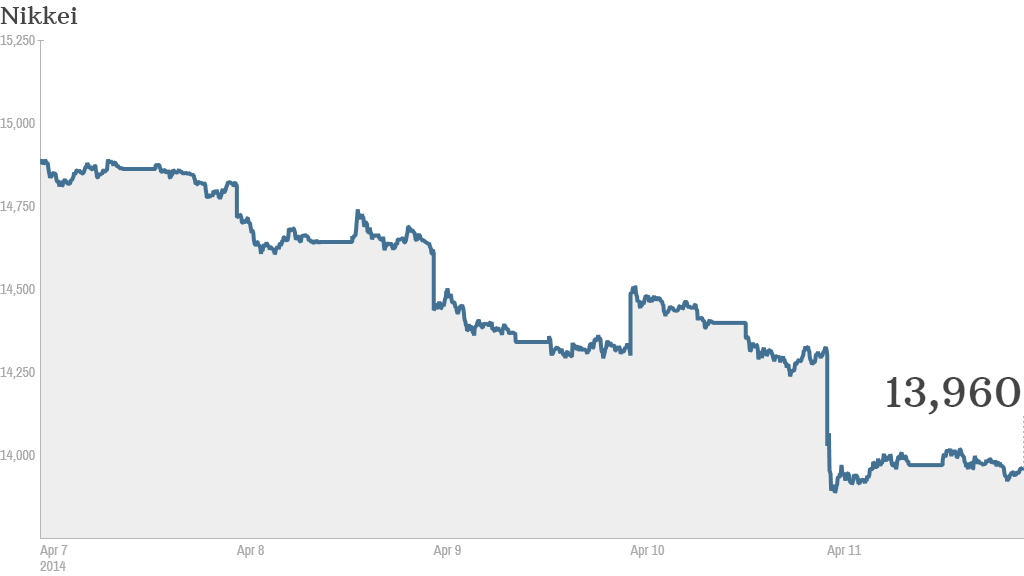 Asian tech and telecom stocks plunged Friday as investors sold off their holdings, alarmed by yet another slump in U.S. stocks.
Tencent (TCEHY), best known for its WeChat mobile messaging app, tumbled 6.8% in Hong Kong and software firm Kingsoft (KSFTF) dropped 6.2%. China Telecom (CHA) fell 2.2%.
Japanese companies followed suit, with wireless carrier Softbank (SFTBF) falling 3.8% and electronics conglomerate Hitachi losing 2.5%.
Samsung (SSNLF) in Korea slipped 1.1%, taking its shares to a loss for the year so far.
The plunge in tech stocks could make it harder for investors to value major Chinese companies preparing to list in New York, including Sina's Weibo, a microblogging site, and Internet giant Alibaba.
Related: Weibo IPO to raise about $380 million
Nearly all Asian markets tanked in Friday trading, led by a 2.4% decline on Japan's Nikkei. The index has lost 7.3% this week alone.
Australia's ASX All Ordinaries lost 1%, while Hong Kong's Hang Seng dipped 0.8%.
Global technology stocks have been on a bumpy ride lately and a sell-off that started in the U.S. last week shows no signs of letting up.
The Nasdaq posted a 3.1% loss Thursday. CNNMoney's Tech 30 index is down 3.6% so far this year.
Related: CNNMoney's Tech 30 index
Marquee Nasdaq names like Google (GOOG), Amazon.com (AMZN), Yahoo (YHOO) all finished down more than 4%. Facebook (FB) fell over 5% after gaining Wednesday. Part of this is likely due to a correction in momentum stocks, but concerns about the Heartbleed bug are also playing a role.
The biotech sector was part of the Nasdaq bleed as well. Biogen Idec (BIIB), Celgene (CELG), and Vertex (VRTX) all fell between 4% and 6%. Gilead Sciences (GILD) plunged more than 7%.