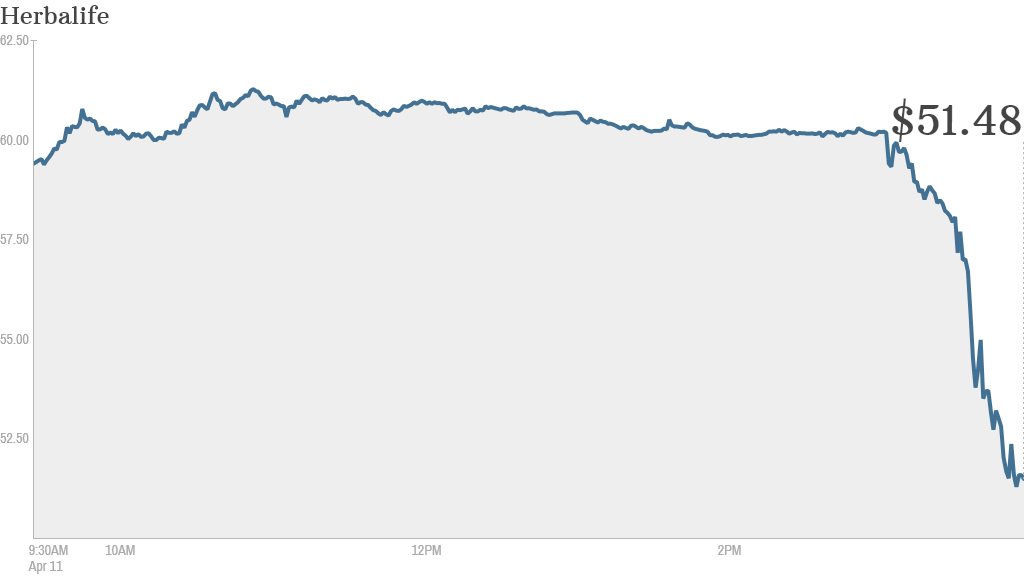 Herbalife shares plummeted Friday afternoon, following a report that the FBI and Department of Justice had launched a criminal probe of the multi-level marketing company.
Herbalife (HLF)'s shares ended the day 14% lower in the wake of the Financial Times article about the company, which hedge fund manager Bill Ackman has claimed operates as a pyramid scheme.
A law enforcement official confirmed to CNN Friday that the U.S. Attorney's Office in Manhattan and the FBI have been investigating Herbalife for several months.
Herbalife has strongly defended itself against Ackman's claims, saying its business model is no different from other multi-level marketing firms.
Related: Herbalife tumbles on FTC probe
In a statement, Herbalife said it had "no knowledge of any ongoing investigation by the DoJ or the FBI" and that it had not received any formal nor informal request for information from either agency. "We take our public disclosure obligations very seriously," it said.
The company's stock price fell last month after it announced that it was the subject of a civil inquiry by the Federal Trade Commission.
Herbalife shares are down more than 30% year-to-date.
Shares of fellow multi-level marketing company Nu Skin (NUS) fell nearly 4% Friday.
-- CNN's Evan Perez contributed to this report.