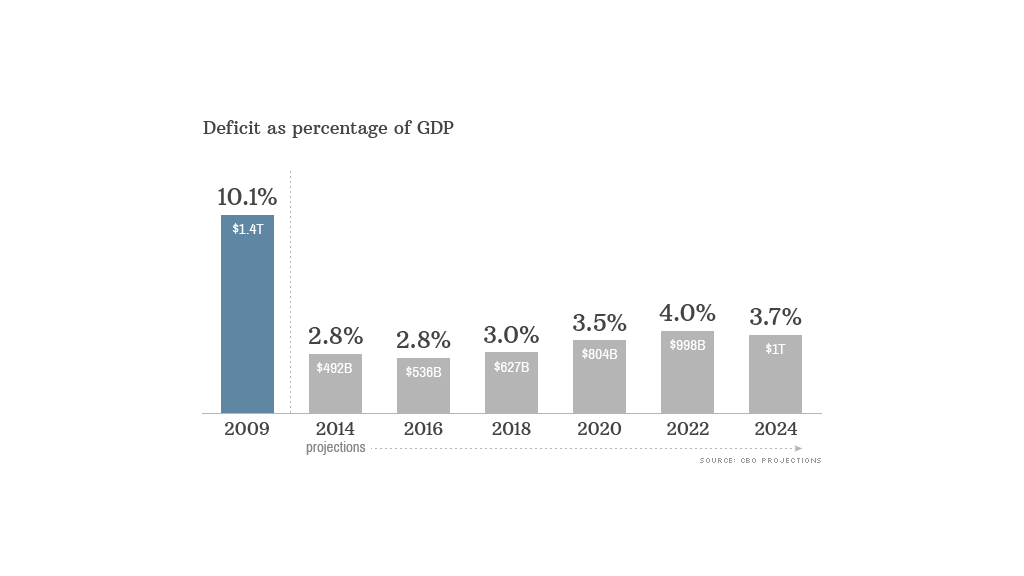 For the fifth consecutive year, the U.S. annual deficit is projected to fall as a share of the economy, and to do so more than previously forecast.
The Congressional Budget Office projected Monday that the 2014 shortfall will decline to 2.8% of GDP -- or $492 billion. That's about $23 billion below what the CBO forecast just a few months ago. And it's well below the 4.1% -- or $680 billion -- recorded last year.
The drop is due to lower than expected interest payments and other spending, including defense.
But the downward trajectory won't last.
As it has noted many times in the past, the CBO said it expects annual deficits to start rising again in 2016 if current laws don't change -- from a decade-low of 2.6% of GDP in 2015 to roughly 4% by 2022.
Ten years from now, the CBO projects the country's accumulated public debt will reach 78% of GDP, up from 72% currently.
That's "mainly because of the aging population, rising health care costs, an expansion of federal subsidies for health insurance and growing interest payments on federal debt," the CBO noted.
The impact of health costs in the near term, however, has not been as onerous as expected.
One reason for CBO's lowered 2014 deficit estimate: A smaller than expected bill for health insurance subsidies under Obamacare.
In a separate report Monday, the agency estimated that insurance coverage provisions overall will cost about $5 billion less this year and $104 billion less over the next decade than forecast a few months ago.
It also has lowered the estimated cost of premiums for the second lowest cost plan on the exchanges known as the "silver plan."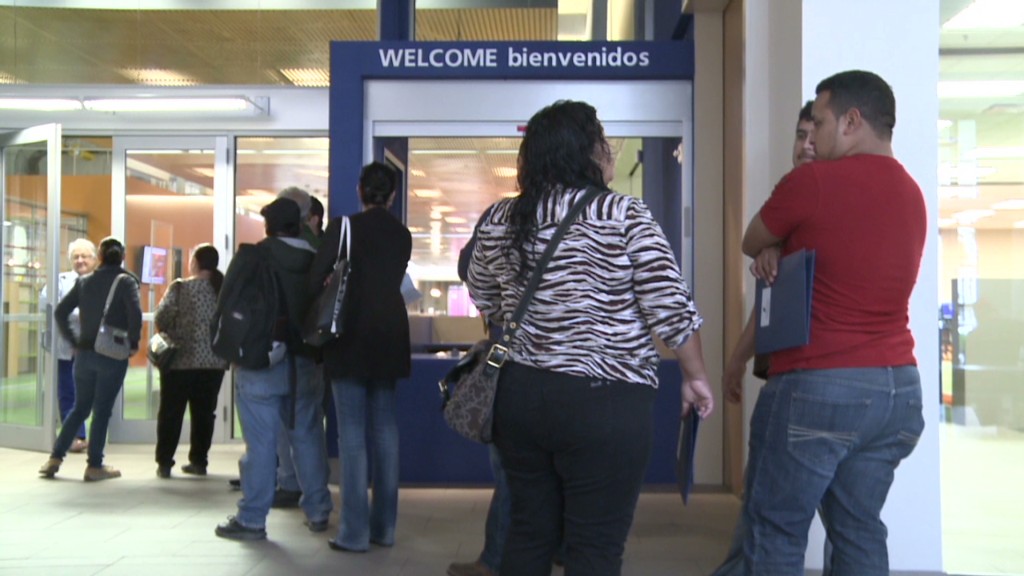 The CBO now expects the annual average cost of such a plan, which is used to determine subsidies, will be about $3,800 this year. By 2016, it expects silver plan premiums to cost $4,400, or 15% less than the agency had forecast in November 2009, before the law was enacted.
Related: What we know - and don't know - about Obamacare
In terms of enrollment, the CBO still expects an average of 6 million people to have insurance this year through the exchanges. The agency said its estimate can't be directly compared to the 7.5 million signups reported by the Obama administration since the CBO number assumes, among other things, that some of those people will only be covered for part of the year.
For example, some people will drop Obamacare coverage because they become eligible for employment-based insurance.