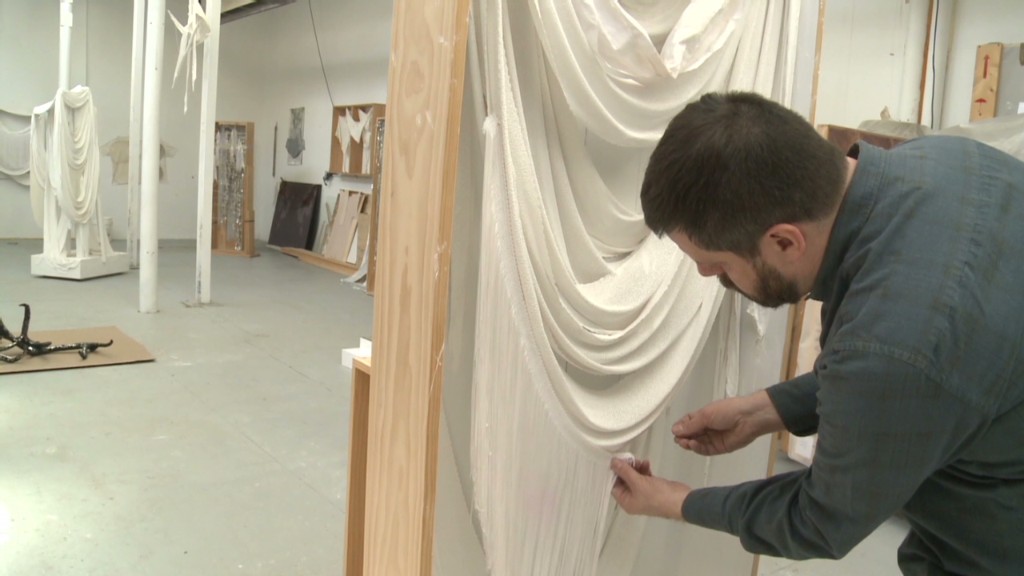 Like most artists, Marc Swanson's work doesn't lend itself to planning for retirement.
He spends most of his day draping pieces of fabric into elaborate, life-sized art installations. Swanson works on some of his larger pieces for more than a year before parting with them.
Some years, he parts with a full 50% of his work -- and not because it's sold. The pieces are part of the Artist Pension Trust, which aims to give artists a more secure future.
"Of course we have access to retirement [accounts]," Swanson said. "But it's not usually a first priority for a lot of artists like paying their rents."
The Artist Pension Trust wants to change that. Founded in 2004, APT includes more than 2,000 artists from around the world who have put their work into one of nine investment "funds" (essentially pools of artwork).
The artists commit to providing 20 pieces of art over a 20-year period. In return, they receive a yearly payout from APT as long as some of the art in their pool sells.
"There's no financial security long term for an artist," said David Ross, director of the APT Institute. "And people have gotten used to that concept. APT was about turning that concept on its head"
Related: From farmers' markets to mass market
There are eight regional trusts that have maxed out at 250 artists, but an additional Global One fund has space for up to 628 artists and is still accepting applicants. Artists applying to one of the APT trusts go through a selection process headed by a team of curators. Thousands of artists have applied, but only a small percentage are accepted.
"In terms of the selection process, unfortunately, we have to choose very few artists," said Moti Shniberg, a co-founder of APT.
Though APT holds much of its artwork in storage facilities around the world, Ross said he expects the group to lend art to more than 500 museums and non-profit galleries this year.
"We lend those works to museums primarily because [they] know how to take care of the works, but it also adds to the actual value by having it in the public eye and making it something someone might want to have in their collection someday," Ross said.
When the trust sells one of the roughly 10,000 pieces of artwork in the collection, 40% of the sale goes directly to that artist, 32% goes into the trust to be dispersed equally among all the artists in the pool, and the remaining 28% covers the trust's overhead.
Nearly 10 years in, APT has only just begun to sell off some of its art. According to Shniberg, that's largely by design. The contemporary art market is only now starting to rebound from the 2008 recession, and APT wants to time its sales for maximum profits.
"Our responsibility to the rest of the artists of APT is to be patient, to see step by step how it's appreciating," Shniberg said.