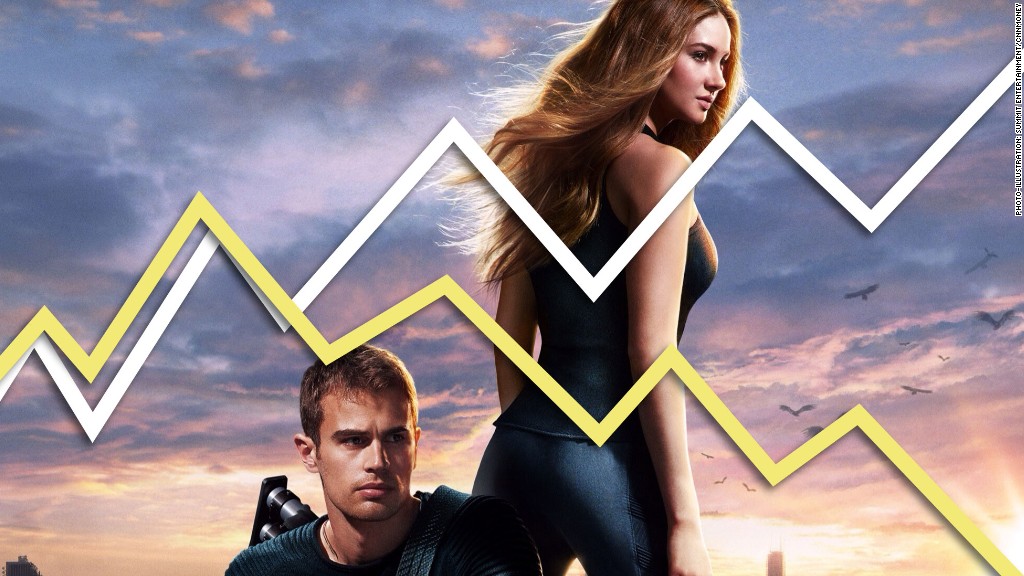 In the hit movie and novel "Divergent", people are divided into different tribes based on their personalities. If you don't fit in somewhere you're considered "divergent", and that's where the trouble starts for the young heroine Beatrice Prior.
So what does that have to do with the stock market?
There's a "divergent trend" happening right now, and some think it signals the end of the bull market is near.
One of them is Frank Gretz, the technical analyst at Wellington Shields.
Gretz follows a simple theory: When the bull market is in full force, you see a lot of new highs for both individual stocks and the overall market indexes.
To put that in plain speak, when the stock prices of companies like Google (GOOGL), Yahoo (YHOO) and Coke (KO) are reaching new highs, you would expect to see lots of record setting days for the S&P 500 and Nasdaq as well.
Everyone wins, basically.
But a telling trend happens at the end of a bull market: We still see the overall indexes like the S&P 500 hitting new highs, but we don't see as many individual stocks peaking anymore.
That's the divergence factor. It's a sign the market upswing is losing steam.
Here's where it gets scary: The number of individual stocks hitting new highs peaked last May when there were over 900.
Last month there were only 500.
"The bull market is tired," Gretz says.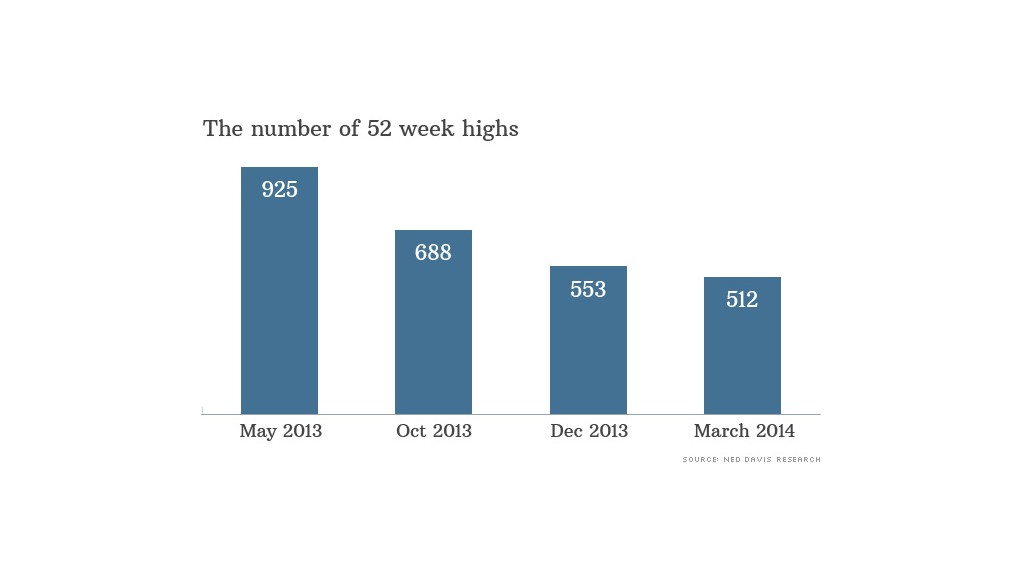 Those of you who watch the market closely will recall that the overall market hasn't slowed down just yet.
The Nasdaq closed at a 14-year high on March 5, and the S&P 500 closed at an all-time peak on April 2.
History backs up this divergence theory.
Ned Davis Research looked at 15 stock market highs since 1962 and says the peak in new highs for individual stocks precedes the peak in the overall markets by 9 to 11 months.
If that holds true this time around, we're about done with the bull run.
We're 11 months past the May 2013 peak of new highs in individual stocks.
Beatrice Prior in the "Divergent" film would be looking worried with dark mood lighting about now.
Gretz adds that the current climate is somewhat out of synch.
"Usually stocks like Caterpillar and the oil companies come down before the averages, but in this market the leaders like Netflix are coming down first. Leaders usually come down last, but now they're first," he says.
Of course, nothing is ever as straightforward as investors would like.
The market never puts out a sign that says "Sell now, before everyone else does".
To add to the confusion, two other important trend lines aren't displaying the divergence trend: 80% of stocks are still above their 200-day and 50-day moving averages. That's getting pretty technical, but Gretz emphasizes that the divergence we're seeing in new highs vs. the overall market may not develop into a major problem right now.
But he's watching.