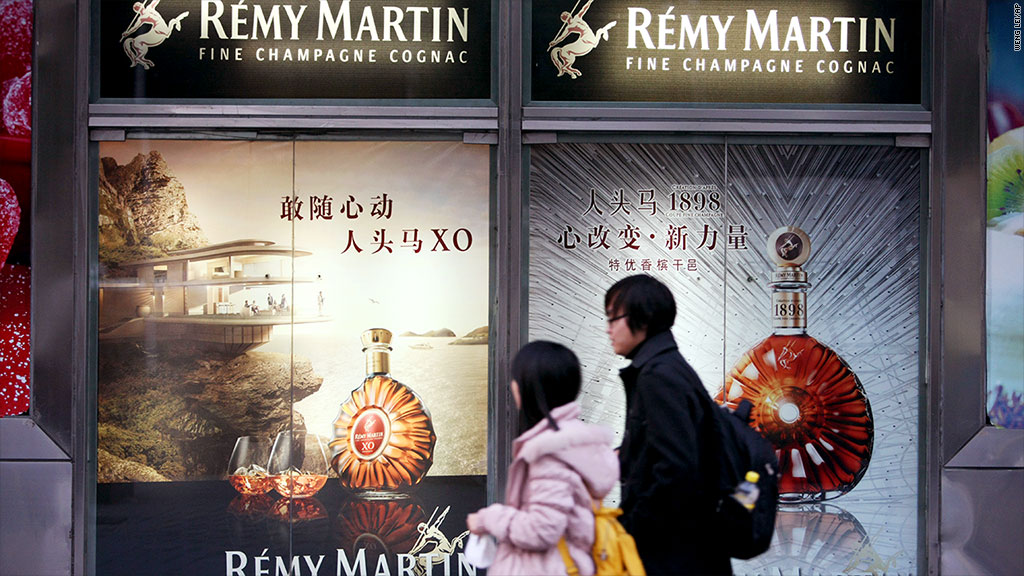 China's crackdown on extravagant spending by officials is creating a headache for some of the world's biggest drinks companies.
Diageo (DEO) and Remy Cointreau -- the companies behind brands such as Smirnoff vodka and Cointreau liqueur -- said Thursday that China sales were down sharply over the first three months of the year.
Since taking office a year ago, Chinese President Xi Jinping has ordered an end to excessive spending by officials on everything from luxury hotels to lavish funerals, and made tackling corruption a priority.
Luxury auto makers, catering firms and pharmaceuticals groups have already felt the pinch, and the push for moderation is now affecting sales of drinks -- in particular premium spirits.
Related: Five global liquors about to go big
Sales of specialty cognac Remy Martin fell by more than 20% in the first three months of 2014.
"Remy Martin was adversely affected throughout the financial year by the Chinese government's anti-extravagance policy," Remy Cointreau said. It warned that operating profit for the year to March 31 would fall by as much as 40%.
Diageo said its Shui Jing Fang business, which sells a high-end Chinese liquor called baijiu, did particularly poorly in the last quarter of 2013. And group sales in the Asia Pacific region remained weak during the first quarter of 2014, falling by nearly 20%, it said.
Shares in Diageo fell 4% in London, while Remy Cointreau shares were also down 4% on the Paris stock exchange.
Other drinks stocks suffered too. Pernod Ricard fell 3% in Paris. The distiller is due to report quarterly sales next week.
Related: China's anti-corruption drive eats into growth
China has been a big growth market for many international distillers in recent years as sales stalled in Europe and North America.
Diageo said it still believed in the long term potential of China and other emerging markets, and would continue to invest to build its brands.