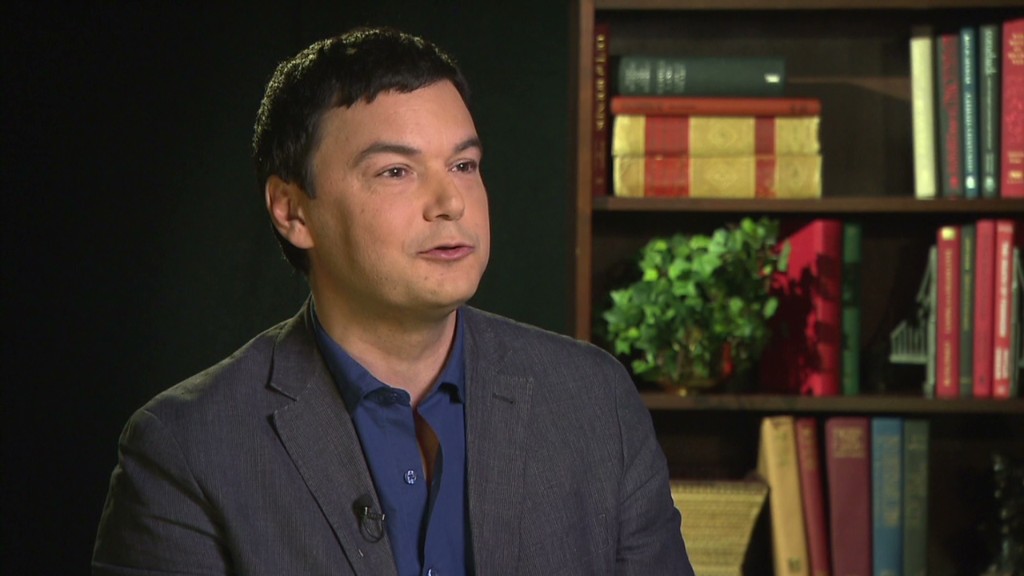 A 700-page economics tome about income inequality isn't an obvious hit, but it currently tops the list of best-selling books on Amazon.
Thomas Piketty's book, "Capital in the Twenty-First Century," was originally written by the 42-year old French economics professor in French, and then translated to English.
Amazon (AMZN) is sold out of the book, which is now in its fourth printing. Publisher Harvard University Press says it's already sold 41,000 copies of "Capital," and is rushing to get another 25,000 print versions to book stores and Amazon as soon as possible. The book is the publisher's first best seller, and is poised to sell more copies in one year than any book in its 101-year history.
The Kindle version of the book is available. Otherwise buyers can sign up for Amazon's wait list, or buy one directly from the publisher
In the book, Piketty argues that income inequality is getting more severe, and that governments must do more to address the issue. He cites detailed tax data from across many developed nations.
Related: A comeback for Marx? Inequality debate comes full circle
He was welcomed to the U.S. with great fanfare -- especially for a French economist -- on his publicity tour last week. He visited U.S. Treasury Secretary Jack Lew, and gave presentations to the White House Council of Economic Advisers, the International Monetary Fund, the United Nations and the Kennedy School of Government at Harvard.
He also was part of a sold-out joint appearance in New York with Nobel Prize-winning economists Joseph Stiglitz and Paul Krugman. He'll continue to tour the U.S. for another week.
Related: How income inequality hurts America
A New York Times piece on Saturday compared Piketty's book to Adam Smith's "The Wealth of Nations" and Karl Marx's "Das Kapital," arguably the two most influential economic histories ever written. Times columnist Krugman predicted in The New York Review of Books that the book "will change both the way we think about society and the way we do economics."
Related: 7 setbacks for the middle class
For Harvard University Press, the attention and the sales success are a heady experience.
"Before the weekend we were thrilled the book was in the top 50 in Amazon sales," said spokeswoman Susan Donnelly.