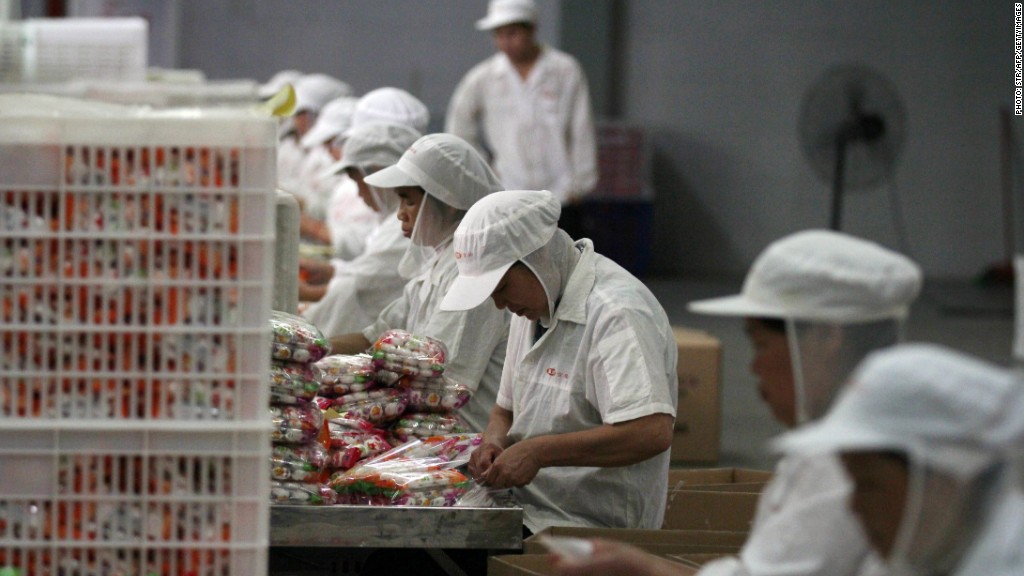 China's factories continued to struggle in April, according to an early gauge of activity in the country's all-important manufacturing sector.
HSBC said its "flash" measure of sentiment among manufacturing purchasing managers was 48.3 in April. Analysts had expected the index to rebound from its final reading of 48.0 in March.
While the index showed improvement, any number under 50 still indicates a deceleration in the manufacturing sector.
China's economy is off to a sluggish start this year, with first quarter GDP coming in at 7.4% -- a touch slower than Beijing's 7.5% annual target.
"We do not believe that this uptick in the HSBC PMI signals any sort of turning point for the economy and continue to believe that growth momentum is on a downtrend," Nomura economist Zhiwei Zhang said in a statement.
The real estate market is showing signs of weakness. Industrial production, retail sales, and investment growth have all disappointed. The economic slowdown has also led to a steep decline in the price of copper and iron ore.
Related: Tesla to build cars in China
The worrying economic data out of China had raised expectations Beijing will respond with more stimulus measures in an effort to stabilize growth.
The government has already announced some minor stimulus, including railway and urban redevelopment projects, along with a tax break for small businesses.