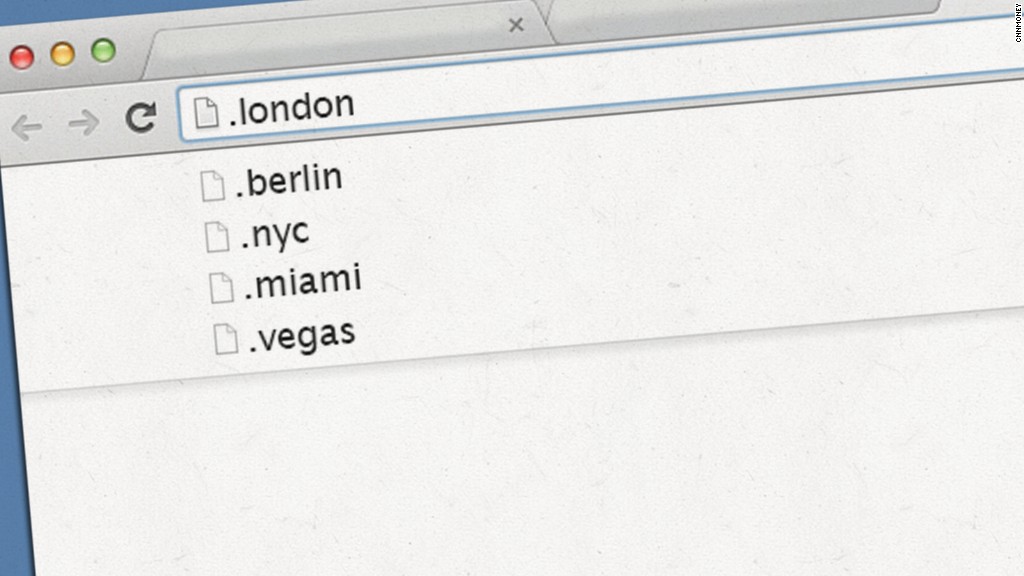 Local businesses in major cities could get a boost from an unlikely source -- the introduction of city-specific website domain names such as .nyc, .miami and .london, among others.
Since January 2014, a little-known organization that regulates global Internet names has been issuing new city-specific domain names. Roughly 60 cities have received approval for their own domains so far.
The new '.city' names are expected to help local enterprises boost their web presence, improve their online search rankings and increase their sales by directing locals and tourists to relevant nearby businesses.
Berlin and Vienna are currently in the process of rolling out their Internet names. Berlin has received nearly 50,000 applications for .berlin sites.
In London, applications for new .london sites will be accepted starting Tuesday. The .london name is expected to officially come online in three months.
Demand in London is forecast to be strong, with roughly one in four local businesses expected to apply for a new .london website name, according to a survey by London & Partners, the organization in charge of delegating new .london website names.
"Be it a small London café or one of the capital's prominent sports clubs, a .London web address offers a stronger online connection to the London community surfing the web," said Jan Corstens, who works with a subsidiary for the organization that approves domain names, the Internet Corporation for Assigned Names and Numbers (ICANN).
The price to register and keep a new .london name will cost roughly £30 to £50 ($50 to $85) per year. Individuals and businesses can apply for these names via well-known domain registration sites such as GoDaddy.com.
Related: Get ready for .google and .apple
Meanwhile, .nyc, .miami, .vegas, .tokyo and .paris will debut soon.
The organization in charge of approving these domain names, ICANN, held a lottery to determine which cities would get them first. Berlin and London were among the first names picked.
The process is staggered because it wouldn't be possible to bring all the city domain names online at the same time because the global Internet infrastructure wouldn't be able to handle everything at once.
New servers must be added and processes put in place to accommodate these new sites and names.
"There will be a physical scaling up of the Internet ... servers are a part of that," said a spokesperson for ICANN.
Related: Google search results changing in Europe
For local businesses that might want to boost their online profile and influence, registering a city-based domain name is a good first step, said Adam Westin, an associate director at Edelman, which specializes in online search rankings.
This "ups the ante ... on localization," said Westin, allowing would-be customers to find a local business more easily.
However, search engine giant Google (GOOG) would not comment on how the new domain names may affect search results and search ordering.
Experts maintain that the best way to get a top spot in search engine results is keeping your website filled with relevant search terms and links.
But even if you are already faring well in online search results, Westin said London firms should "buy up the .london [name] as a form of brand protection." This ensures no one else takes the name you want, he said.
David Pegler, head of a London conference venue called ExCeL, said he's applying for a .london domain name on Tuesday.
"As a business that's based in London and uses London to attract its customers, it's a very logical and sensible thing to do. We're looking forward to getting up and running," he said.
Related: Hundreds of Web domain applications revealed
ICANN formally approved the expansion of new domain names back in June 2011 and has processed over 1,000 applications for domains such as .sexy, .recipes, .tax and .wtf. It is still in the process of coordinating the launch of most of these new domains.
Correction: An earlier version of this story incorrectly attributed the quote by Jan Corstens to London & Partners.